Description
Product Images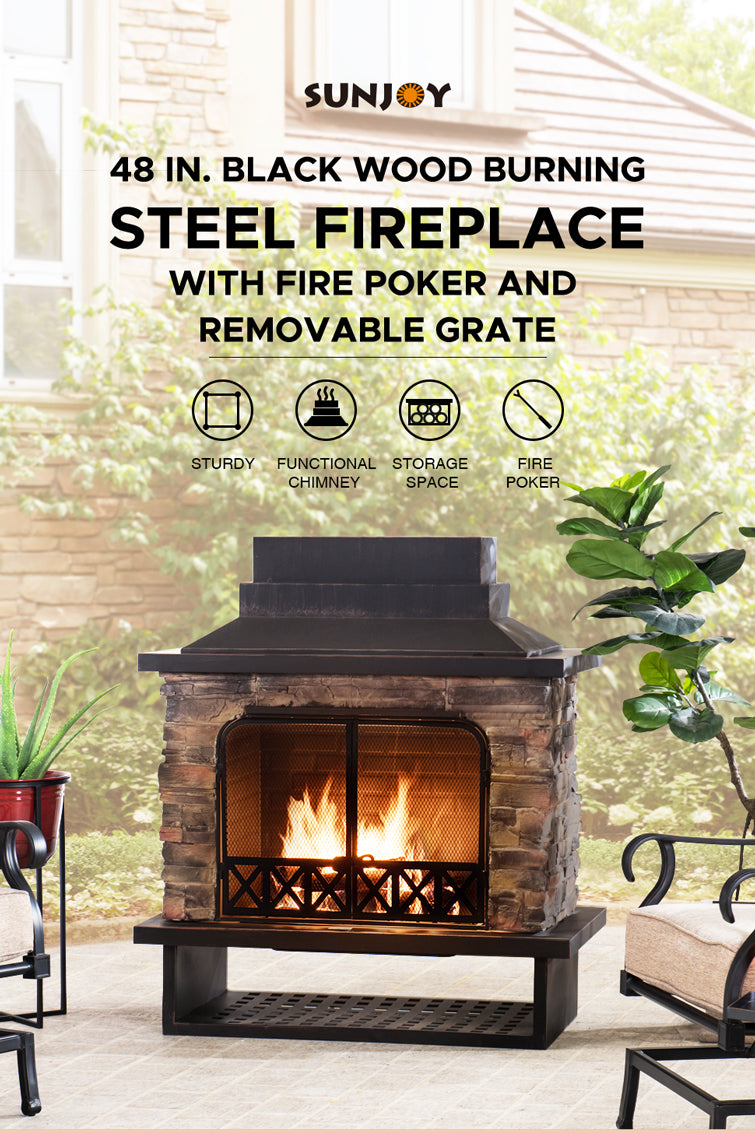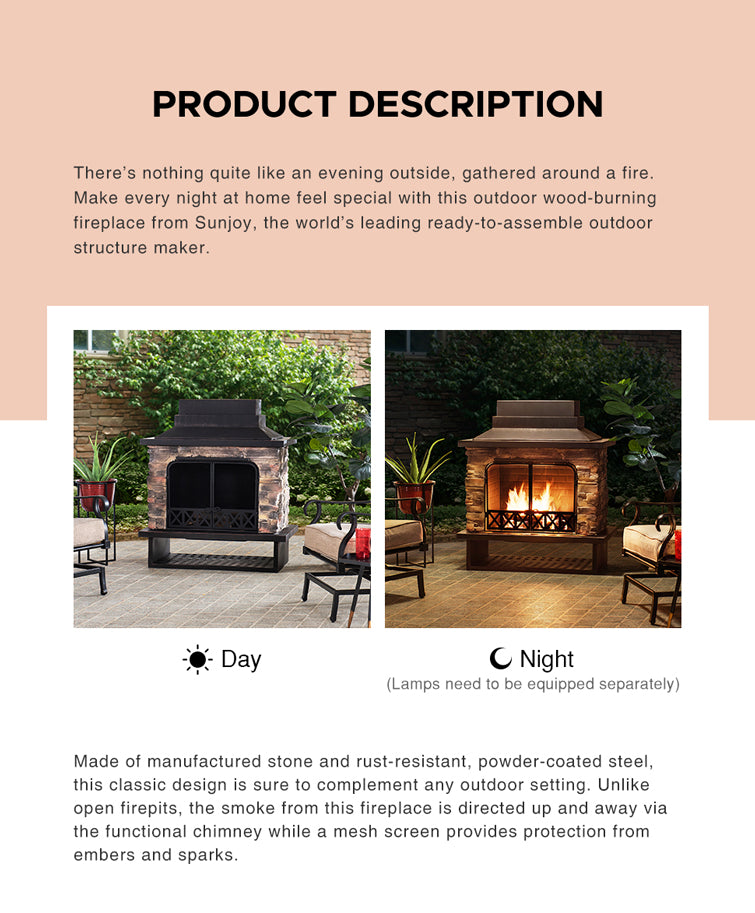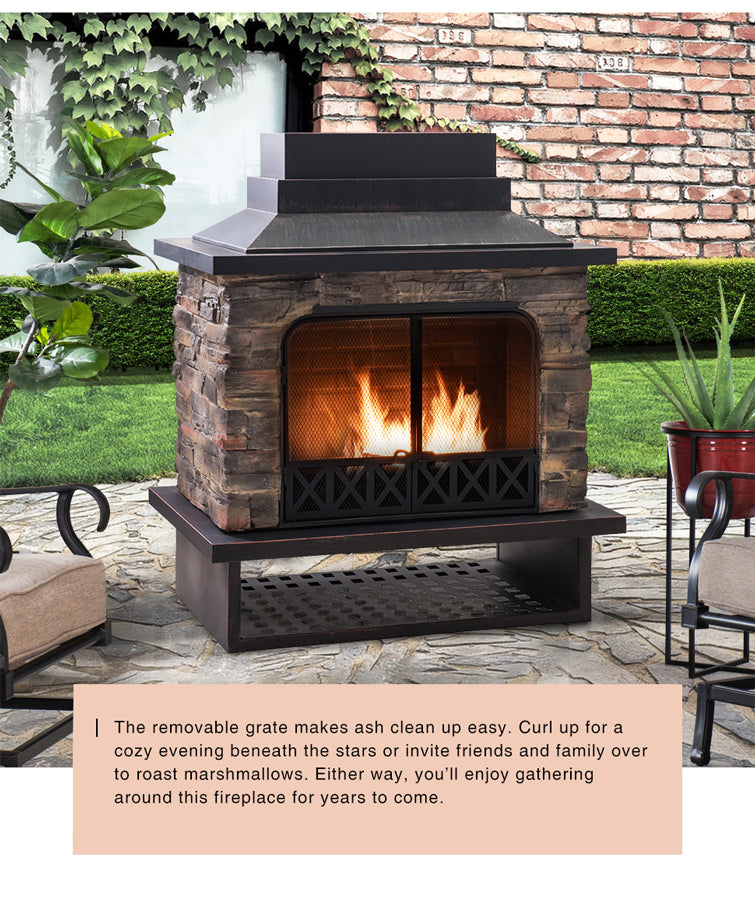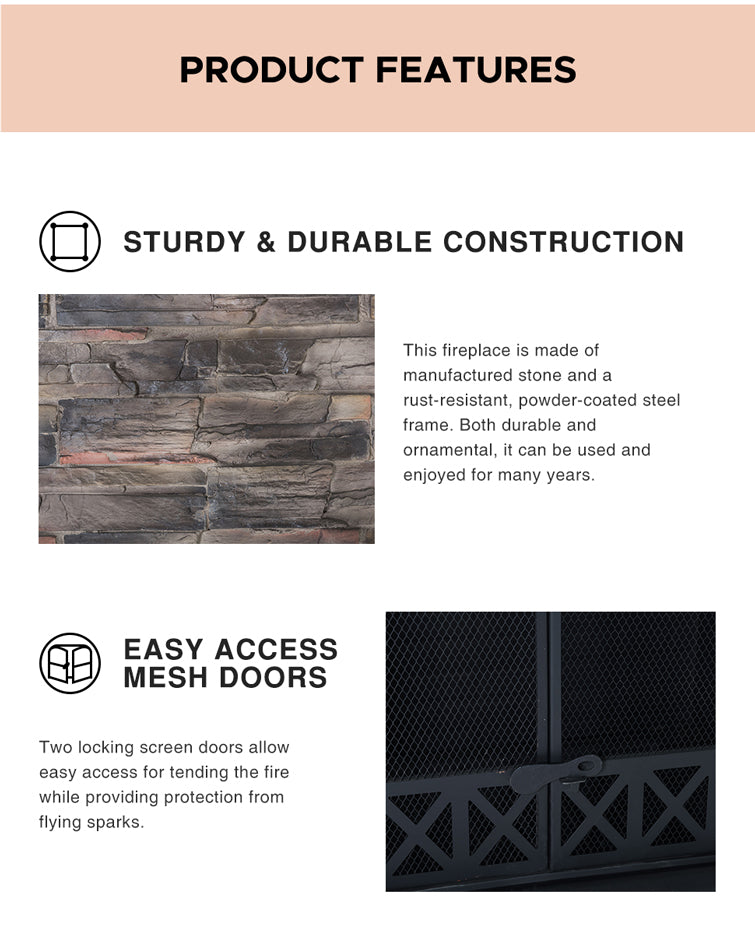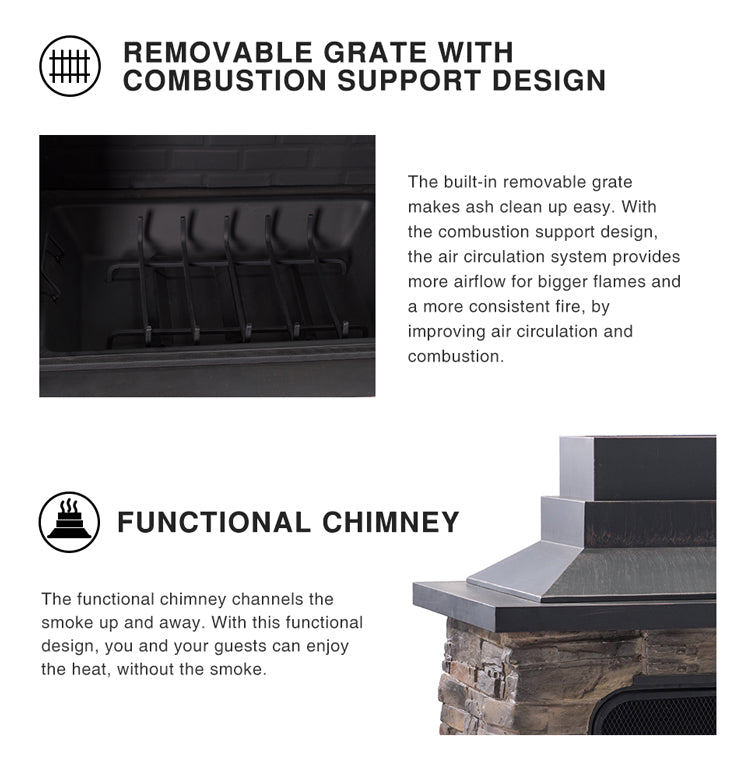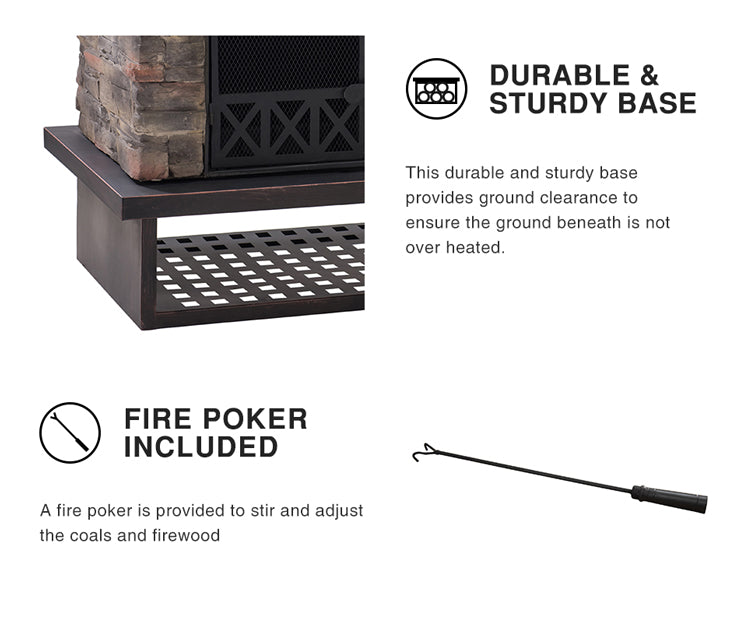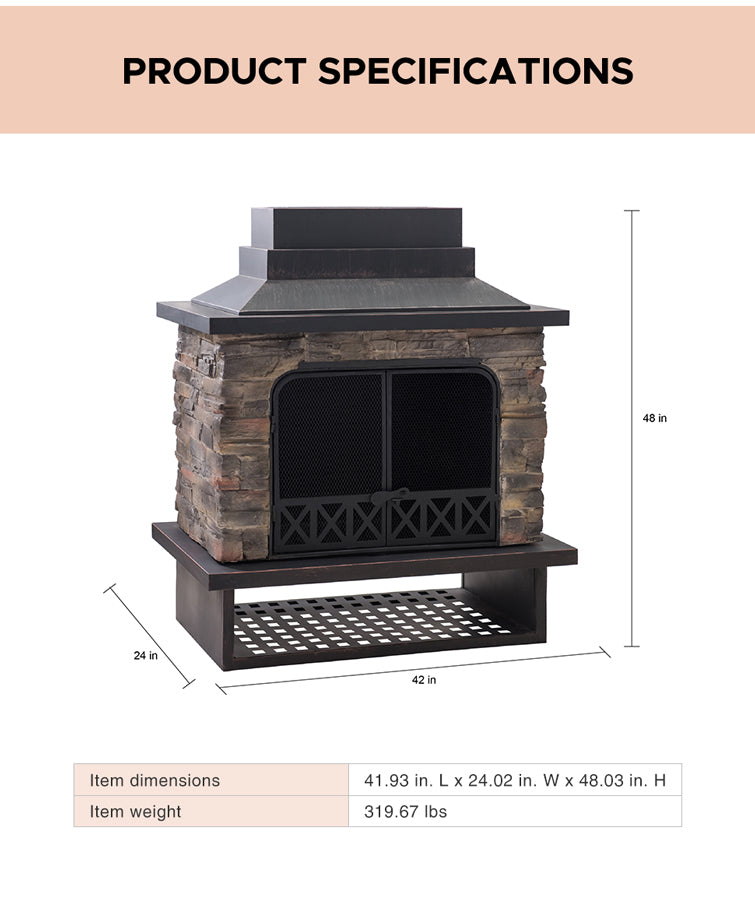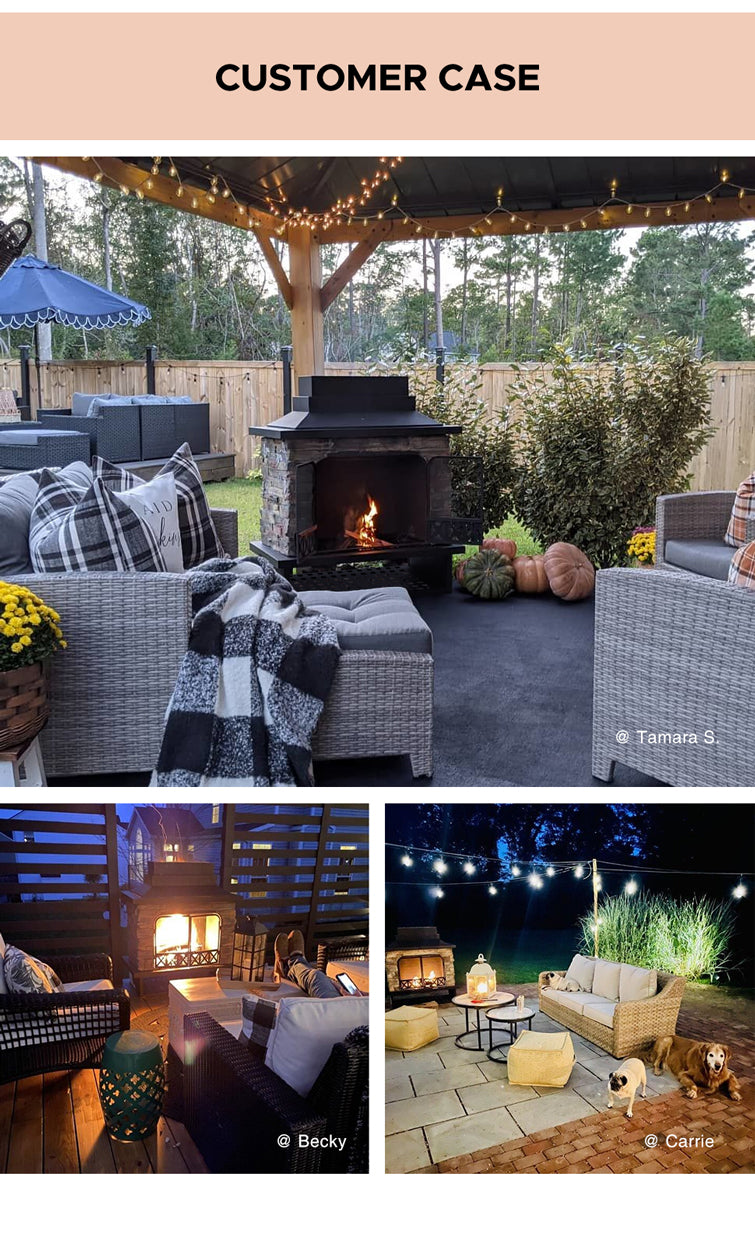 Details
There's nothing quite like an evening outside around a fire. Make every night at home feel special with this outdoor wood-burning fireplace from Sunjoy, the world's leading ready-to-assemble outdoor structure maker. Made of manufactured stone and powder-coated steel this classic design is sure to complement any outdoor setting. Unlike open firepits, the smoke from this fireplace is directed up and away via the functional chimney while a mesh screen provides protection from embers and sparks. The removable grate makes ash clean up easily. Curl up for a cozy evening under the stars or invite friends and family over to roast marshmallows. You'll enjoy this fireplace for years to come.
Features
Sturdy & Durable Construction: This fireplace is made of manufactured stone and a powder-coated steel frame. Both durable and ornamental, it can be used and enjoyed for many years.

Easy Access Mesh Doors: Two locking screen doors allow easy access for tending the fire while providing protection from flying sparks.

Removable Grate with Combustion Support Design: The built-in removable grate makes ash clean-up easy. With the combustion support design, the air circulation system provides more airflow for bigger flames and a more consistent fire, by improving air circulation and combustion.

Functional Chimney: The functional chimney channels the smoke up and away. With this functional design, you and your guests can enjoy the heat, without the smoke.

Durable & Sturdy Base: This durable and sturdy base provides ground clearance to ensure the ground beneath is not overheated.

Fire Poker Included: A fire poker is provided to stir and adjust the coals and firewood.
Specification
Item dimensions: 41.93 in. L x 24.02 in. W x 48.03 in. H

Item weight: 319.67 lbs

Free curbside delivery
Assembly Information
📜Instruction Manual:  Download PDF
If need professional installation service please visit Assembly Service to get an instant price and schedule your date.
SAP number: A304001100
Payment & Security
Your payment information is processed securely. We do not store credit card details nor have access to your credit card information.
How many boxes does it ship in?

Dear customer, it ships in 1 box. Thank you!

What are the care recommendations?

Dear customer, clean and dry the product completely after each use. Thank you!

How do you protect from elements or can it sit out all the time?

Dear customer, when not in use, we recommend the use of a patio furniture cover or similar protection. Thank you!

Where does the smoke vent locate?

Dear customer, the smoke vent is located at the top or part A (Chimney) of the fireplace. Thank you!

Can I used regeral forest wood to burn?

Dear customer, this outdoor fireplace is intended to burn wood logs only. Do not burn coal, leaves, or other combustible materials in the fireplace. Thank you!

Is the rock facing removable?

Dear customer, the rock facing is not recommended to be removed. Please note that any damage due to the improper usage or modification of the product will void the warranty. Thank you!

Why can\'t the exhaust pipe, be extended?

Dear customer, the exhaust pipe is not recommended to be extended because it is unsafe to do so. It is possible to cause the fireplace to be unstable and easy to dump. Thank you!

How far from the house or a fence does this need to be placed?

Dear customer, it should not be less than 5-6 feet. Thank you!