While Amazon has Prime Day, at Sunjoy, we believe in creating our own unique celebration for our cherished members. Introducing Sunjoy Member Appreciation Day—an exclusive event dedicated to expressing our gratitude for your continued support. Join us on this extraordinary occasion from July 10th to July 13th, 2023 filled with exciting offers, discounts, and surprises as we celebrate you, our valued members.
Unforgettable Discounts - Up to 60% Off
During Sunjoy Member Appreciation Day, prepare to be dazzled by an array of unforgettable discounts. We want to make this event truly special for our members, and that starts with remarkable savings. Enjoy up to 60% off on our premium selection of gazebos, pergola kits, carports, outdoor furniture, fire pits, and fireplaces. It's the perfect opportunity to transform your outdoor space into a haven of relaxation and beauty while taking advantage of incredible deals. 🧐
10x12 Gazebos Recommend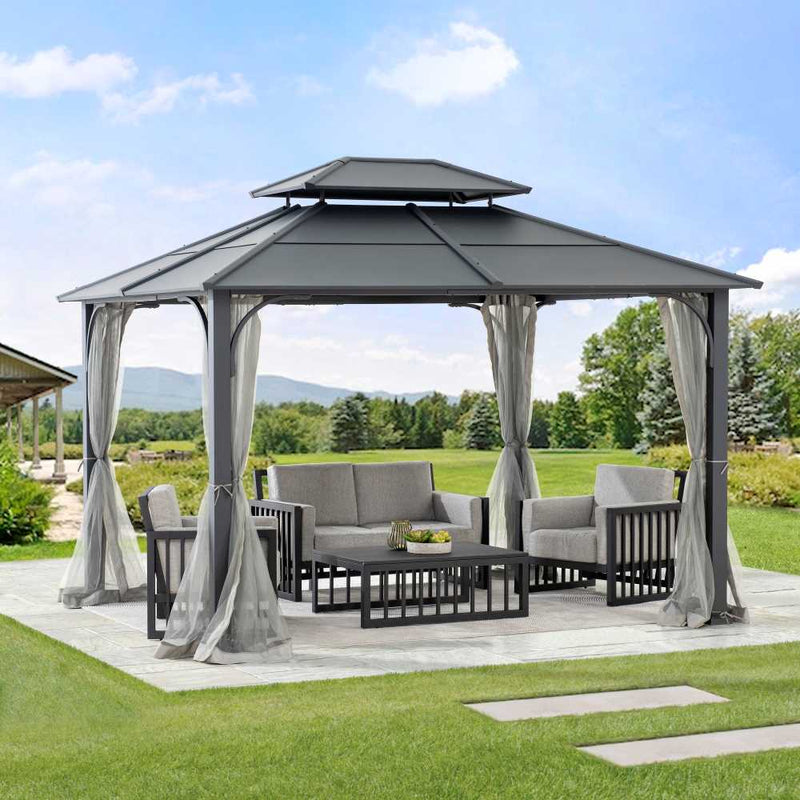 Immerse yourself in the world of Sunjoy and explore our diverse range of products, each designed with meticulous craftsmanship and attention to detail. Whether you've been eyeing a stunning gazebo to create an elegant outdoor entertaining area or dreaming of a cozy fire pit where you can gather with loved ones, now is the time to make it a reality. 🌞
WWith our unparalleled discounts, you can elevate your outdoor living experience without breaking the bank. Discover the joy of quality outdoor products at exceptional prices during Sunjoy Member Appreciation Day. 🥳
Bundle Deals - Save 10% with Bundles
At Sunjoy, we understand that creating a cohesive outdoor oasis involves multiple elements. That's why we're delighted to present our exclusive Bundle Deals during Member Appreciation Day. We've carefully curated bundles of complementary products to make your shopping experience even more convenient and rewarding. 😆
Save an additional 10% when you purchase one of our thoughtfully crafted bundles. Whether you're looking to create a picturesque gazebo with matching outdoor furniture or craving a cozy fire pit set complete with comfortable seating, our bundles offer both convenience and extra savings. 📢
Recommended Collocation
➢ Gazebo, Pergola, and Carport bundle with any Fire Pit or Fireplace
➢ Gazebo, Pergola, and Carport bundle with any Patio Furniture
➢ Fire Pit and Fireplace bundle with any Patio Furniture
Tips: Bundle deals only apply to non-sale items.
Not only will you save money, but you'll also enjoy the peace of mind that comes with knowing your outdoor space will be harmonious and aesthetically pleasing. Our team of experts has carefully selected products that complement each other in terms of style, design, and functionality. With the Bundle, we've taken the guesswork out of creating your dream outdoor space. 🎉✨
Rewarding Loyalty
At Sunjoy, we value our members' loyalty and want to express our gratitude in tangible ways. That's why we're introducing special rewards during Sunjoy Member Appreciation Day. For every non-accessory product you purchase, you'll earn 1.5 times the regular points.
These bonus points can be redeemed towards future purchases, allowing you to continue enjoying the Sunjoy experience while receiving extra value for your loyalty. Whether you're eyeing a new addition to your outdoor furniture collection or planning to upgrade to a larger gazebo, your loyalty points will bring you closer to your desired products.
We believe that loyalty should be rewarded, and our bonus points program is our way of showing appreciation for your continued support. As a Sunjoy member, your loyalty is invaluable to us, and we're committed to enhancing your outdoor living experience in every possible way.
Share the Joy
At Sunjoy, we believe that the joy of outdoor living is meant to be shared. During Member Appreciation Day, we invite you to share your thoughts and experiences with the Sunjoy community. Write a review of your Sunjoy product and share it on your social media accounts. 💌
As a gesture of appreciation, we'll send you a delightful free gift and an exclusive coupon that you can use towards your next purchase. Your reviews not only help us understand your needs and preferences better but also inspire others to discover the joy of exceptional outdoor living. 😘
By sharing your experiences, you become a valuable part of the Sunjoy community, contributing to a vibrant and supportive network of outdoor enthusiasts. Together, we can inspire and motivate each other to create beautiful outdoor spaces and make lasting memories with family and friends. 🙆
Personalized Recommendations
As part of our commitment to enhancing your shopping experience, we're offering personalized recommendations during Member Appreciation Day. Let us help you find the perfect products that align with your preferences and needs. Whether you're seeking a cozy outdoor seating area or a stylish shelter for your garden, our team is here to guide you towards the best choices. Contact shop@sunjoygroup.com to get personalized recommendations!
Engage in Community Activities
Sunjoy Member Appreciation Day is not only about shopping—it's also about fostering a sense of community among our members. Engage in interactive activities on our social account, and share your experiences with other members by review. Connect with fellow outdoor enthusiasts, exchange ideas, and create lasting connections within the Sunjoy community. 🎉
Sunjoy Member Appreciation Day is an extraordinary celebration dedicated to our cherished members. Join us from July 10th to July 13th, 2023, for a truly unforgettable experience. Take advantage of exclusive discounts, bundle savings, loyalty rewards, engaging activities, and the opportunity to share your joy with the Sunjoy community. We are grateful for your support, and this special event is our way of expressing our heartfelt appreciation. Thank you for being part of the Sunjoy family, and we can't wait to celebrate Member Appreciation Day with you!
To explore the latest Sunjoy styles, we invite you to visit our New Arrivals collection, where you can discover the best prices on sale for these stunning wood gazebos, hardtop gazebos, carports, pergola and more. For more inspirits about backyard gazebos, please check the Backyard Ideas collection. To check more gazebos for sale, just visit the Hot Deals collection. 💡💡💡
Do you have any ideas about how you would use a gazebo? Use the hashtag #Sunjoylife to share your idea or opinion with us on
Facebook
,
Twitter
,
Instagram
,
Youtube
,
Pinterest
, and
Tiktok
.