Halloween is less than a month away, so it's time to start preparing for one of the funniest, scariest days of the year. 🎉You can pick out your favorite Sunjoy outdoor furniture and decorate it with Halloween-appropriate decorations for a more festive atmosphere. 😈👻We also have many holiday tips for you to refer to!
Every October, we look forward to Halloween and decorate our homes in spooky ways. From ghosts and goblins to pumpkins and spiderwebs, holiday decorations always stand out. Because Halloween involves specific decorations and not your typical fall home decor, you'll want to hang your decorations at the right time - not too early, not too late. Who doesn't like a well-decorated and covered spot in the front of your yard to host your Halloween event?🌴
When Do You Start Decorating for Halloween?
The most popular time to start decorating for Halloween is during the first two weeks of October. However, you can start decorating for Halloween as early as late September. When deciding when to decorate, you should also consider the degree of Halloween decorating. The complicated Halloween setup should start early. If you want to keep Halloween simple, you can start decorating in early October.
Follow our holiday tips to find out how to prepare for Halloween!🙌
Save Money by Shopping Ahead
Set aside plenty of time to pick and buy what you need so you won't miss out on deals by shopping last minute!🌞
The promotion in October is very strong, come to Sunjoyshop to buy the outdoor furniture you need, at a surprise price, just for the wonderful festival in October!
Set the Mood with Lighting
No one can truly celebrate Halloween without the right lighting. Carve a jack-o-lantern, and augment the light with an LED lantern to enjoy the spooky atmosphere it creates. Imagine carved pumpkins lit up at night as decorations for a Halloween party, and the atmosphere stretches straight to the extreme.🎃🌟
The timeless design of this Sunjoy 20 in. Black Battery Operated Decorative Outdoor Lanterns will add ambiance to your next outdoor gathering. 3 built-in LED pillar flame-less candles to give the appearance of flickering light. Constructed of a synthetic material designed to look like antique bronze, the lantern has glass panes and can withstand the elements. Use several to light a walkway or hang in a gazebo, on a patio, or deck. The candles are operated by 2 C batteries, which are not included. Black weather-resistant synthetic frame lantern.🎇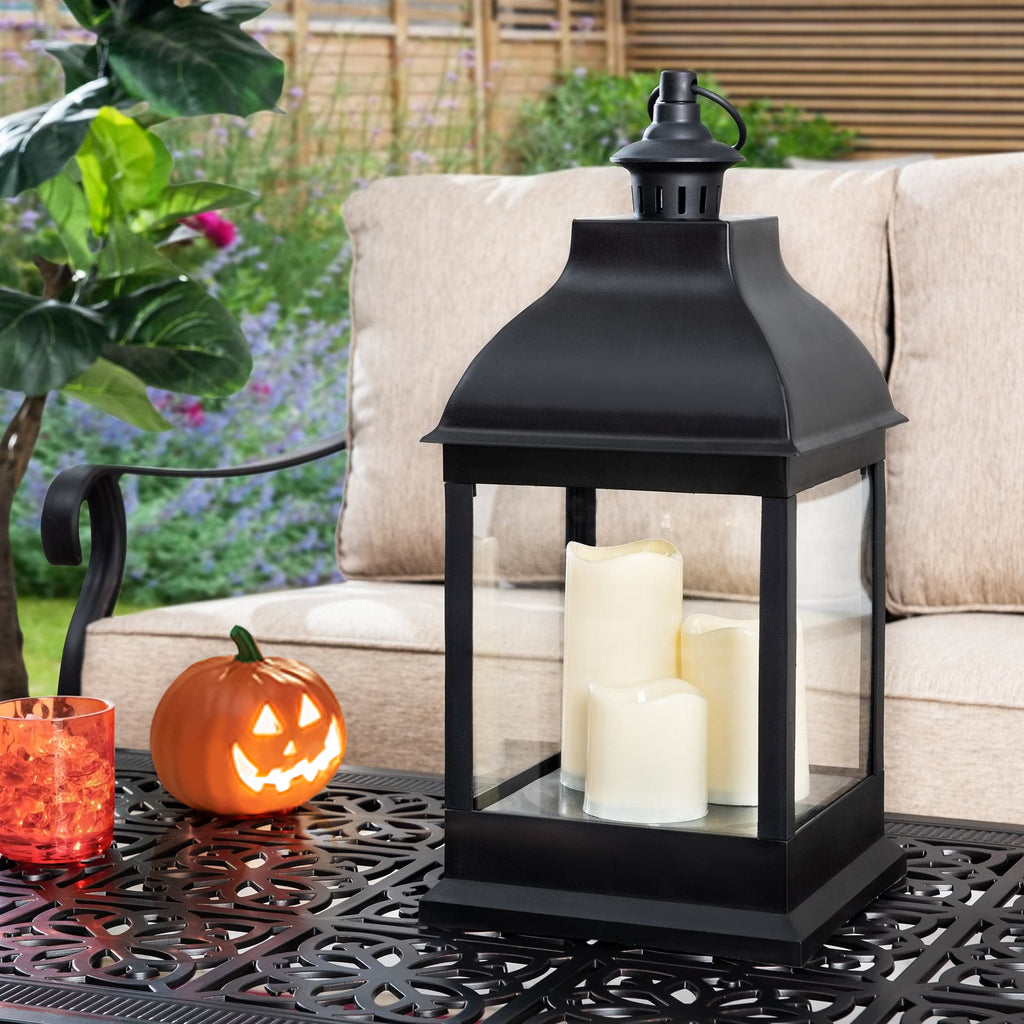 Prepare Enough Candy and Drinks
If you don't want to be tricked, having your treats ready will be a great way to bond with your neighbors and their kids.
Have a variety of candies ready and put them in a basket or on a plate so that when a bunch of little troublemakers comes along, you can easily handle them and make them fall for your candy shells. Add a delicious drink and make it easy for them to join the Halloween party.🍷🥤
Keep your drinks cool in style with this IceCove 60-Quart Insulated Beach Ice Chest Solar Cooler with Wheels and Handles. This cooler allows easy one-hand carry and extra-thick foam walls and lid to allow ice retention. Its unique design features a built-in solar panel that charges phones, tablets, and other devices while you enjoy a cold drink and the sun! The internal tray provides for extra segmented storage and the built-in bottle opener keeps everything you need to enjoy a drink on a sunny day in one place. Taking the party on the road is no problem as two durable, impact, and puncture-resistant wheels ensure easy mobility, and a built-in drain plug makes clean-up a breeze when the party is over.🍒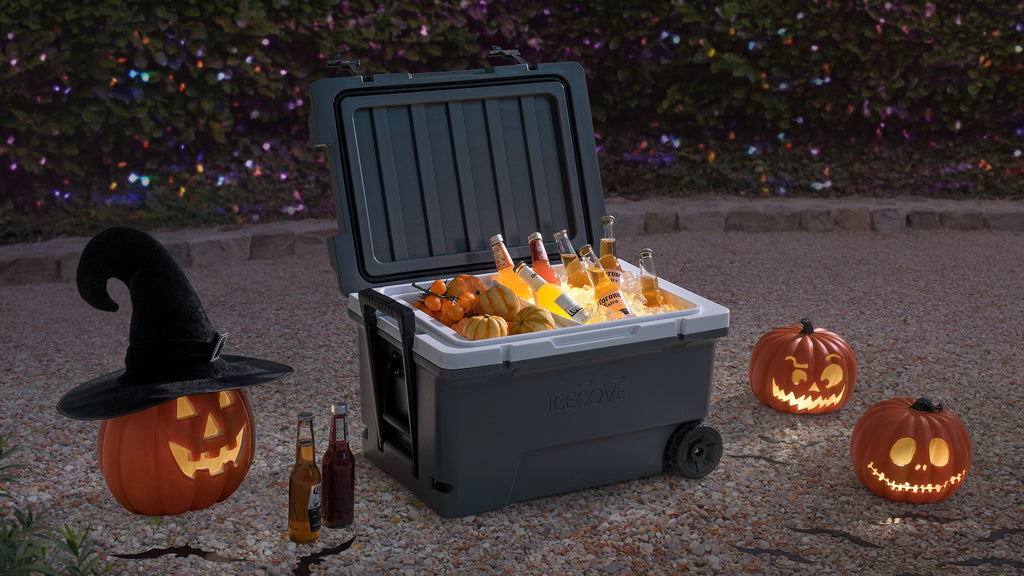 Decorate Your Dining Table
A variety of different designs can highlight any Halloween table. Mix and match different Halloween patterns to create the most unique table that will highlight all the food you serve. Also, you can use this Halloween-themed cutlery when you hand out Halloween candy to all the trick-or-treaters.🍓
This Sunjoy Outdoor Patio 11x13 Black 2-Tier Wooden Frame Backyard Hardtop Gazebo with Ceiling Hook spends all four seasons enjoying a covered spot outdoors under the cedar wood frame with a sturdy powder-coated steel rooftop that will stand the test of time. The 2-tier roof provides just the right amount of airflow while keeping occasional inclement weather at bay.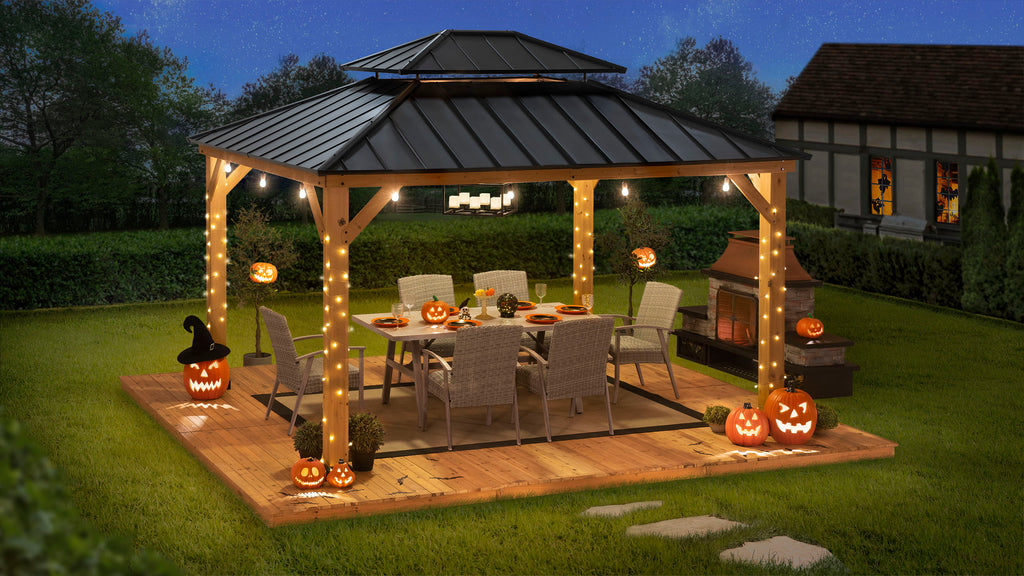 The Panic Factor
If you want to create a dramatic setting, don't forget to include a Halloween main item that is scary and makes your decorations stand out. From fake spiders to skeletons, Halloween decorations are meant to scare. Imagine them being scared, screaming, and laughing in your backyard.🌿
Treat yourself to comfort and convenience with SummerCove Outdoor Patio Grill Gazebo 11x11 Black Wooden Frame Privacy Screen Backyard Hardtop Hot Tub Gazebo with Shelf. Spend all four seasons enjoying a covered spot outdoors under the cedar wood frame with a sturdy powder-coated steel and polycarbonate rooftop that will stand the test of time. The polycarbonate skylight provides needed shade on hot sunny days while allowing in natural light. Customize the grill gazebo and the incorporated privacy screens and large serving shelf to fit your needs with three available configurations.💕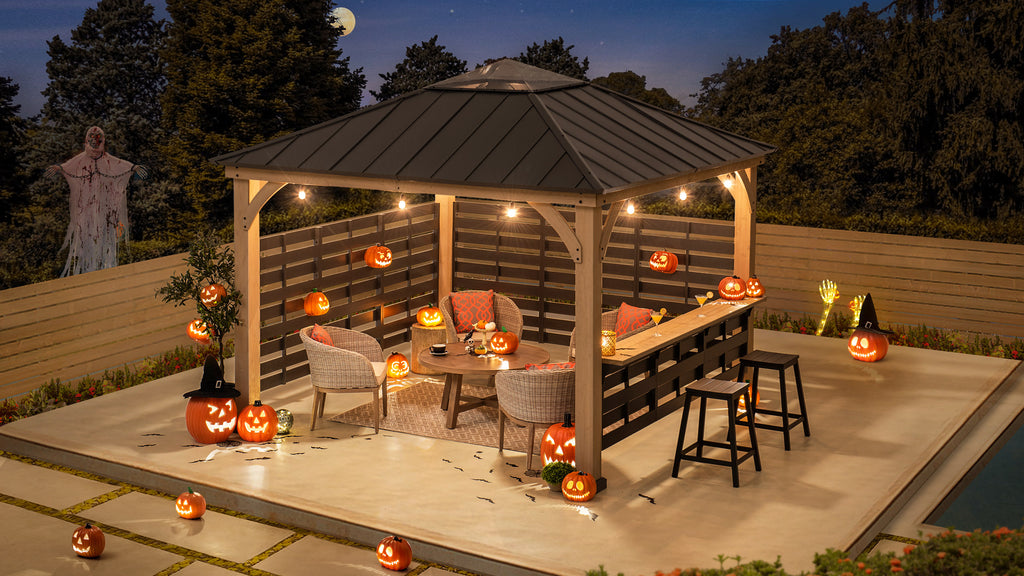 Take Simple Crafts
Choose a few craft projects to complete your decorating list so small children can get involved. Decorating for any holiday is a fun experience, and getting your kids involved makes it even better. Let them create simple crafts in the spirit of Halloween, and decorate the crafts made by children during the holiday, which will make children more confident.👍
This Sunjoy Outdoor Patio 13x15 Brown Wooden Frame Backyard Hardtop Gazebo with Ceiling Hook creates the perfect outdoor setting for any time of the year. Spend all four seasons enjoying a covered spot outdoors under the cedar wood frame with a sturdy rust-resistant powder-coated steel and polycarbonate rooftop that will stand the test of time. The polycarbonate skylight provides needed shade on hot sunny days while allowing in natural light. Set the mood by suspending a chandelier from the incorporated ceiling hook for additional functional light and high design.❤️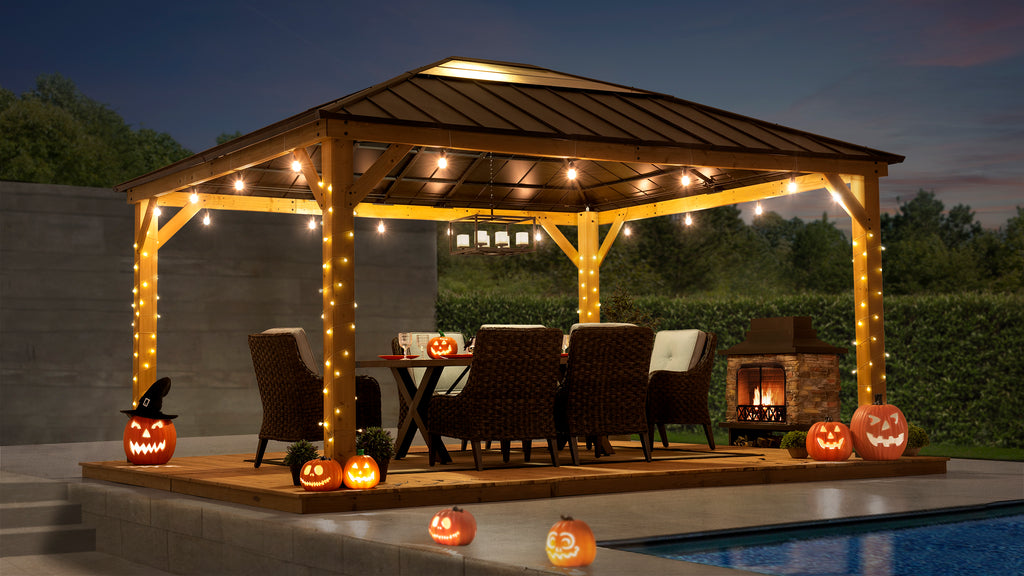 An Invitation to Halloween
It's a perfect time to throw a Halloween party after you've decorated your home for Halloween. The best way to get your loved ones together to celebrate this spooky and haunted day is to invite them all for a Halloween party. Your Halloween invitation needs to include all of your party details, the location, and any interesting information. Choose fun Halloween themes such as spooks and spooky spider webs to capture the spirit of the season. Invitation cards can be selected from different decorative card paper.🎀
Fun Halloween Activities and DIY Gifts
Once you've set up the decorations for your Halloween party and are sure that everyone has received your invitation cards, it's time to start planning fun Halloween activities. Think of separate Halloween party gifts and activities for children and adults so that everyone has fun at the party.🥘
Safe Trick or Treating
Trick or treating together with your kids is always the best way. Otherwise, make sure your child has a cell phone and a good flashlight and is in regular contact. Due to the atmosphere of Halloween, the general scene will be dark, and small troublemakers in happy play must pay attention to safety. Have a safe and fun Halloween!🎃💀
Halloween is arguably the best time of year to let your inner child come out and celebrate. When you decorate for this holiday, choose items that best fit the Halloween goals you want to achieve. Every detail will make a big difference in your home, and your loved ones will know that you put in the time and effort to make this Halloween the best it can be.🥳
How do you usually spend Halloween? 🎃Any interesting proposals? 🥳Use the hashtag #Sunjoylife to share your idea or opinion with us on Facebook, Twitter, Instagram, Pinterest, and Tiktok.