Do your vehicles, such as cars, pickup trucks, and SUVs need sun, rain, and snow protection? It can be both inconvenient and dangerous for your vehicle to be left exposed to the elements. 🎊
Although your auto insurance policy will cover hail, falling branches, and other weather-related damage if your car is comprehensively insured, filing claims, and making repairs are hassles best avoided at all costs. Also, dealing with severe weather Inconvenience is always best avoided as much as possible - with Sunjoy's carports, the protection and ease of mind you're looking for is not only possible, but practical.☔
Whether you live in a colder climate and have to deal with snow and ice scratches on your car in the winter, you are constantly worrying about sun damage during the hot summer months, or you just hate running to your car in a rainstorm, adding a carport is a low cost, but great way to keep your car out of snow, sun, rain, and other elements every day, and protect them from potential storm damage.🌿
Whether you are parking cars, pickup trucks, SUVs, and other vehicles, or placing some unused outdoor products, boats, lawn mowers and other large items that are not easy to store, any Sunjoy carport can help you easily solve these annoying problems.👏
Sunjoy 11x20 Gable Roof Wood Carport/Gazebo with 2 Ceiling Hooks
Protect your vehicles, boat, trailers, etc. from damaging sun rays, hail, rain, or snow with the AutoCove 11x20 Black Gable Roof Wood Carport/Gazebo with 2 Ceiling Hooks. Made from a premium cedar wood frame with a powder-coated steel gable rooftop this structure will last the test of time and require very little maintenance. Enjoy a refuge from the elements and use it as a gazebo for entertaining as an alternative to a garage. The design is a great complement to almost any home architecture.🙌
This wooden frame carport can perfectly park a large SUV, just like the picture, so don't worry about the rest of the cars, the size is big enough.👍
Sunjoy 14x20 Polycarbonate Gable Roof Metal Carport/Gazebo with 2 Ceiling Hooks
Protect your vehicles, boat, trailers, etc. from damaging sun rays, hail, rain, or snow with this AutoCove 14x20 Brown Polycarbonate Gable Roof Metal Carport/Gazebo with 2 Ceiling Hooks. Made from a durable powder-coated steel frame and polycarbonate roof this structure will last the test of time and require very little maintenance. Enjoy a refuge from the elements and use it as a gazebo for entertaining as an alternative to a garage. The design is a great complement to almost any home architecture.💗❤️
This stylish transparent polycarbonate carport can protect the vehicle very well. It is large in size and has a lot more space to park a car. As shown in the picture, the car is parked in, and there is still a lot of space left.🚗
AutoCove 12x20 Steel Frame Gable Roof Metal Carport/Gazebo with 2 Ceiling Hooks
Protect your vehicles, boat, trailers, etc. from damaging sun rays, hail, rain, or snow with this AutoCove 12x20 Gray Steel Frame Gable Roof Metal Carport/Gazebo with 2 Ceiling Hooks. Made from durable powder-coated steel this structure will last the test of time and require very little maintenance. Enjoy a refuge from the elements and use it as a gazebo for entertaining as an alternative to a garage. The design is a great complement to almost any home architecture.💐🌹
The carport not only has the function of parking vehicles but also can be used to place some outdoor items, boats, lawnmowers, etc., to protect them from wind and rain. It can also be used as a hospitality space, where tables and chairs can be placed for outdoor gatherings with friends.🍻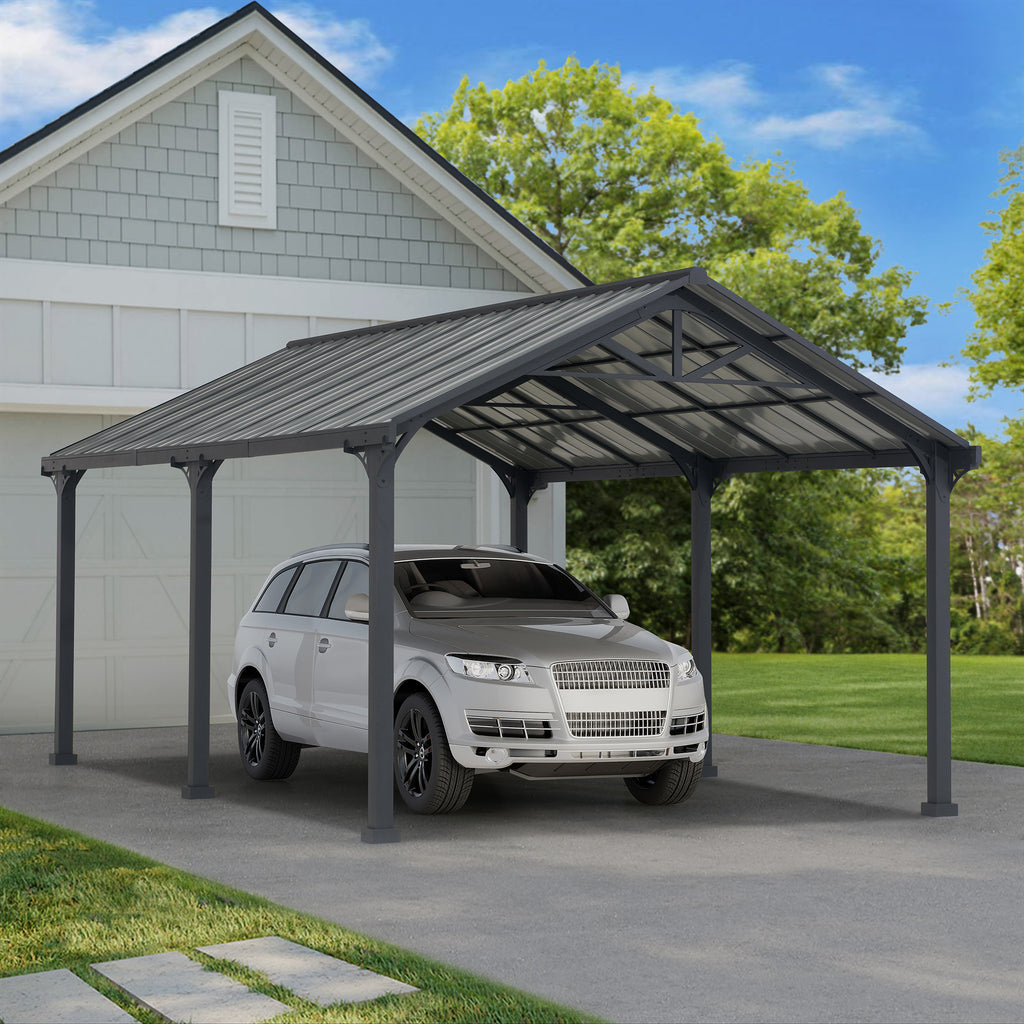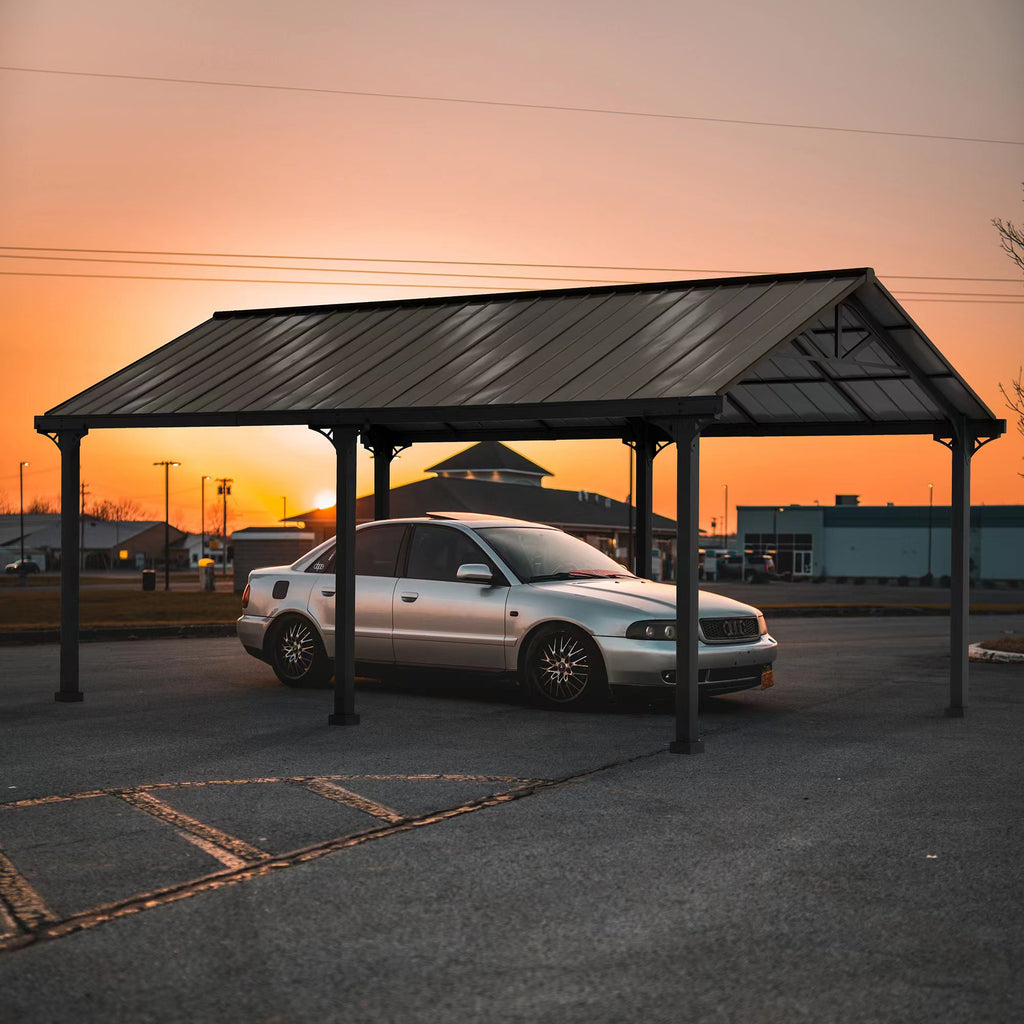 Carport vs Garage: Which Works the Best for You?
Carports and garages are the most common options when looking for a quality shelter to park your vehicle. But which one should you choose? How are they different? Carport vs. garage, which works best for you? Learn more about these structures and make the right choice for your vehicle. 🚗
A carport is a semi-covered steel or wood structure consisting of a roof supported by metal columns. Open structures can be freestanding or attached to buildings. Attached carports may be covered from the sides by 1-2 walls, but traditional (detached) carports only provide roof protection. 👏
While this design only offers protection from above, they are easy to assemble, relatively inexpensive, and to some extent portable. 💕
A garage, on the other hand, is a closed building with a roof and walls on all 4 sides. Like a carport, it can be attached to the house, or it can be a separate structure. 😘
The garage has a wall-sized door that allows the structure and vehicles withing to be secured.👍
Carports typically protect from sun, rain, and snow. The modern carport is made of metal in a modular style. While this increases portability, it diminishes ruggedness. The lack of walls leaves the vehicle vulnerable to extreme conditions such as thunderstorms or cyclones. ✨
The protection a garage can provide is enormous. As a solid structure, it protects from all the elements - from the sun to thunderstorms. When equipped with a locking mechanism, it offers further protection from vandals and thieves. 🥰
When it comes to protection, the garage is better. 👍
Due to the low material and labor requirements, the carport is easy to install and relatively light in material, making it the more economical option. On average, a carport costs about half as much as a garage. For many families, it can protect the car and be economically affordable, which is a good choice. When it comes to affordability, the carport wins! 💖👍
Every home's outdoor space is limited, and maximizing the use of the limited outdoor space is very important. Due to its light weight and strong mobility, the carport can be easily moved and replaced when space is needed. 🌺
In terms of mobility and space use, the superior mobility of the carport is more convenient than a fixed garage, and the space can be used in a variety of ways. 😘👍
While both carports and garages have their pros and cons, neither is decidedly better than the other. Garages provide more reliable protection and are aesthetically pleasing. Carports provide affordable yet adequate protection that is portable and economical. 🌟
Given the possibility of adverse environmental conditions, the basic protection provided by a carport is sometimes sufficient. When choosing a better way to secure your vehicle, it's important to consider the unique conditions your home and area face in order to make the right choice. 🎉🎉
At Sunjoy, customer satisfaction is always a priority. That's why we offer free shipping on select orders and fast delivery times. Plus, our products come with a one-year limited warranty for added peace of mind. So why wait? Browse Sunjoy's selection of carport furniture sets today and give your car or pickup truck the protection it deserves!
Use the hashtag #Sunjoylife to share your idea or opinion with us on Facebook, Twitter, Instagram, Pinterest, and Tiktok.