Description
Product Images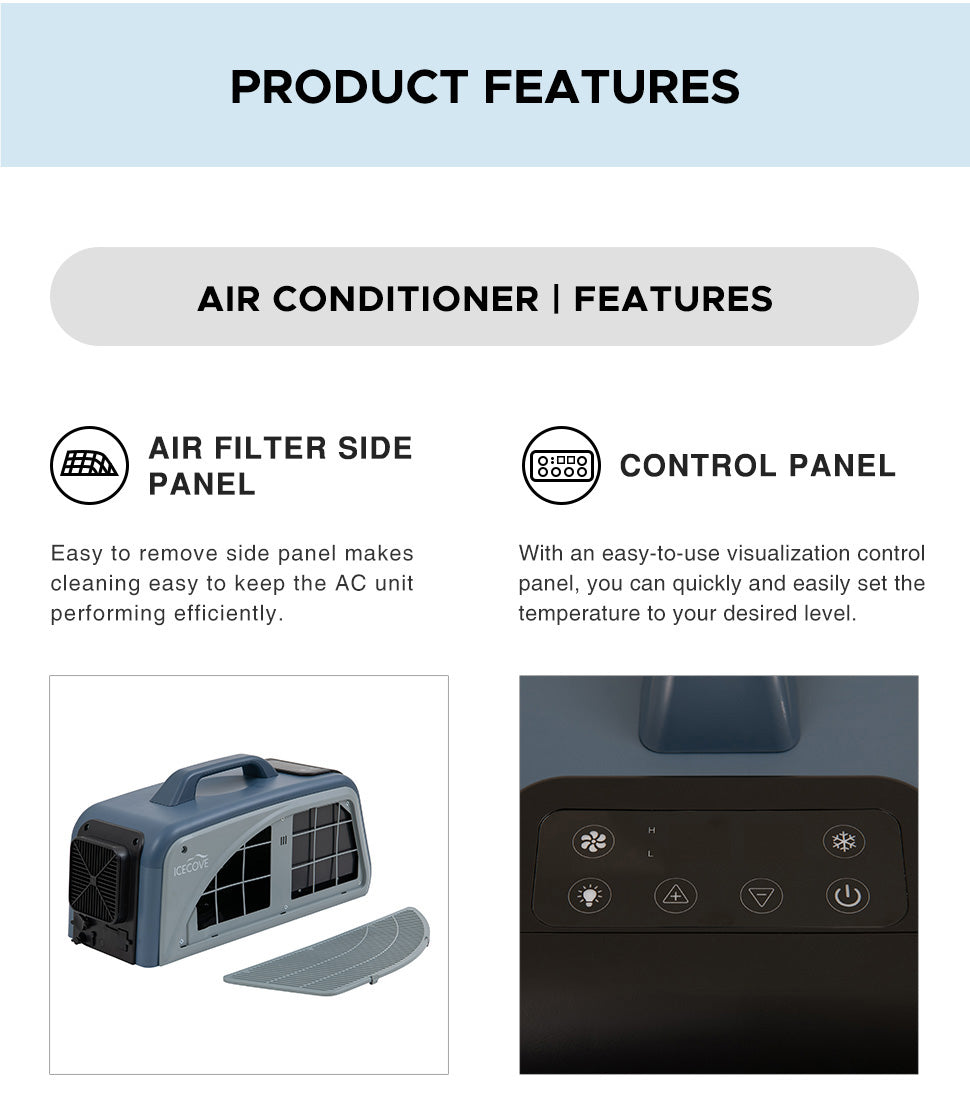 Details
Enjoy flexible, energy-saving, spot cooling with the IceCove portable air conditioner, the ultimate solution for fast and efficient cooling in outdoor spaces. With its lightweight and portable design and additional battery power option, this AC unit is easy to maneuver and transport. Rapidly cool your environment with 2 levels of fan speed and easy-adjust temperature setting buttons. The user-friendly control panel allows for effortless navigation, while the removable side panel ensures easy cleaning and maintenance. Activate the LED light (features 3 lighting modes) with the press of a button and illuminate your space with ease. This powerful and versatile portable air conditioner is the optimal choice for indoor and outdoor use, including home offices, gyms, camping tents, vans, and RVs. Experience the ultimate comfort and convenience with this exceptional portable air conditioner.
Top Features
10-15 Mins Fast & Efficient Cooling: Packed with 2500 BTU of cooling power and an R290 refrigerant system that meets EU environmental standards, this air conditioner has the advantage of a fast cooling rate and high refrigeration efficiency. Enjoy instant and effective cooling on your next adventure!
Lightweight & Portable: Stay cool everywhere you go with this portable air conditioner. It's lightweight and compact and comes with an ergonomic handle for easy transportation. Whether you're in a tent, campervan, trailer, or indoors, you can enjoy a refreshing and comfortable temperature.
Multiple Power Options: This fast cooling air conditioner is designed to be versatile to meet the needs of various use scenarios and outdoor adventures. It can be powered through 100-240V AC, a compatible battery, car charger, or compatible solar panel (not included) making it ideal for off-grid living or on-the-go activities.
Power On the Go: The powerful battery comes with multiple output interfaces, including DC, Type C, and two USB 3.0 ports, allowing you to simultaneously power up to four devices. Keep cool and charge up all your electronics in one go. Enjoy the comfort of home wherever your journey takes you.
Easy to Operate: With its easy-to-use visualization control panel, you can quickly and easily set the temperature to your desired level. Additionally, the removable side panel air filter simplifies maintenance and cleaning. With three levels of LED lighting, it's suitable for any setting.
Air Conditioner | Top Features
Control Panel: With an easy-to-use visualization control panel, you can quickly and easily set the temperature to your desired level.
Built-in LED Flashlight: Three levels of LED lighting let you light up your space with the touch of a button. Holding down the lighting button for about 4 seconds toggles the temperature display between Fahrenheit and Celsius.
Air Filter Side Panel: Easy to remove side panel makes cleaning easy to keep the AC unit performing efficiently.
Recessed Track: The secure recessed track makes the vent installation easy and fast. Enjoy the convenience of a securely installed AC vent with no extra effort.
Included Accessories: Power adapter x 1, Drain pipe x 1, Air hose x 1
Item Weight: 18.30 lbs
Power Bank | Top Features
Lithium Iron Phosphate Battery: Lithium iron phosphate batteries offer exceptional safety for powering various devices, due to their reduced risk of combustion and thermal runaway. Additionally, they have a superior cycle life, lasting up to five times longer than lithium-ion batteries.
Large Capacity Battery: Featuring a powerful 40Ah battery capacity, it can provide up to 4-6 hours of continuous cooling performance. And the safety lock design ensures a secure and safe wire connection.
Multiple Charging Modes: This unit provides 3 convenient charging modes: AC charging mode, vehicle charging mode, and solar panel charging mode.
Convenient Output Ports: Includes a DC port, Type C port, and two USB 3.0 ports, allowing you to simultaneously power up to four devices.
Included Accessories:

 Connector cable

 x 1,

Car charging cable x 1

Item Weight:

 

16.31

 

lbs
Solar Panel | Top Features
Power up Your Outdoor Adventures: With the 226W Portable Folding Solar Panel - the ultimate solution for on-the-go energy. Enjoy the convenience of charging your devices wherever there is sunlight.
Compact and Lightweight Design: When folded, the solar panel measures 24.8" L × 30.71" W × 1.97" H, making it compact and easy to store. When expanded, it reaches an impressive 98.23" L × 24.8" W of surface area, and it weighs less than 20 pounds!
Crafted From High-Quality Materials: Built to withstand the toughest outdoor conditions. Invest in clean, renewable energy today and enjoy the freedom of power on demand.
Maximize Your Sun Exposure: With the 4 adjustable kickstands, ensure optimal charging efficiency wherever you are. The solar panel easily folds for convenient carrying, is secured with a magnetic closure, and is equipped with an ergonomic handle.
Portable & Stay Organized: Complete with a convenient ergonomic carrying handle, ensuring easy transport and quick setup for efficient charging. Say goodbye to tangled cords with our storage package, keeping everything organized and ready for use.
Maximum Versatility: Compatible with our portable air conditioner battery for a supercharged portable power combination and maximum versatility!
Specifications
Air Conditioner
Input Voltage: AC 100-240V 50/60 Hz
Power Adaptor Output: DC 25.5V / 11A
Wattage: 195W (Dry Ball / Wet Ball 80°F / 66°F) / 250W (Dry Ball / Wet Ball 95°F / 75°F)
Battery Pack Capacity: 24V 40Ah
Refrigerant and Filling Level: R290 / 65g
Work time of full battery: 4-6H
Cooling Power: 2500 BTU / H
Circulating Air Volume: 150 m³ / h
Operating Temperature Range: 60°F~100°F
Noise: ≤58 dB(A)
Lithium Battery Life: cycle 1000 times
Climate Type: T1
Dimension: 23.62" x 9.25" x 14.29" (height includes battery)
Product Weight: 18.74 lbs.
Warranty Time: 1 year
Power Bank
Battery Type: Lithium-ion polymer batteries
Battery Capacity: 24V 40Ah /864Wh
DC Input: 25.5V
Charging Time: 4-6 H (Use standard power adaptor) 8-10H (Use solar panels)
DC Output: 12V / 5A MAX
Type-C: PD (5V,9V,12V,15V,20V/60W MAX)
USB Connector: QC3.0 (5V,9V,12V/18W MAX)
Working Temperature: 32°F~140°F
Product Weight: 15.87 lbs.
Product Size: 22.05" x 8.46" x 3.54"
Warranty

 

Time: 1 year
Solar Panel
Maximum Wattage(Pmax): 226W
Optimal Working Voltage(Vmp): 24V
Optimal Operating Current(IMP): 9.41A
Open Circuit Voltage(Voc): 28.8V
Short Circuit Current(ISC): 9.98A
Operating Temperature: -40°F to 185°F
Power Tolerance: ±3%
Solar Panel Quantity: 4PCS
Battery Type: Monocrystalline
Battery Efficiency: 22%
Folded Size: 24.8" L x 30.71" W x 1.97" H
Expanded Size: 98.23" L x 24.8'' W x 1.18" H
Product Weight: 17.81 lbs.
Package Weight: 19.84 lbs.
Warranty

 

Time: 1 year
Payment & Security
Your payment information is processed securely. We do not store credit card details nor have access to your credit card information.
Questions & Answers
Have a Question?
Be the first to ask a question about this.
Ask a Question