Description
Product Images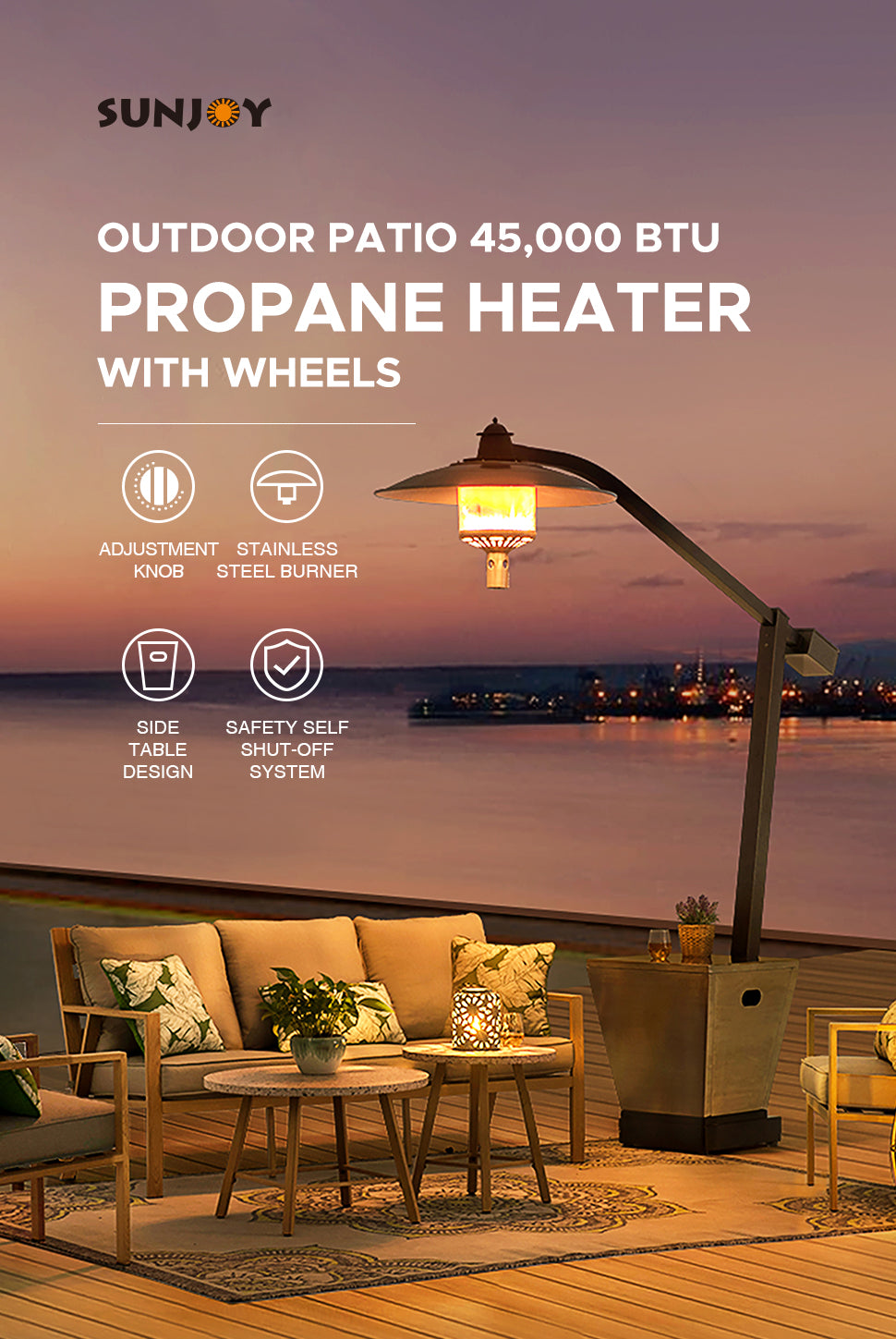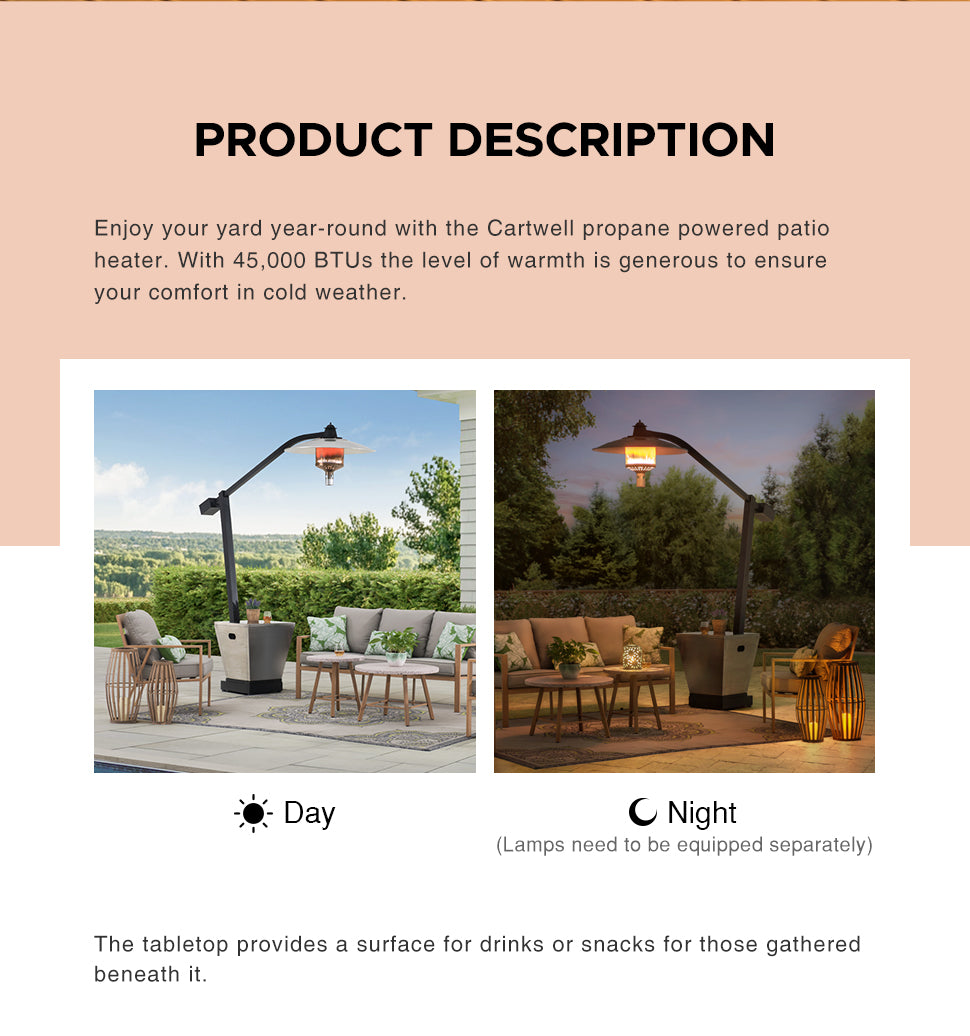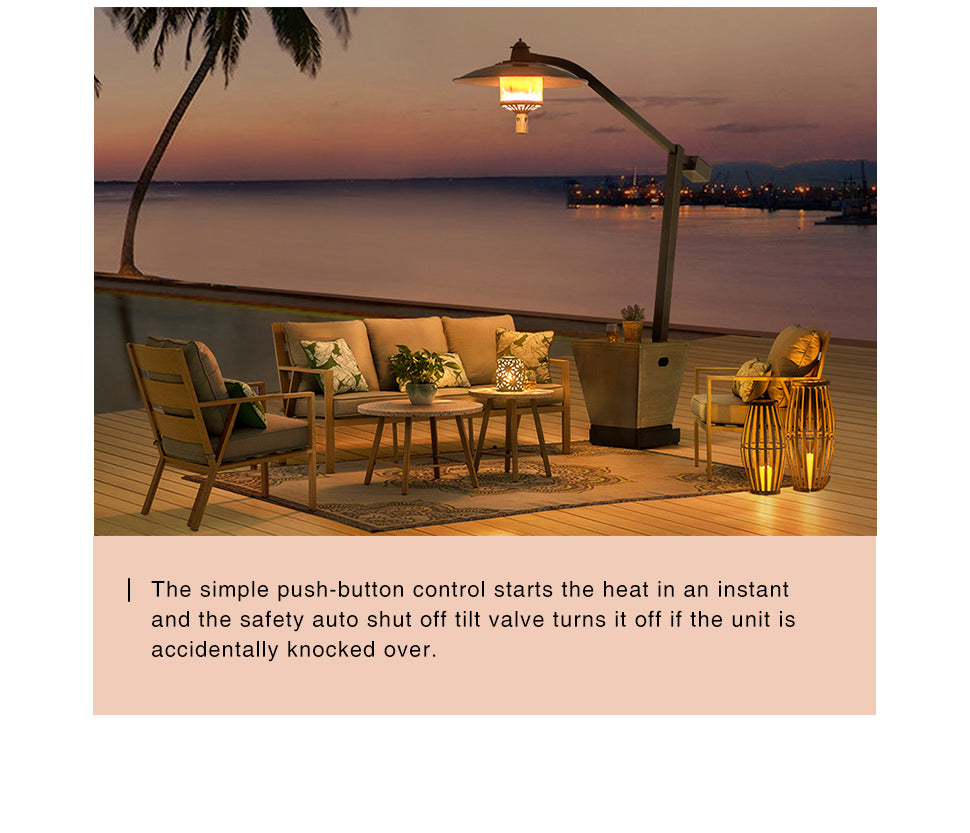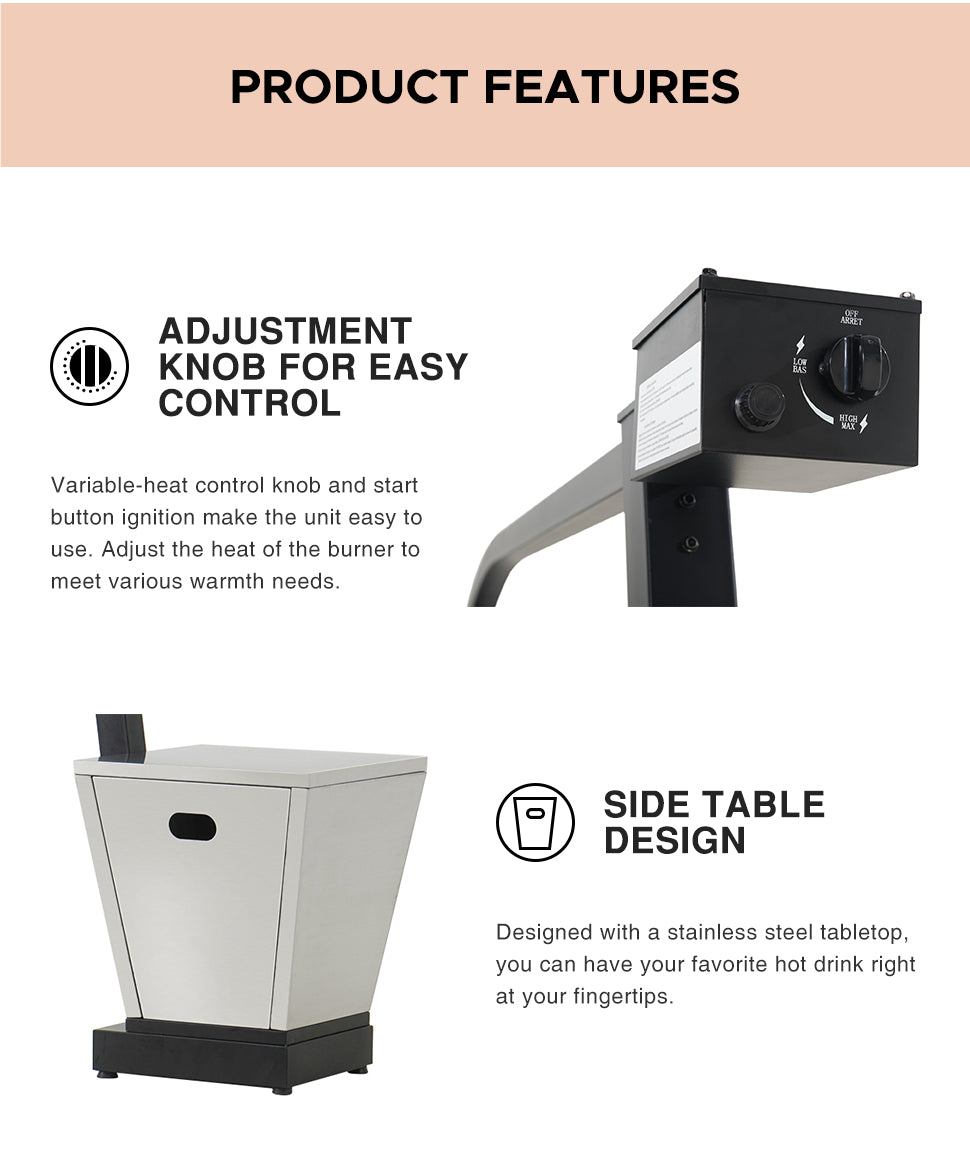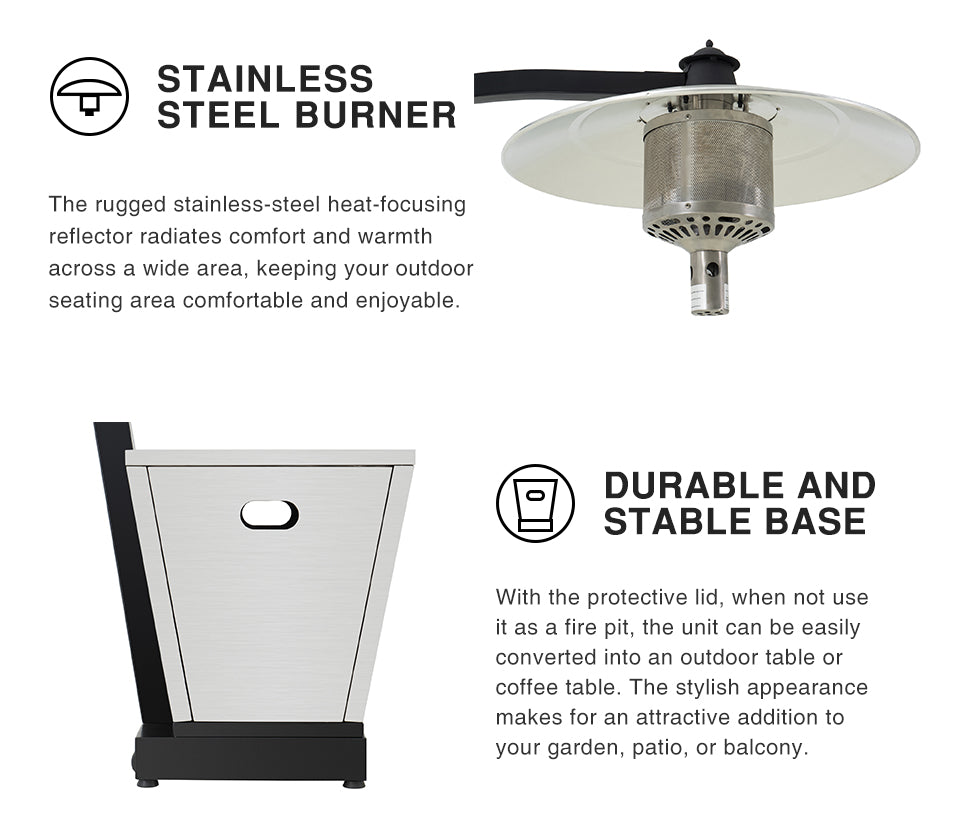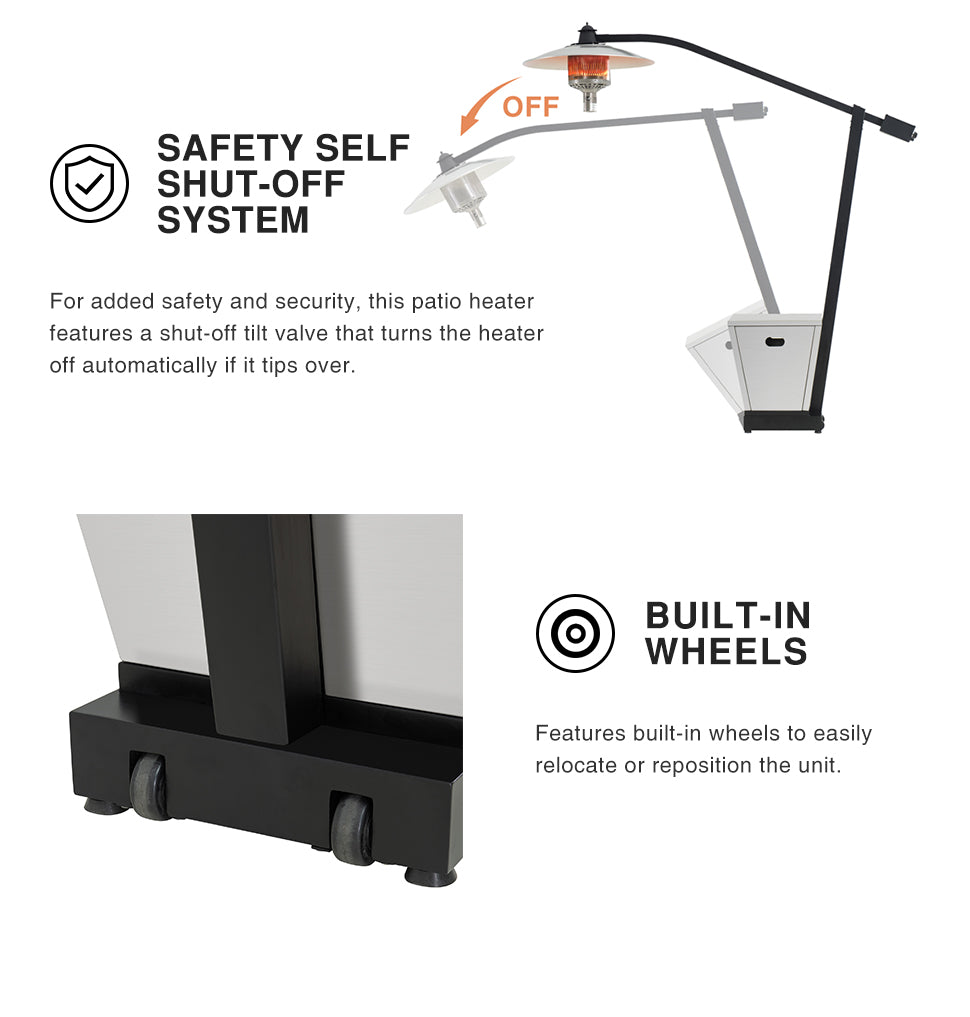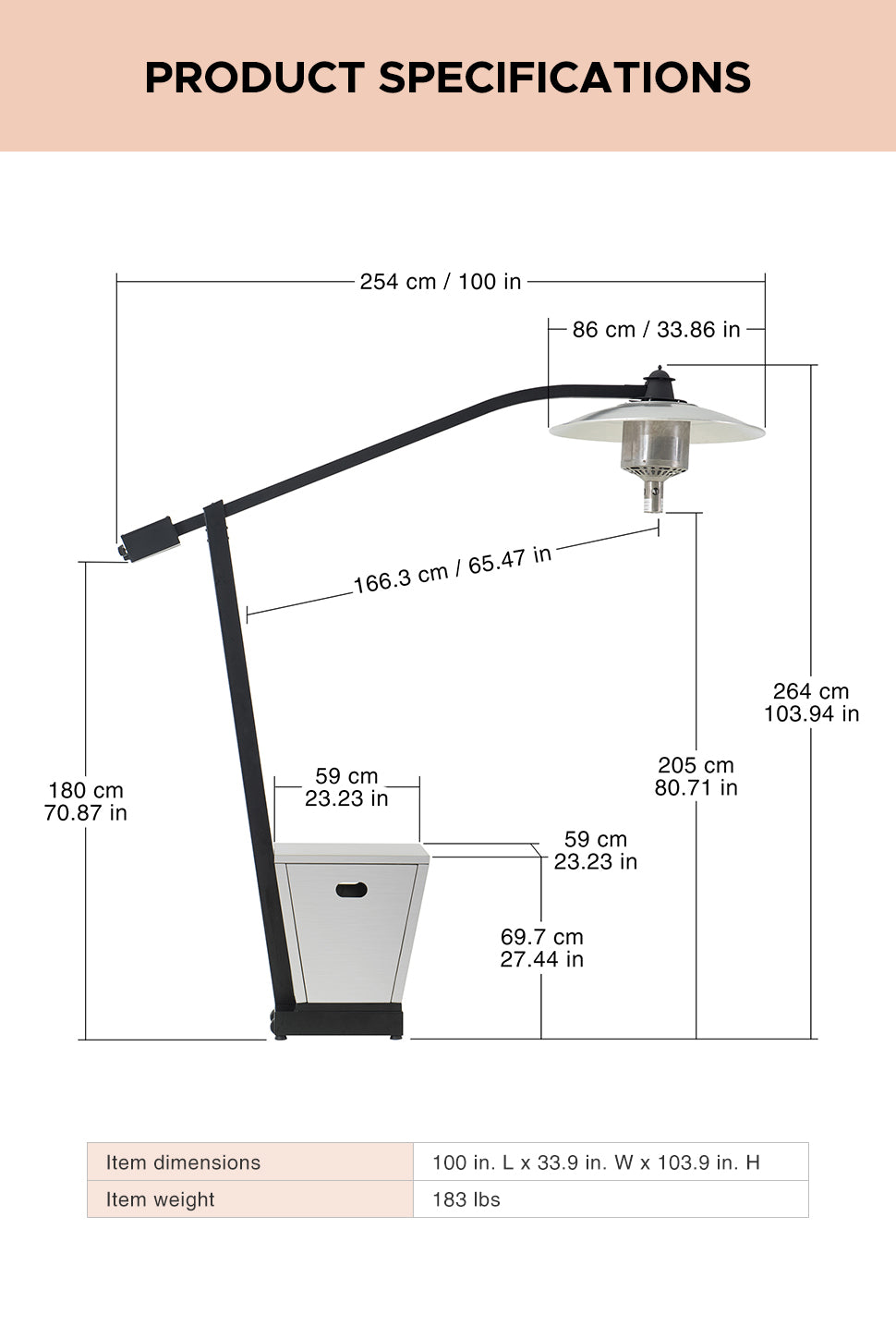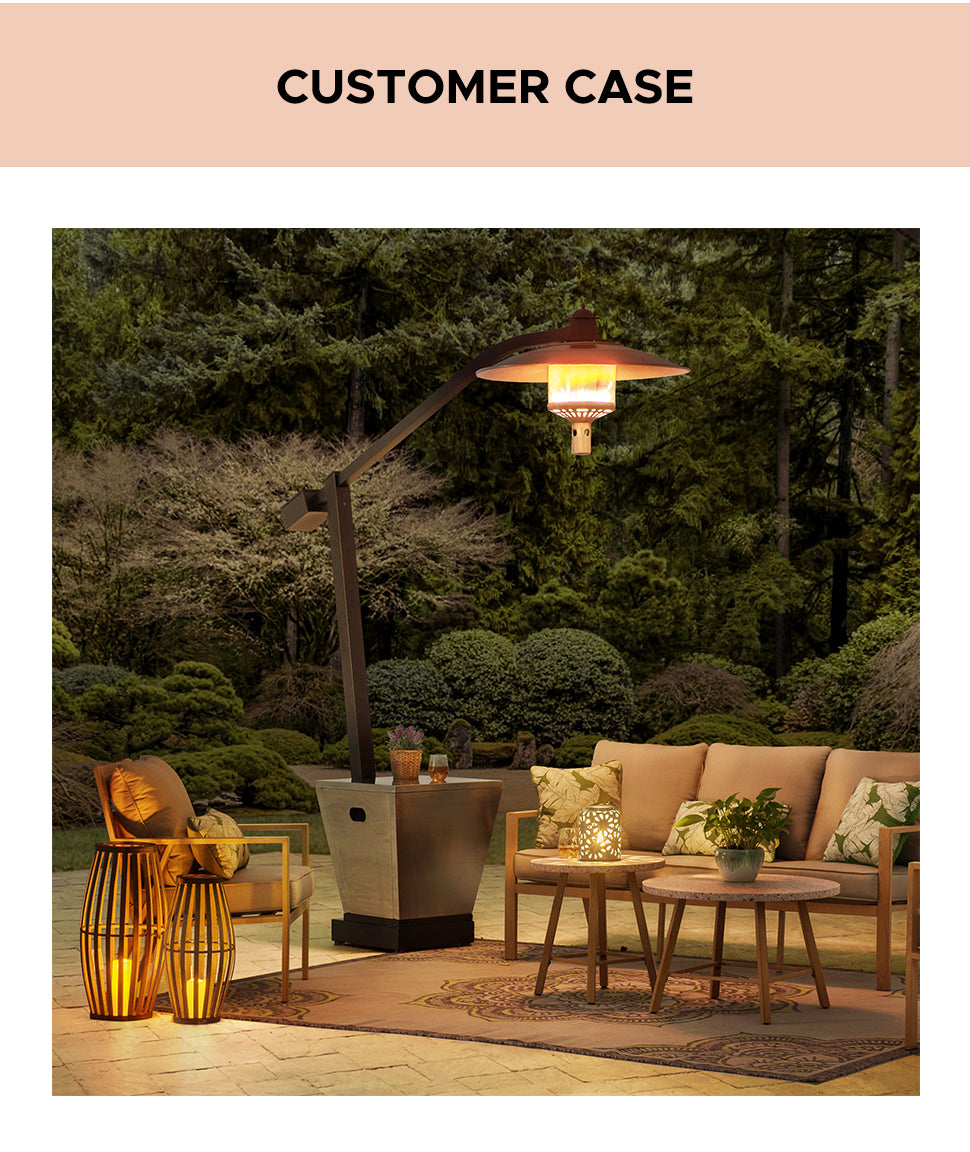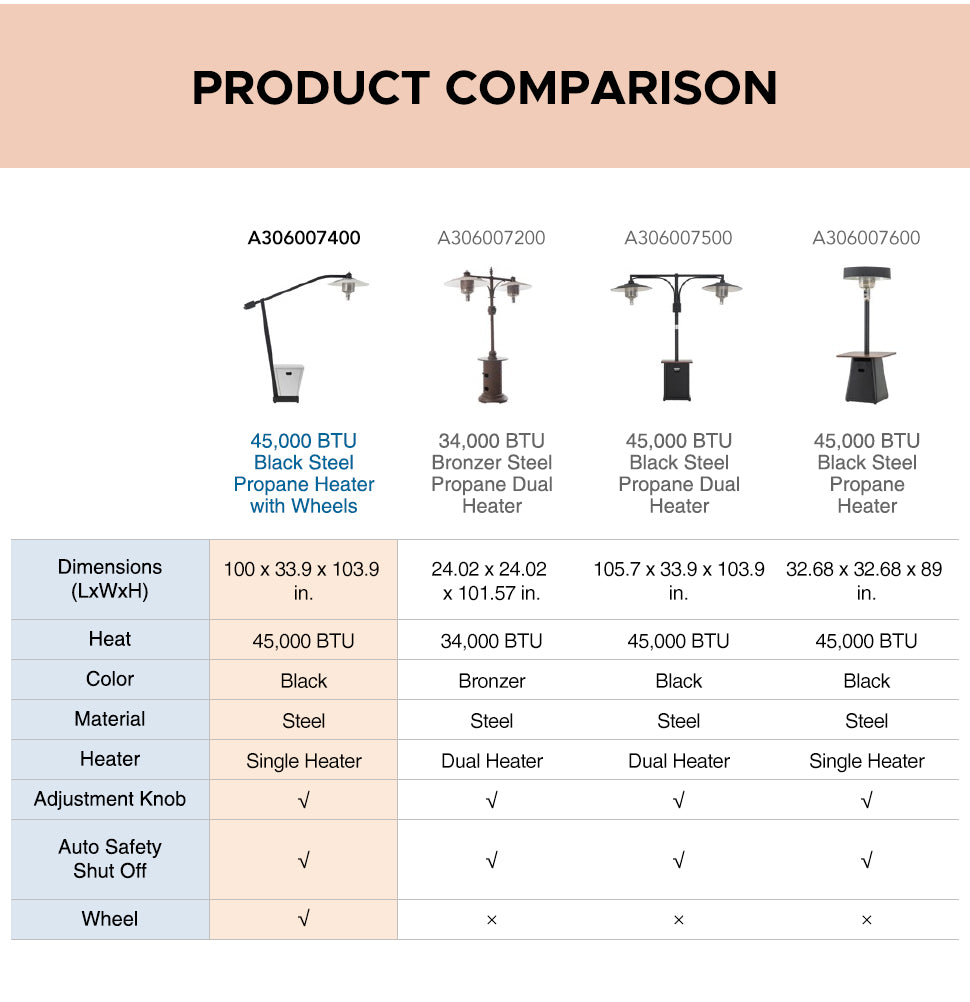 Details
Extend the time comfortably staying outdoors with this Sunjoy commercial & residential use propane-powered patio heater. With 45,000 BTUs the range of warmth is generous to ensure you and your friends only are thinking about good conversation versus being cold. The tabletop provides extra space to store refreshments. The simple push-button control starts the heat in an instant and the safety auto shut-off tilt valve turns it off if the unit happens to tip. 
Features
45000 BTUs High Heat Output: With 45,000 BTU/hour heat output the range of warmth is generous to ensure you and your friends only are thinking about good conversation versus being cold. (Data Certified by CSA GROUP™)

Unique Offset Design: This commercial heater features an innovative offset design, and is sure to provide warmth where you want it with its tilting head. For example the center of your outdoor dining table and coffee table, or as a side table of your corner sofa.
Adjustment Knob for Easy Control: Variable-heat control knob and start button ignition make the unit easy to use. Adjust the heat of the burner to meet various warmth needs.

Stainless Steel Burner: The rugged stainless-steel heat-focusing reflector radiates comfort and warmth across a wide area, keeping your outdoor seating area comfortable and enjoyable.

Safety Self Shut-off System: For added safety and security, this patio heater features a shut-off tilt valve that turns the heater off automatically if it tips over.

Built-in Wheels: Features built-in wheels to easily relocate or reposition the unit.

Side Table Design: Designed with a stainless steel tabletop, you can have your favorite hot drink right at your fingertips.

Durable and Stable Base: This patio heater is made of premium stainless steel for long-lasting use. The heavy-duty (183 lbs. ) square-sided design base adds stability and durability to the unit.

Warm Up Your Outdoor Living: This stylish freestanding propane gas patio heater is designed for commercial and residential use, a perfect addition to various outdoor home living spaces and open-air shops, such as patios, decks, backyards, lawns, poolside, open-air coffee shops, restaurants, open-air shopping centers, etc.
Specification
Item Dimensions 100 in. L x 33.9 in. W x 103.9 in. H
Item Weight 183 lbs
Free curbside delivery
Assembly Information
📜Instruction Manual:  Download PDF
🔧Check out the detailed assembly video here🔧: https://youtu.be/wXJuT8bcKI8
If need a professional installation service please visit Assembly Service to get an instant price and schedule your date.
SAP No.: A306007400

Payment & Security
Your payment information is processed securely. We do not store credit card details nor have access to your credit card information.
Is the heat output adjustable? Or is there just an on-and-off switch?

Dear customer, Heat output is adjustable, and there is an off-and-on switch.

Can this heater be used inside a canopy?

Dear customer, Really hot, It is not recommended to beneath a structure of any sort.

Can the heat be felt on the ground? I'm looking to heat my patio when I let my young puppies outside to potty.

Dear customer, I doubt much heat would reach the ground, it's about 100 inches above the ground. There are a variety of heat lamps or radiant heaters available that would work better.

I would like to view the user manual & assembly guide before I purchase. Is that possible?

Dear customer, We have a digital version of the instruction manual. If you have any questions regarding the heater, we'd be happy to assist you. Thank you.

What is the product warranty?

Dear customer, Sunjoy will provide a one-year limited warranty after your purchase.

Can I use a 30 lb propane tank with this unit?

Dear customer, This patio heater can only accept a 9 kg / 20lb Propane tank with size of 46cm (Height) / 18.1in * 32cm (Width) / 12.5in.

Can I use it in the garage?

Dear customer, The patio heater cannot be used in an enclosed space such as a garage, camper, tent, car or home. It is for outdoor use only.