Description
Transform your patio into the ultimate relaxation destination with this outdoor propane fire pit table from Sunjoy, the world's leading ready-to-assemble outdoor structure maker. There's nothing quite like an evening outside around the flickering and cozy fire. This transitional design is sure to complement any outdoor space, made of a steel table top with nice heat transfer looking, all-weather wicker, and powder-coated steel. Adjust the level of fire and heat with a convenient control knob. Conceal your propane tank (tank not included) out of the way underneath the firepit. Curl up for a cozy evening under the stars or invite friends and family over for a good conversation. You'll enjoy this smokeless fire pit for years to come.
All-Weather Wicker: The wicker and wood grain finish create an attractive and harmonious design. The closed table body protects and hides the propane tank in an aesthetically pleasing fashion.
Natural Wood-Looking Finish: This chic and stylish fire pit table features a handsome woodgrain finish that complements a wide array of outdoor spaces.
Magnetic Side Door:   This propane fire pit table has a magnetic side door, you can quickly change and conceal your propane tank. Easily insert/remove the propane tank through the door or check on the propane tank directly.
Adjustment Knob for Easy Control: This fire pit table has an electric ignition switch that makes the unit easy to start. The flame intensity is controlled by an adjustment knob to meet various warmth needs.
Storage Space: Built-in storage space for the propane tank (not included). This outdoor gas fire pit standard fits a 20-pound propane gas cylinder (not included) to facilitate an easy connection.
Protective Lid Included: With the protective lid when not used as a fire pit, the unit can be easily converted into an outdoor table or coffee table. The stylish appearance makes for an attractive addition to your garden patio, or balcony.
Lava rocks Included:

 

This modern design outdoor fire pit is complete with natural red lava rocks, which can help radiate the warmth more evenly as they are heated by the flames. Excellent addition to any outdoor setting.
Enjoy Coffee & Dining Outside: This hidden propane tank fire pit table is a perfect addition to various outdoor living spaces, such as patios, decks, backyards, gardens, swimming pools, lawns, etc.
Brown powder-coated steel frame with wood grain heat transfer tabletop

Built-in magnetic side door to change and conceal your propane tank quickly
Heat output: 37,000BTU/HR 
Some assembly required
Item Overall Dimensions: 

37.99" L x 37.99" W x 25.59" H

Fire Pit Opening Size: 20.3 x 20.3 inch

Item weight 63.93 lbs
📜Instruction Manual: Download PDF
🔧Check out the detailed assembly video here🔧: https://youtu.be/hHawCPYvcBI
SAP No.: A302006410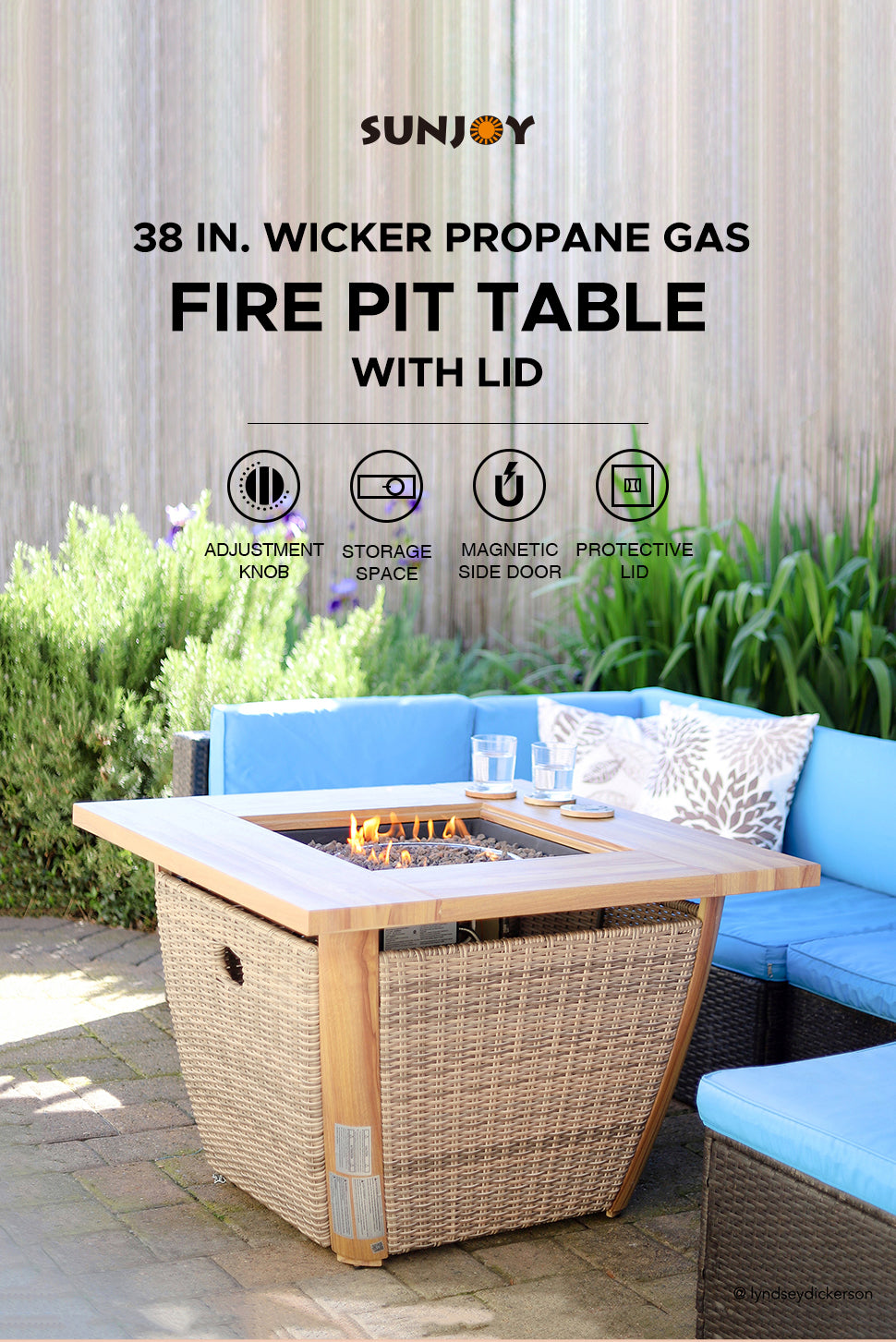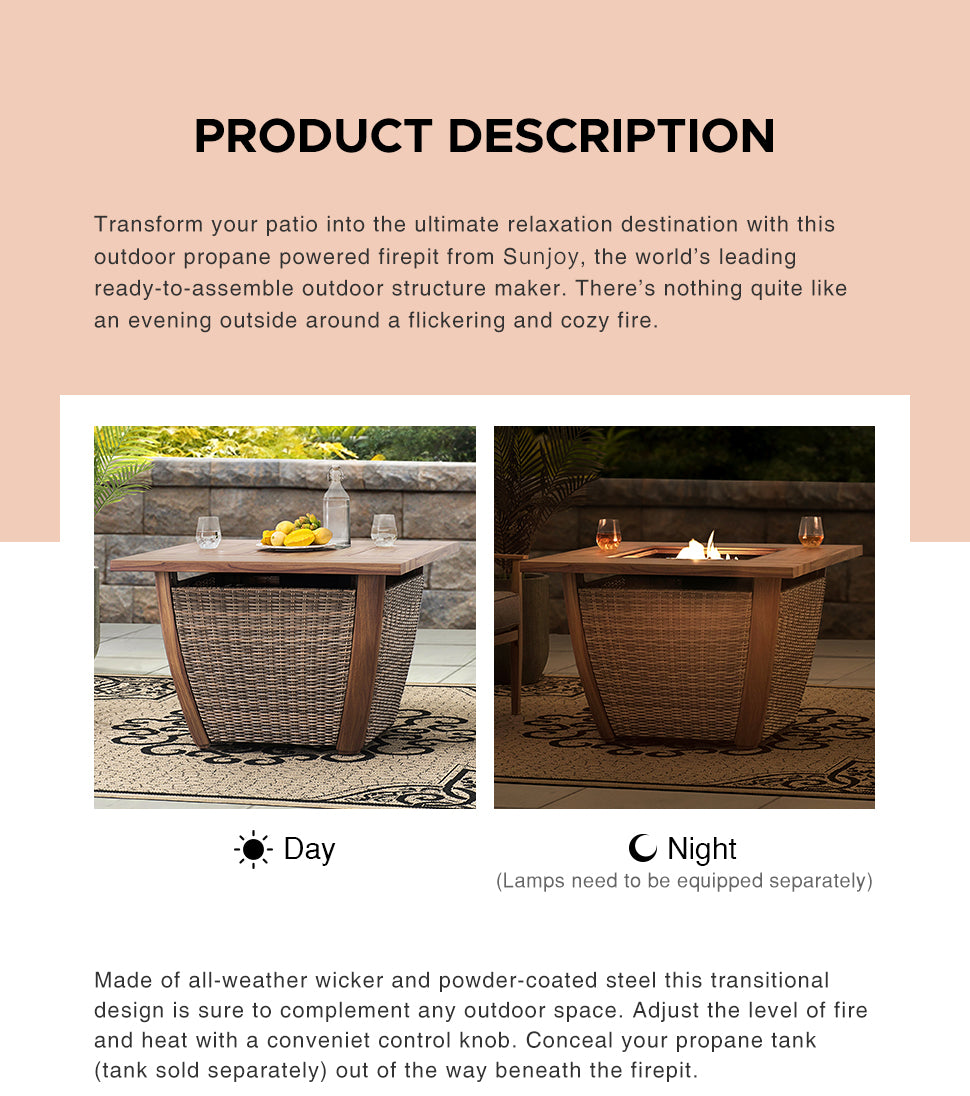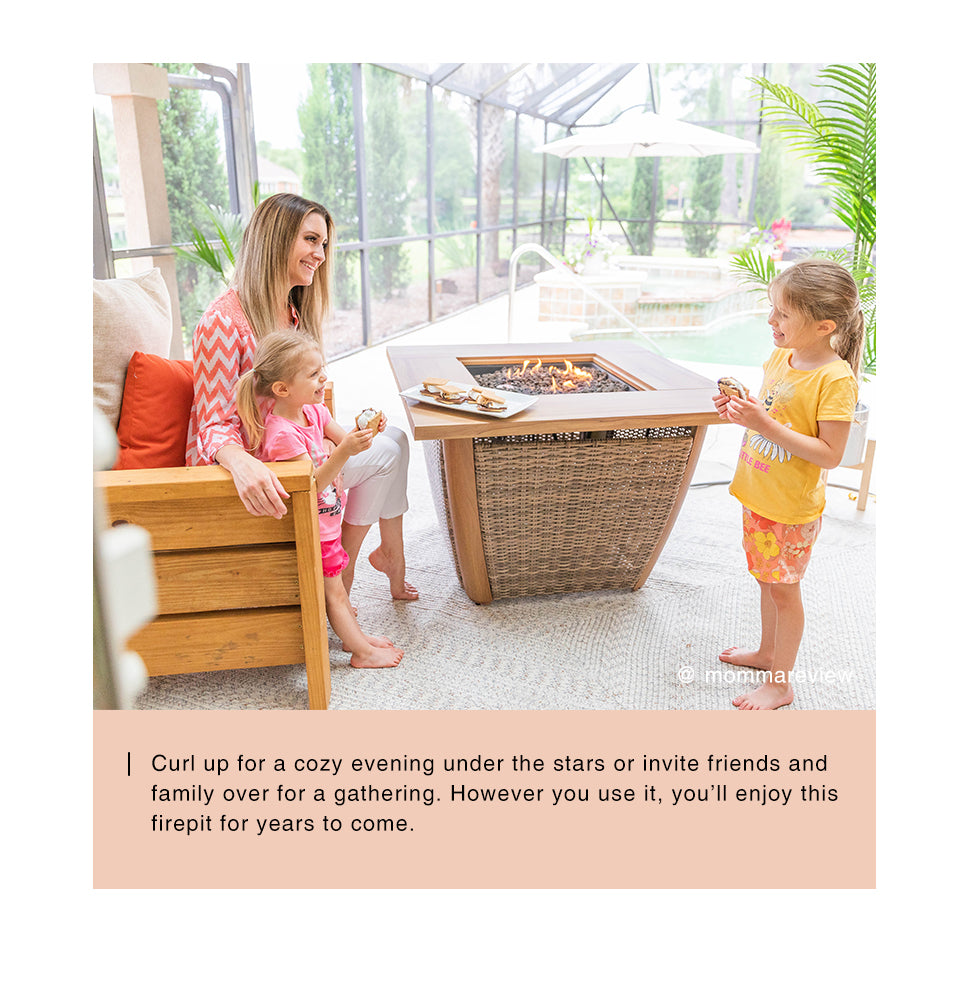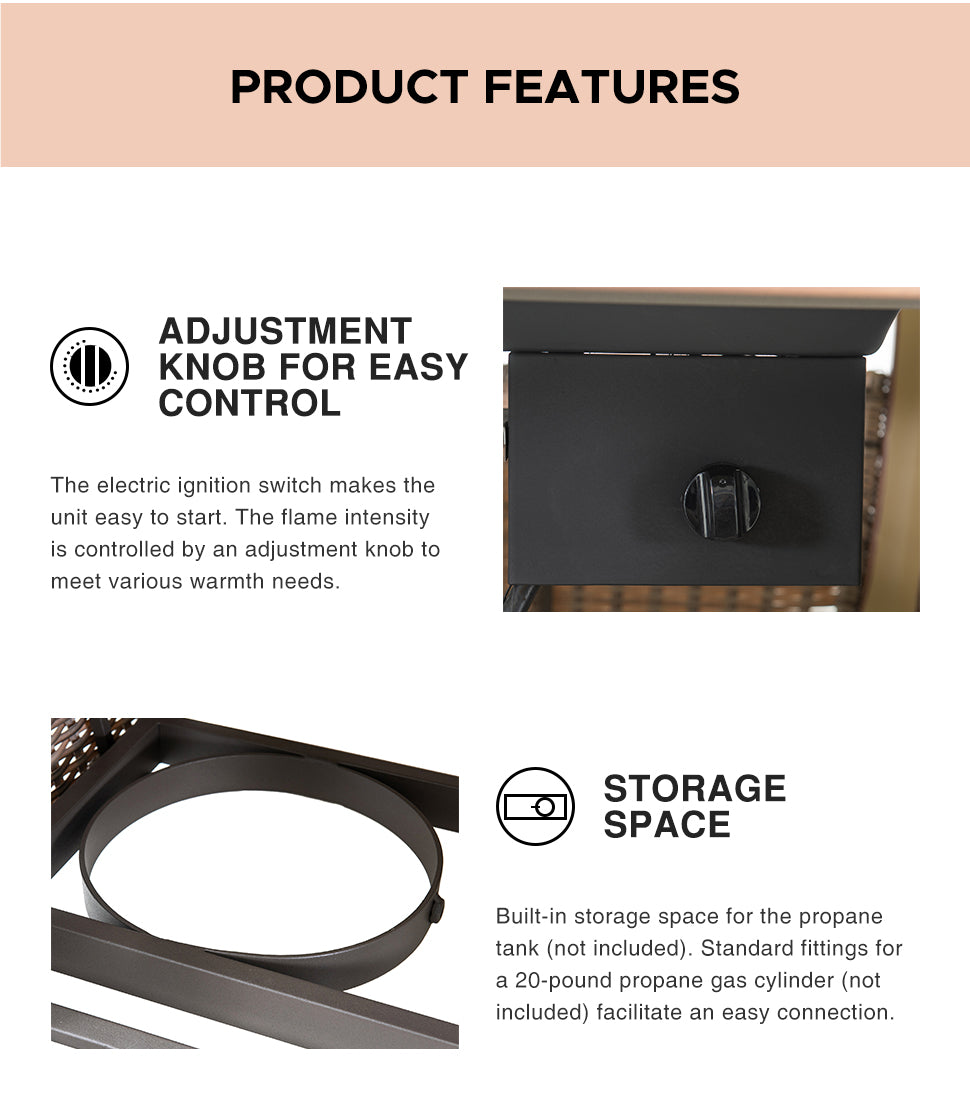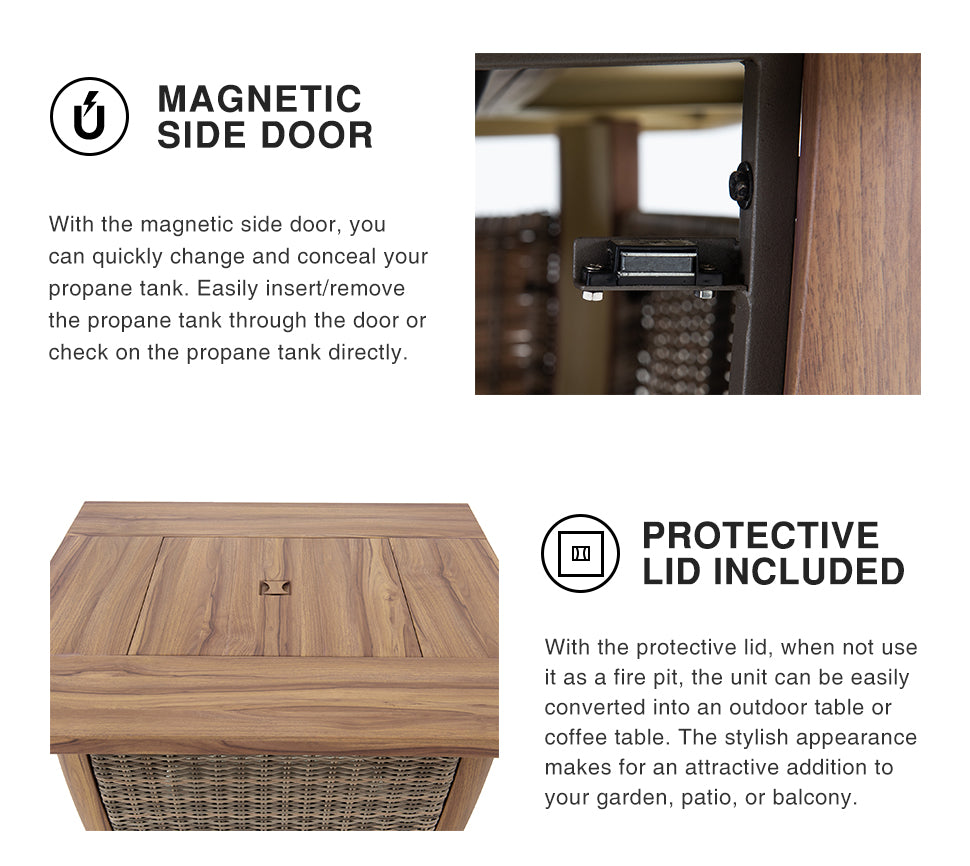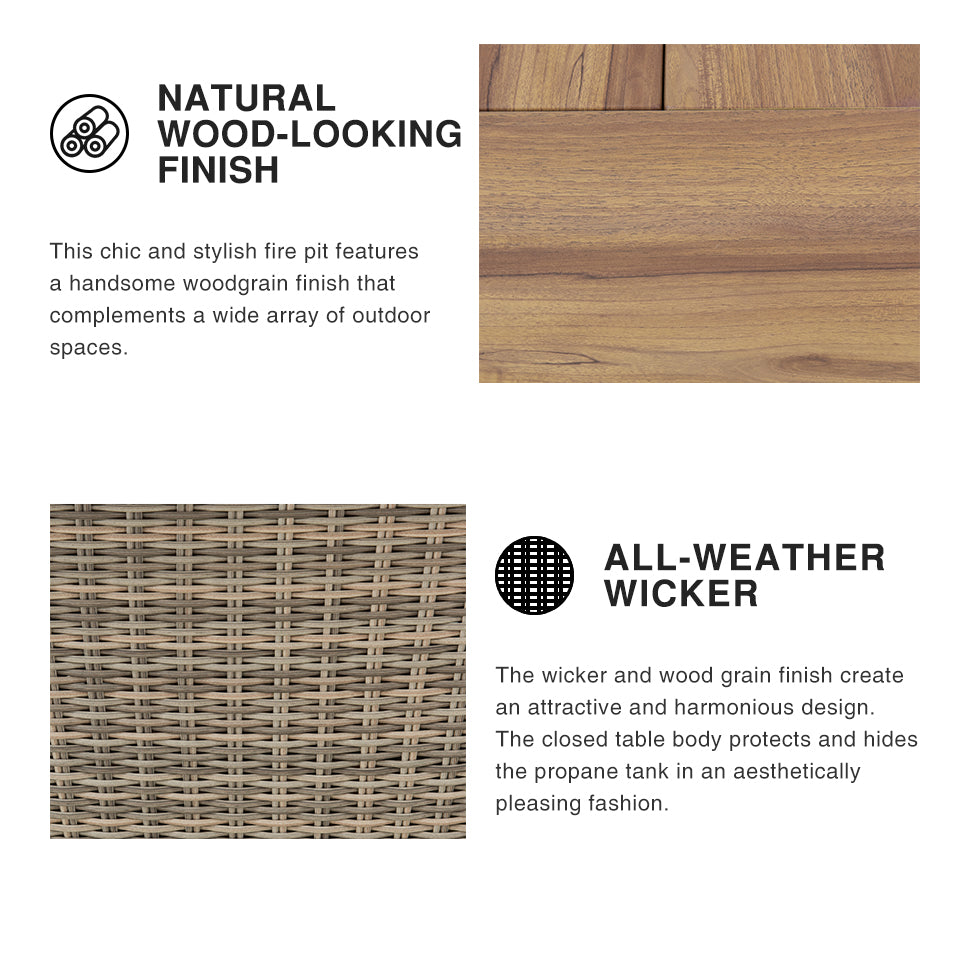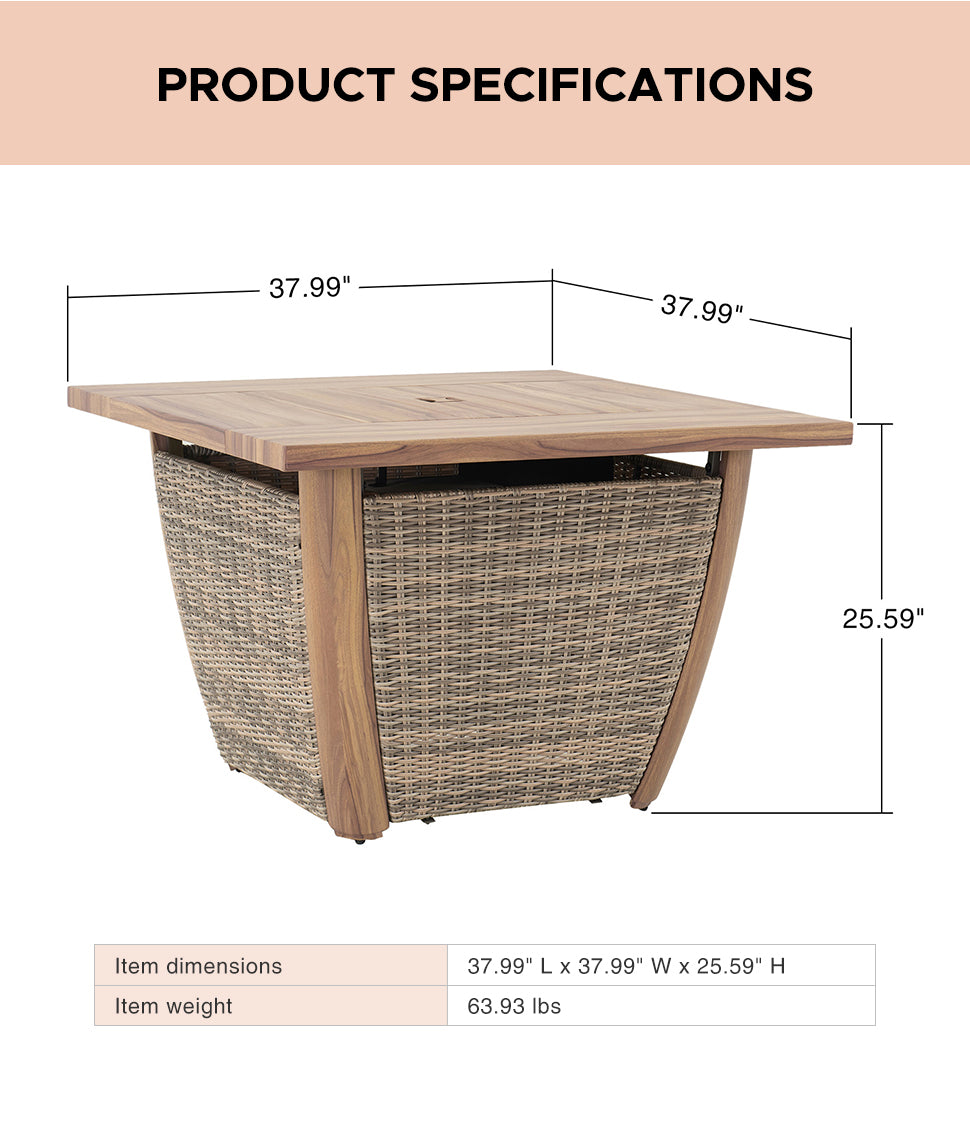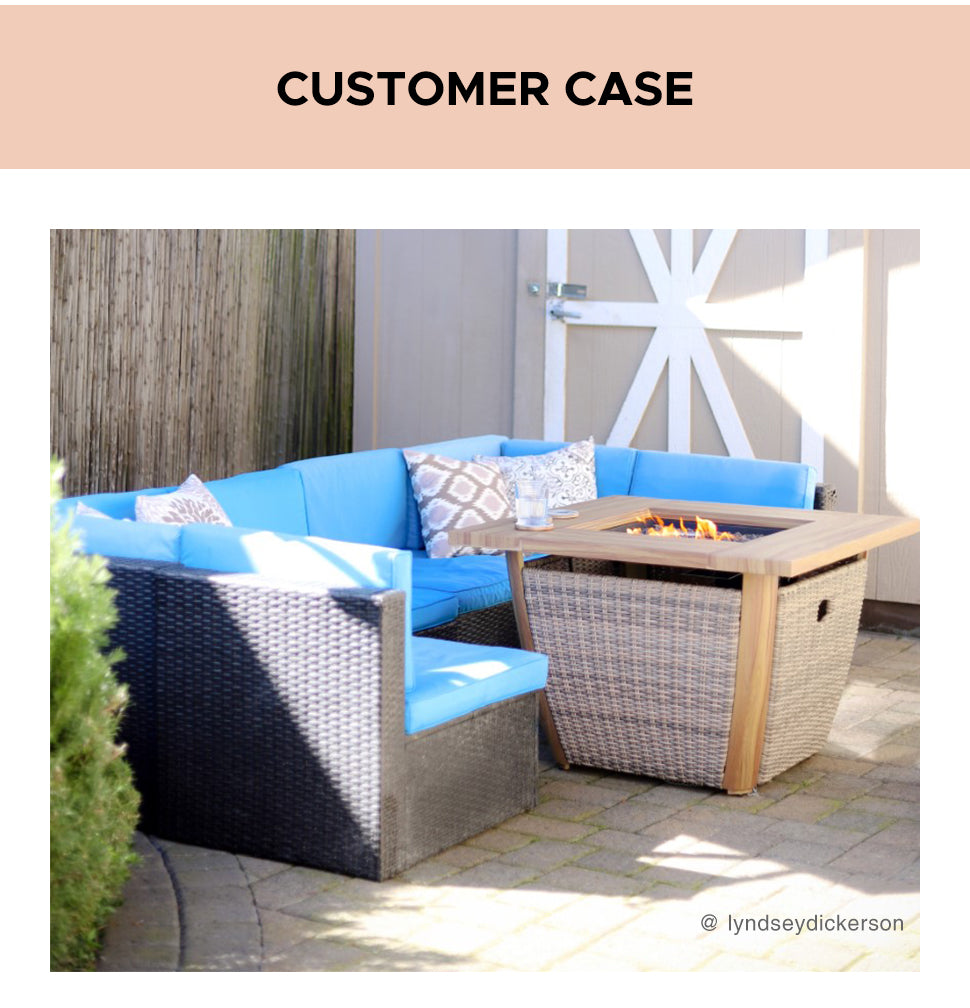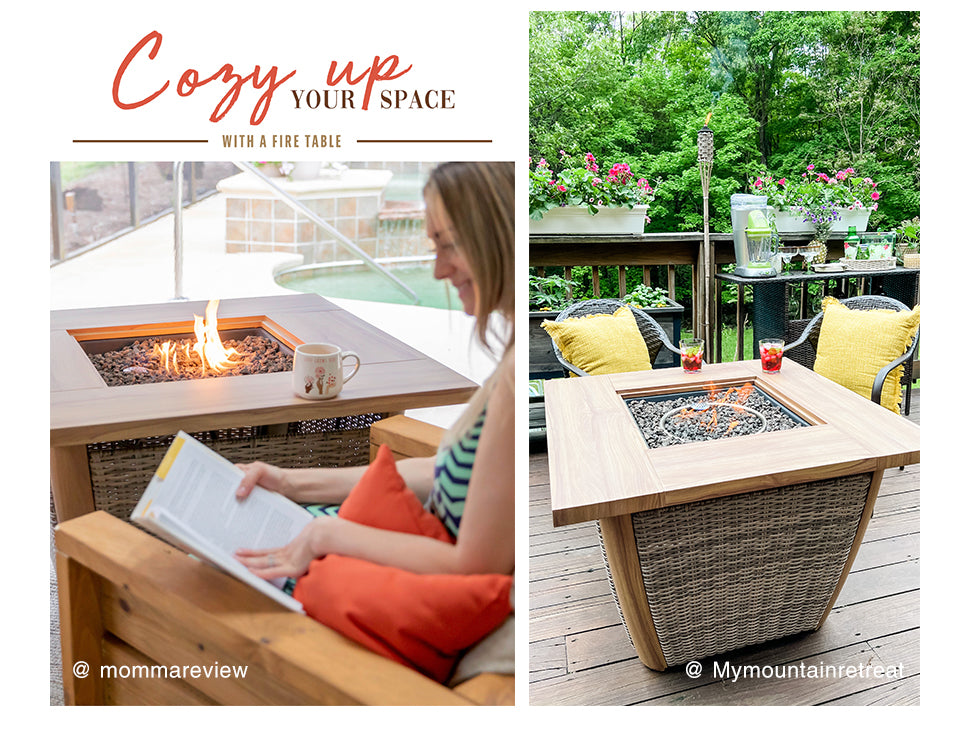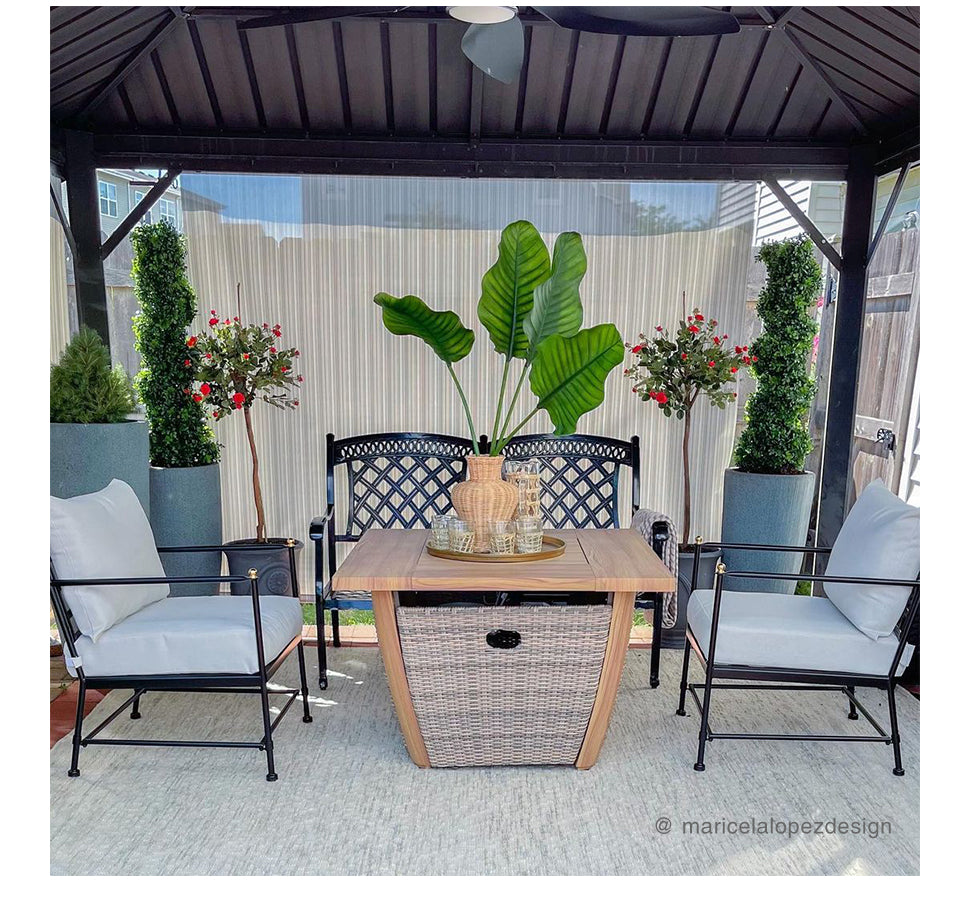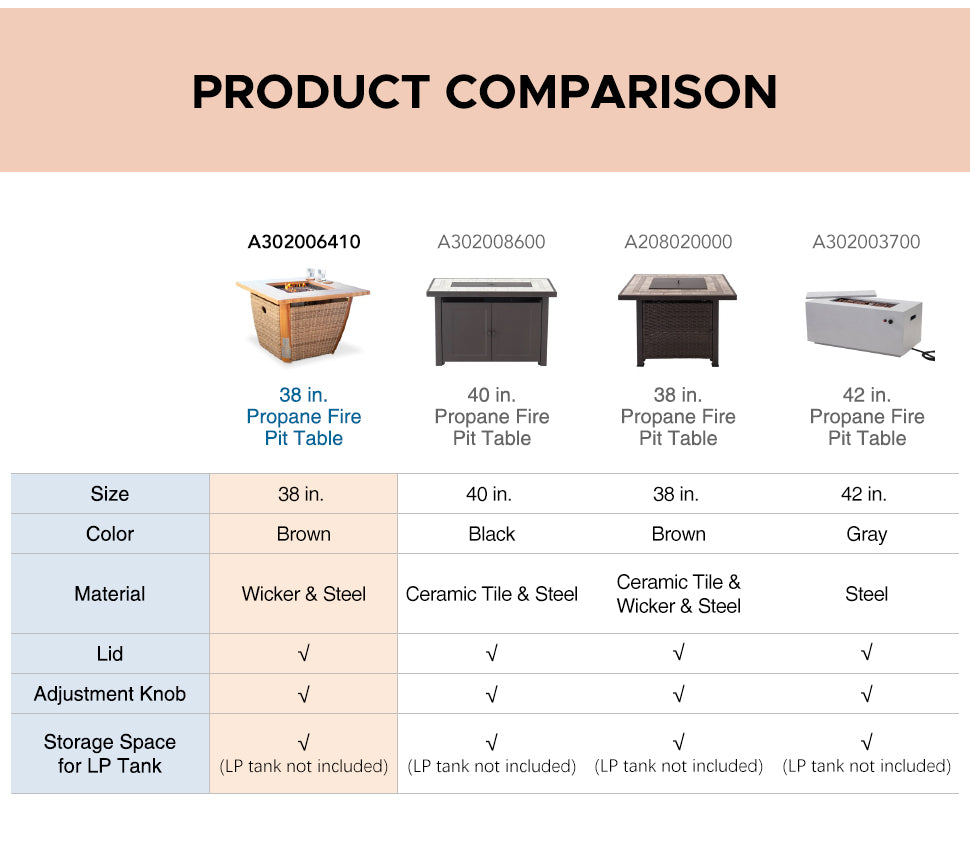 Payment & Security
Your payment information is processed securely. We do not store credit card details nor have access to your credit card information.
What type of battery goes in the igniter?

You can use one (1) AA 1.5V battery required.

Does the gas tank go inside the unit?

The propane tank is not included, and it can be stored underneath the fire pit.

Does anyone know how many BTU this fire pit is? I\'m guessing between 40,000 and 50,000 but would like to know before I purchase.

Hello sir, this fire pit is 37000BTU/HR.

Does it have a cover?

Dear customer, this fire pit doesn't come with a fabric cover, but you may can find an appropriate size cover for your fire pit on Amazon by searching "fire pit cover".

Can I use this fire pit table under gazebo?

Dear customer, for safety considerations, we do not recommend to use any type of fire pit under soft top gazebo. It is okay to use a propane fire pit table beneath a hardtop, metal, gazebo.