Description
Product Images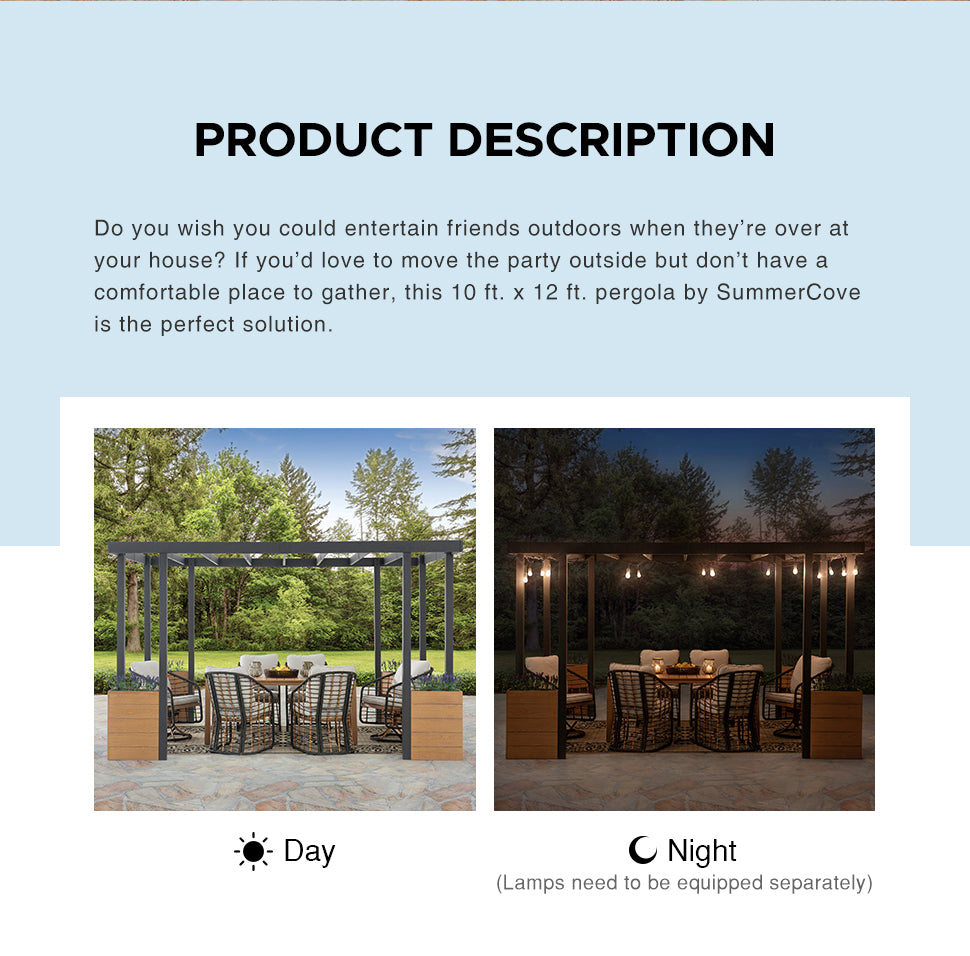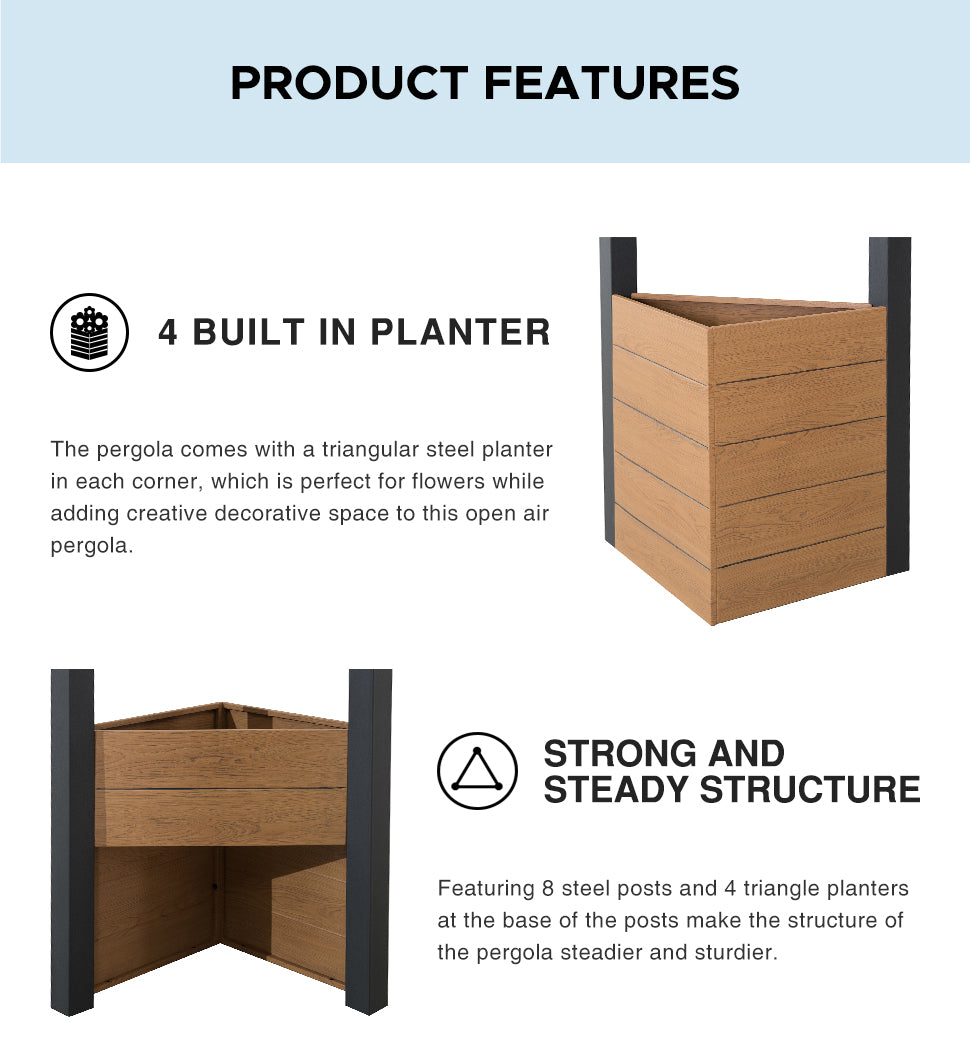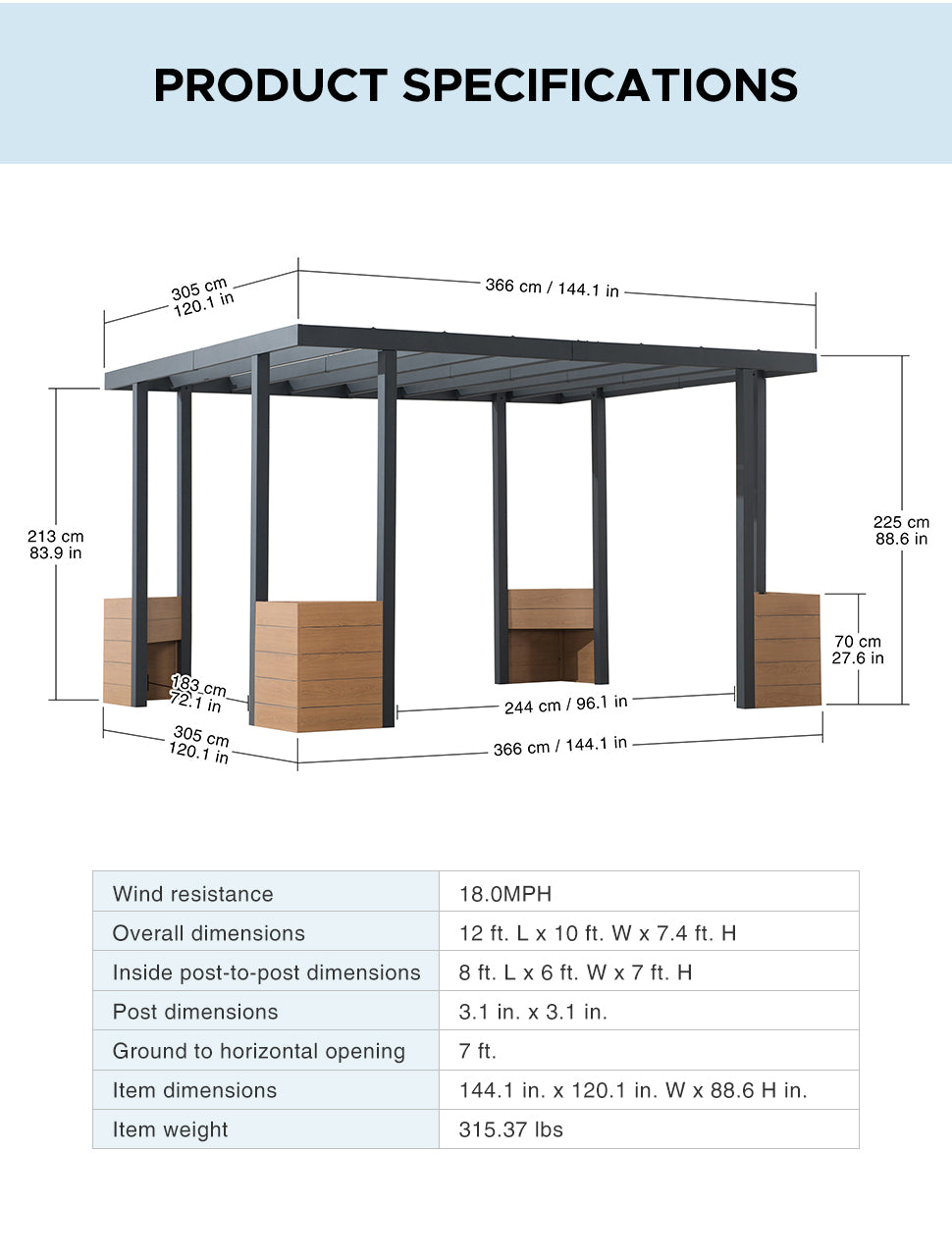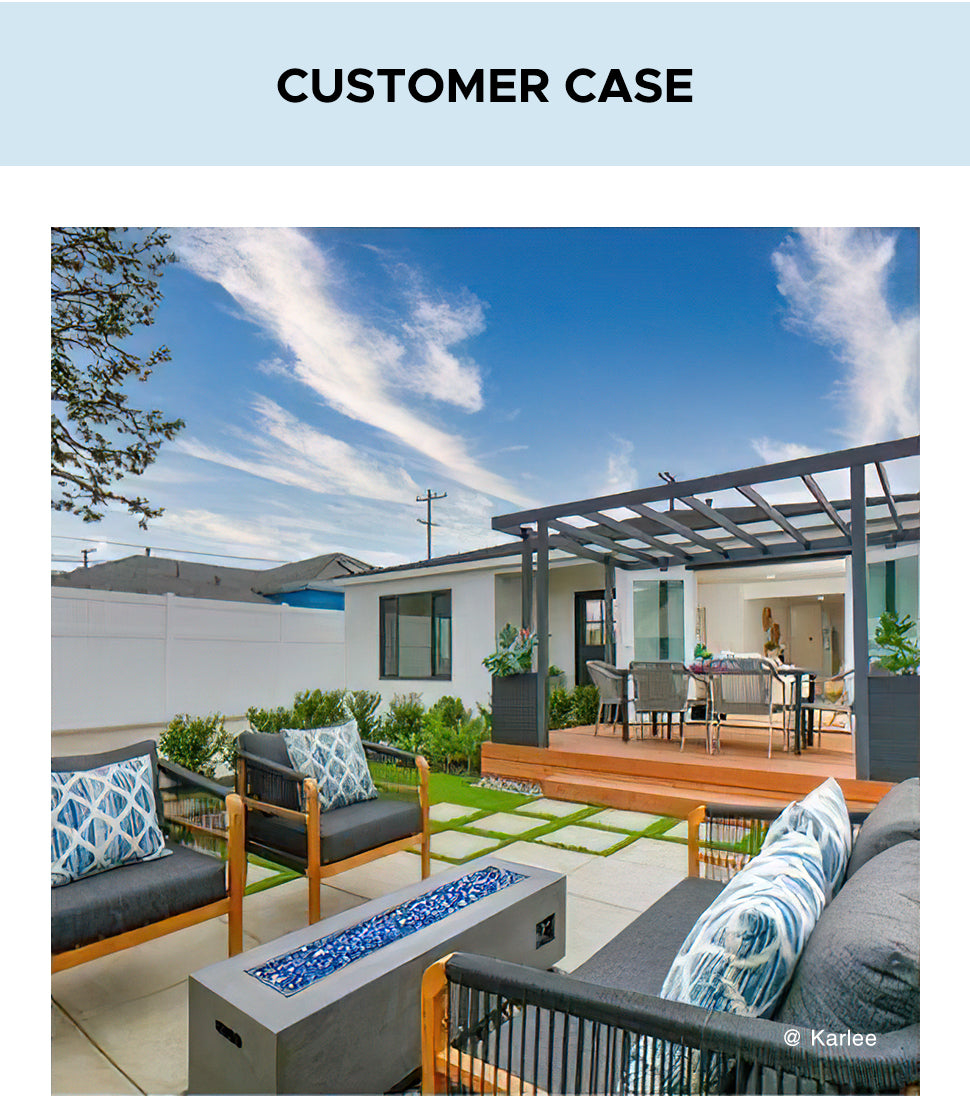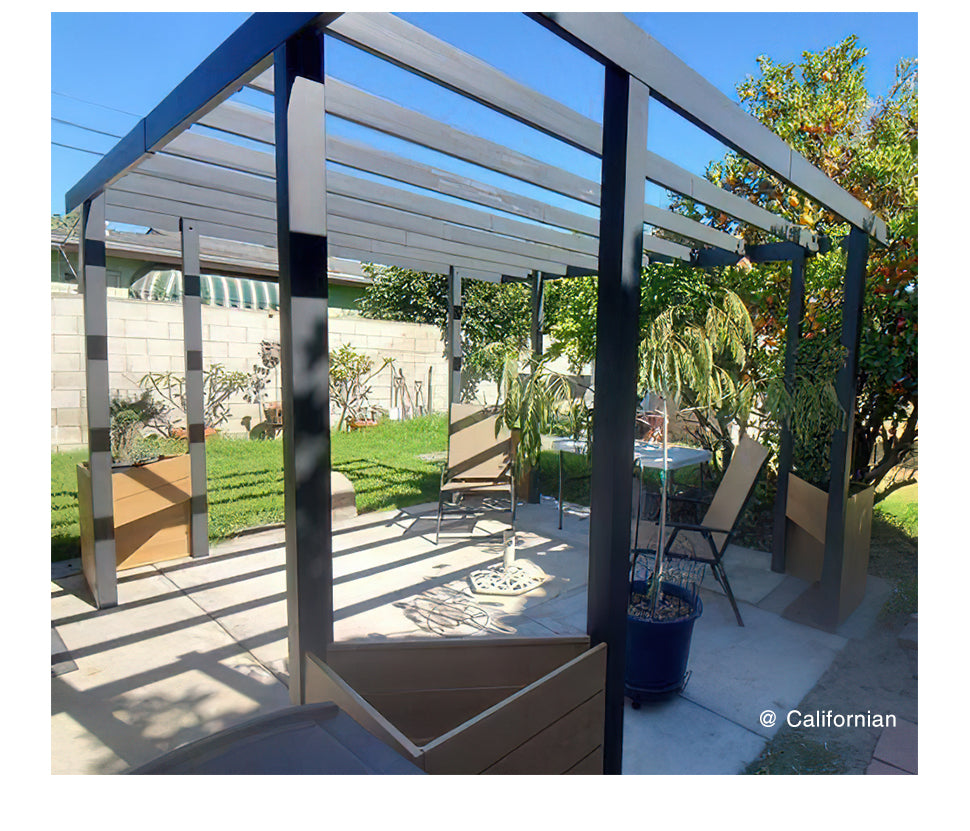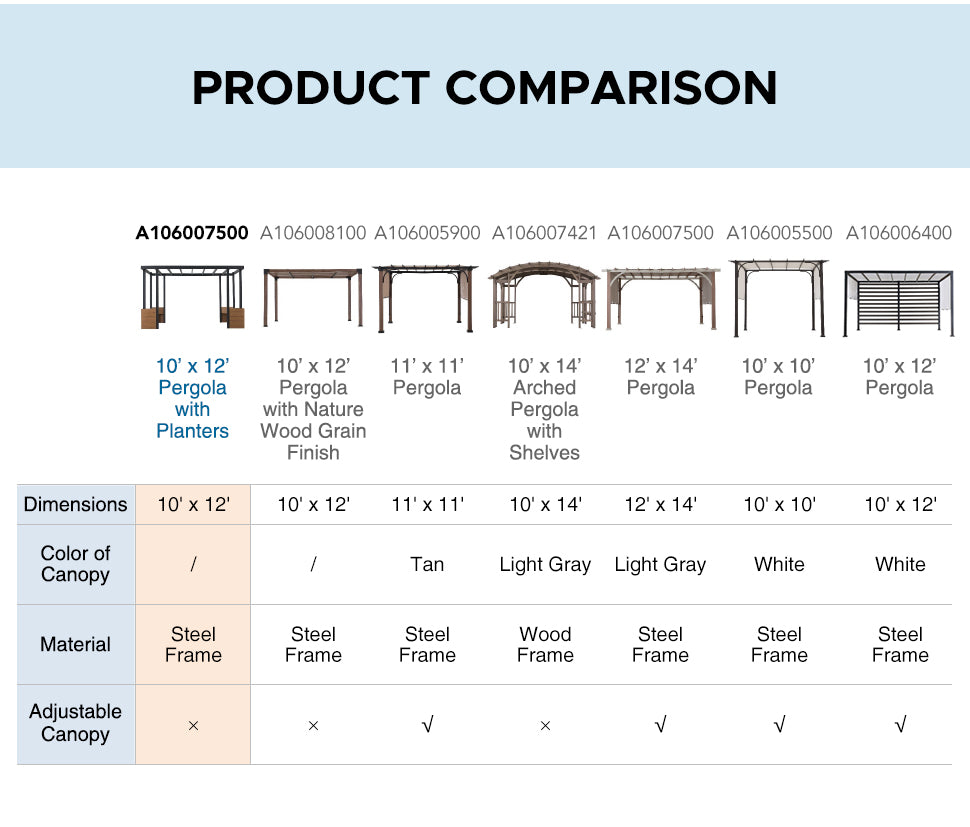 Details
Do you wish you could entertain friends outdoors when they're over at your house? If you'd love to move the party outside but don't have a comfortable place to gather this 10x12 ft. pergola kit by Summer Cove is the perfect solution. Made of a durable steel frame. The modern style complements most home designs. With straightforward, easy-to-follow instructions, you'll be enjoying your new outdoor space in no time. 
Features
4 built-in planters: The pergola comes with a triangular steel planter in each corner, which is perfect for flowers while adding creative decorative space to this open-air pergola.

Sturdy powder-coated steel frame: Made of a black durable steel frame, each part of the frame is manufactured with precision. The easy-to-follow illustrated assembly instructions mean that before you know it you will have created your new favorite outdoor oasis.

Strong and steady structure: Featuring 8 steel posts and 4 triangle planters at the base of the posts making the structure of the pergola steadier and sturdier.

Stylish Design: The modern stylish and beautiful aesthetic complements most home designs, allowing you to create your ideal outdoor living space. Add your go-to string lights (not included) and you will have created the perfect spot for gathering with friends and family.
Upgrade Your Outdoor Living Space:

 

This beautiful

 pergola

 is a perfect addition to various outdoor living spaces, such as patios, decks, backyards, gardens, swimming pools, lawns, etc.
Mountable Surface: Lawn surface (including accessories), wood surface (without accessories), and concrete surface (without accessories).
Specification
Overall dimensions 12 ft. L x 10 ft. W x 7.4 ft. H
Inside post-to-post dimensions 8 ft. L x 6 ft. W x 7 ft. H
Post dimensions 3.1 in. x 3.1 in.
Ground to horizontal opening 7 ft.
Item size 144.1 in. x 120.1 in. W x 88.6 H in.
Item weight 315.37 lbs
Free curbside delivery
Assembly Information
📜Instruction Manual:  Download PDF
If need a professional installation service please visit Assembly Service to get an instant price and schedule your date.
🔧Check out the detailed assembly video here🔧: https://youtu.be/WFYyHDJECKo
SAP No.: A106007600
Payment & Security
Your payment information is processed securely. We do not store credit card details nor have access to your credit card information.
This unit is not weather resistant?

Dear customer, it is weather resistant. But it is not recommended to use all year round. Intended to be put up semi-permanently, we suggest customer take down it during the severe weather. Thank you!

How does the pergola roof close?

Dear customer, the roof cannot be closed because the canopy is not included. Thank you!

Does the frame come with the planter boxes or are those purchased separately?

Dear customer, the pergola does come with planters. Thank you!

Do the Edison bulbs come with it?

Dear customer, it does not include Edison bulbs. Thank you!

Does this need to be fixed to a surface or do the planters provide enough weight?

Hello customer, for this product, stakes are provided to be anchored on soft ground. If you want to fix on a hard surface you need to use proper fasteners (like expansion bolts). Thank you!

Can a shade cover be added to this pergola?

Dear customer, you can add shade covers to this pergola. Thank you!

I am wondering if this unit can stay up in climates where there's snow? Or do you have to take it down and store it over the winter months?

Hi dear customer, this pergola roof and structure are not guaranteed against extreme weather conditions. If the gazebo is not dismantled for the winter, we suggest cleaning off snow regularly.