Description
Expand your living space by bringing the indoors outside and creating your end-of-the-day oasis that's the perfect spot for entertaining family and friends. This post-to-post size 12x14 gazebo by the world's leading ready-to-assemble outdoor structure maker, Sunjoy, creates the perfect outdoor setting for any time of the year. Spend all four seasons enjoying a covered spot outdoors under the cedar wood frame with a sturdy powder-coated steel rooftop that will stand the test of time. The 2-tier roof provides just the right amount of airflow while keeping occasional inclement weather at bay. Set the mood by suspending a chandelier from the incorporated ceiling hook for functional light and high design. With straightforward, easy-to-follow assembly instructions you'll be relaxing with your beverage of choice in your favorite new outdoor living space for years to come.
Ventilated 2-Tier Top: The ventilated 2-tier steel top provides cover from harmful UV rays while allowing wind to pass through freely, encouraging air circulation and creating a comfortable and open area for your enjoyment.
Ceiling Hook: Built-in high-quality and sturdy ceiling hook for easily suspending a favorite chandelier or other bits of décor to create the perfect illuminated gathering spot for family and friends.
Premium Cedar Wood Frame Construction: Enjoy a finely crafted outdoor structure without most of the cutting measuring and re-cutting that comes with a typical start-from-scratch project. This gazebo comes with the parts pre-cut and drilled to precision. Follow the easy illustrated instructions and in a few hours, you will have created your new favorite outdoor oasis.
Anchoring Plates With Cover: Powder-coated steel anchoring plates(with a cover that matches the steel brackets)for easy mounting to your outdoor patio.
Built-in Dual Rail System: Built-in dual rail system makes it easy to hang mesh netting and curtains(netting and curtains NOT included).
Durable Black Steel Roof: Rest easy beneath this durable black steel roof that will withstand the elements for seasons to come. Sun, rain, or snow, you and your patio furnishings will be protected under this sturdy hardtop roof.
Upgrade Your Outdoor Living Space:

 

This beautiful hardtop gazebo is a perfect addition to various outdoor living spaces, such as patios, decks, backyards, gardens, swimming pools, lawns, etc.
Mountable Surface: Lawn surface (including accessories), wood surface (without accessories), and concrete surface (without accessories).
Includes easy illustrative assembly instructions
Easy illustrative assembly instructions with an experienced customer service team at the ready for any questions that may arise
Wind resistance = 31.1 MPH
Snow load = 20.5 lbs./square foot
Overall dimensions 14.8 ft. L x 12.9 ft. W x 10.4 ft. H
This is made for our wood gazebo with a post-to-post size of 12x14 ft, and a maximum roof size of 13x15 ft.
Inside post-to-post dimensions 13 ft. L x 11.1 ft. W x 6.5 ft. H
Post dimensions 5.5 in. x 5.5 in.
Ground to horizontal opening 6.5 ft.
Item dimensions 177.8 in. L x 155 in. W x 124.8 in. H
Item weight 542.33 lbs
Free curbside delivery
📜Instruction Manual:  Download PDF
🛍【 All Bundles get 10% off 】🛍
Bundle 1: Pair with any Firepit or Fireplace (non-sale items), click here.
Bundle 2: Pair with any Patio Furniture (non-sale items), click here.
SAP NO.: A102007700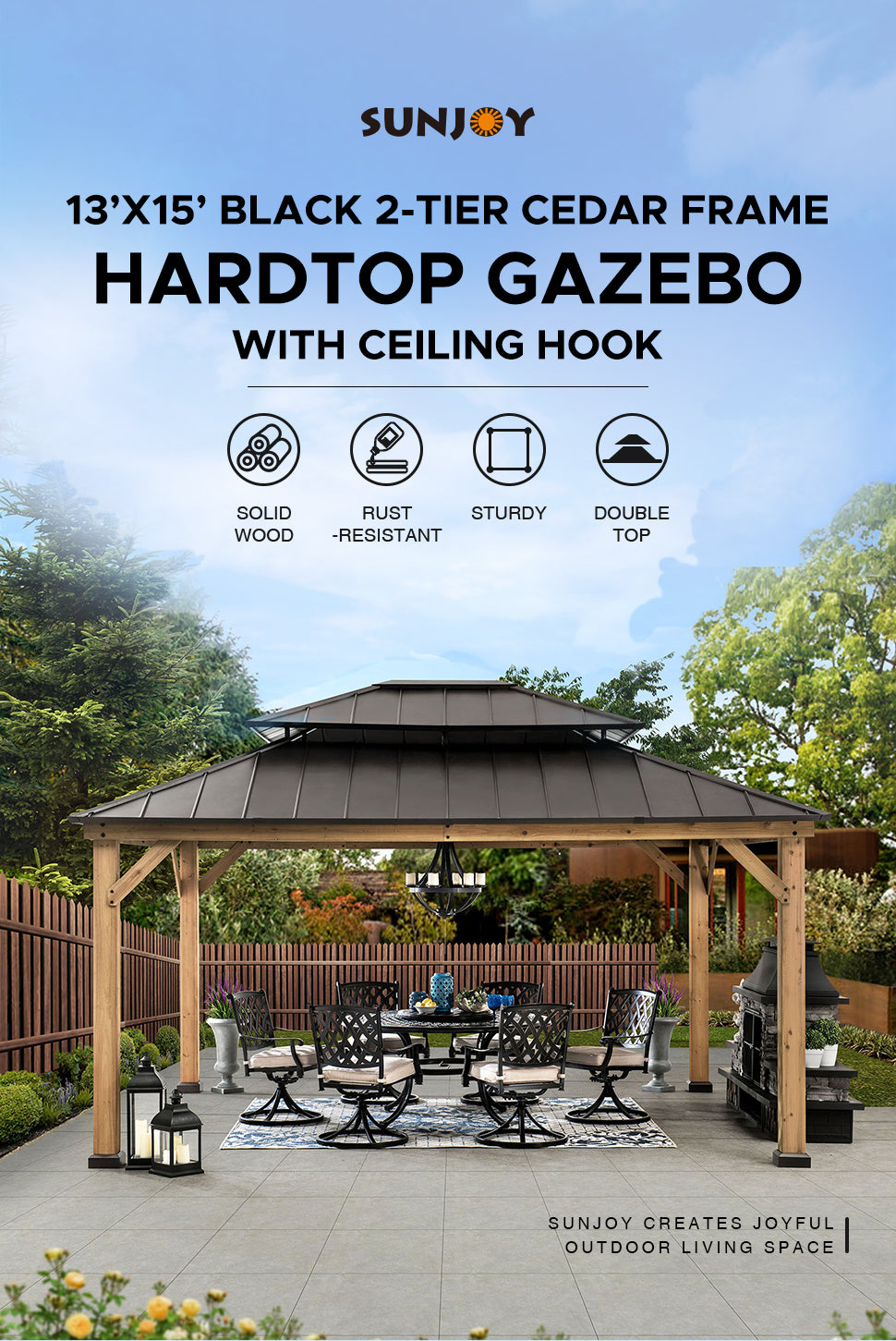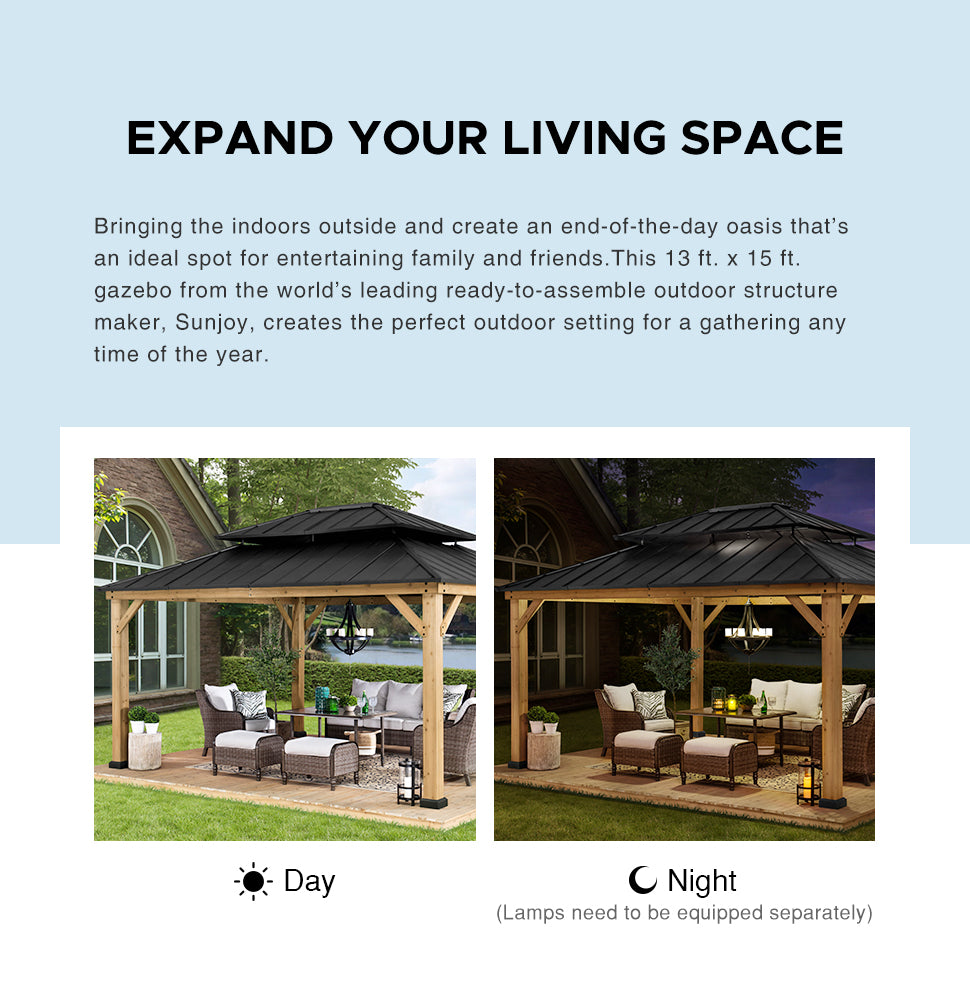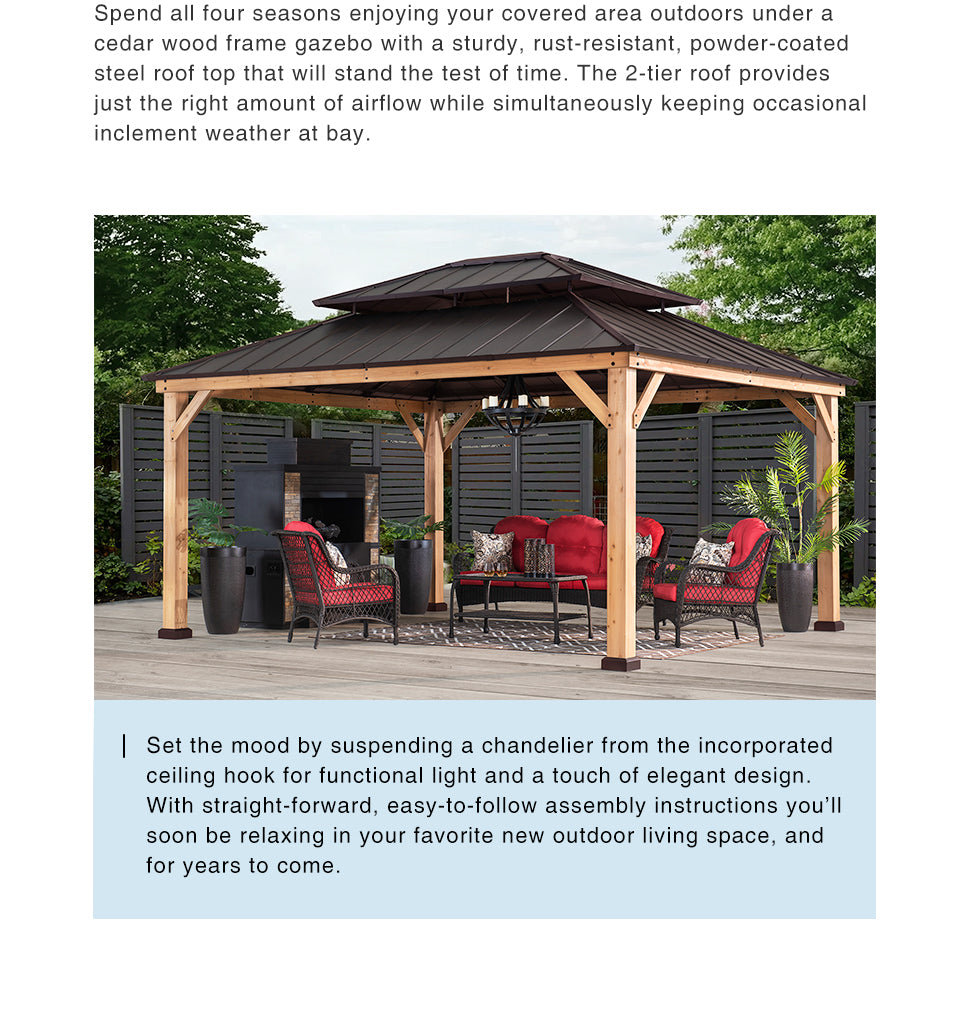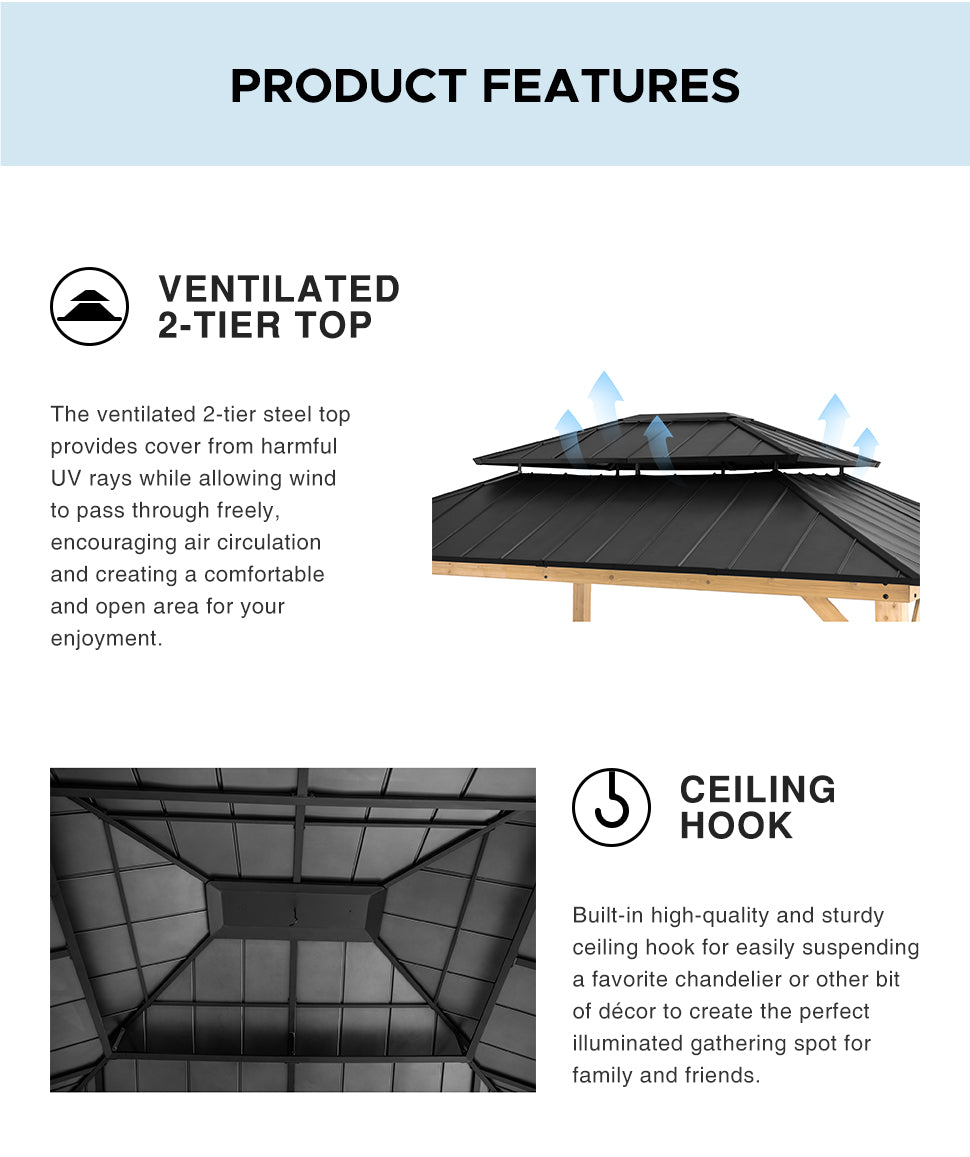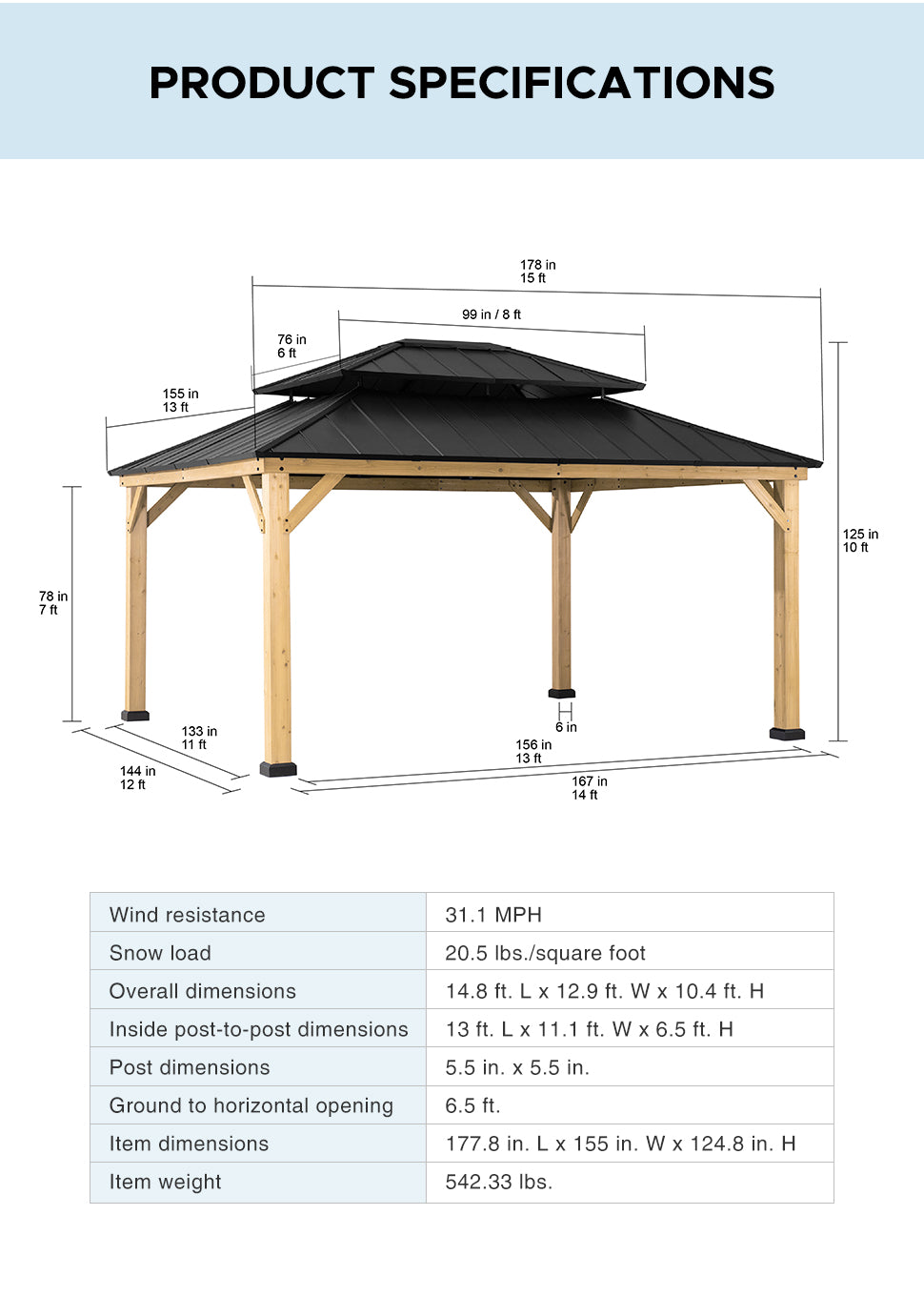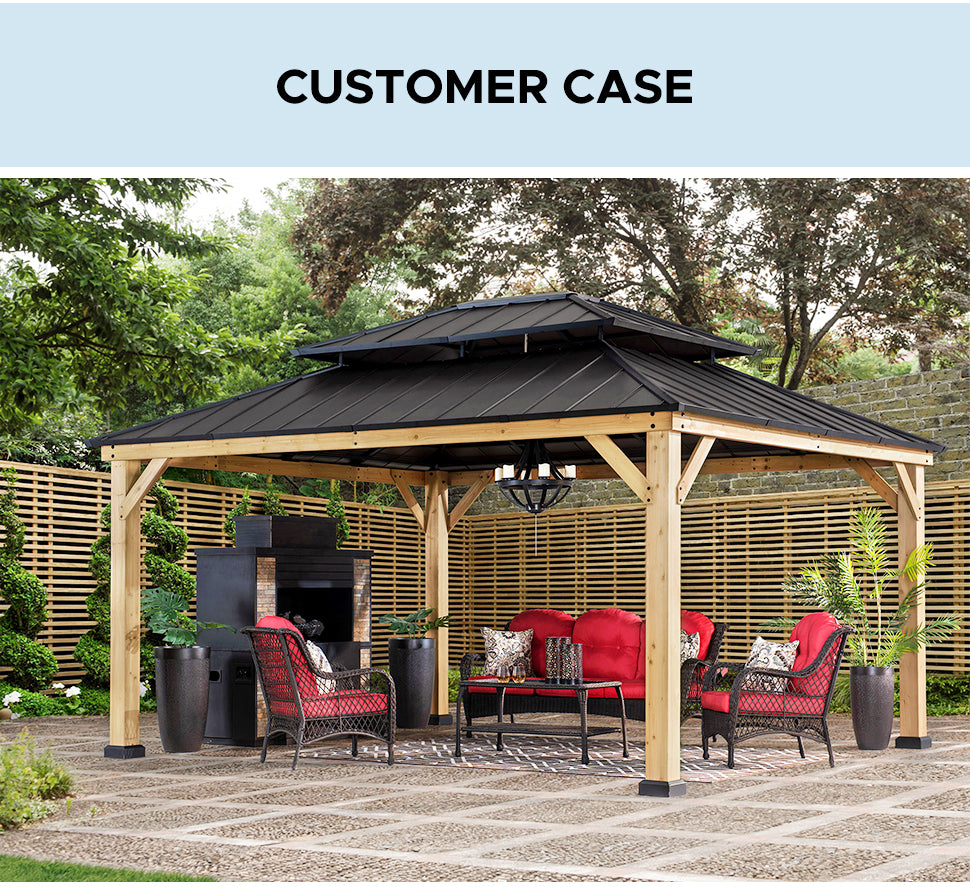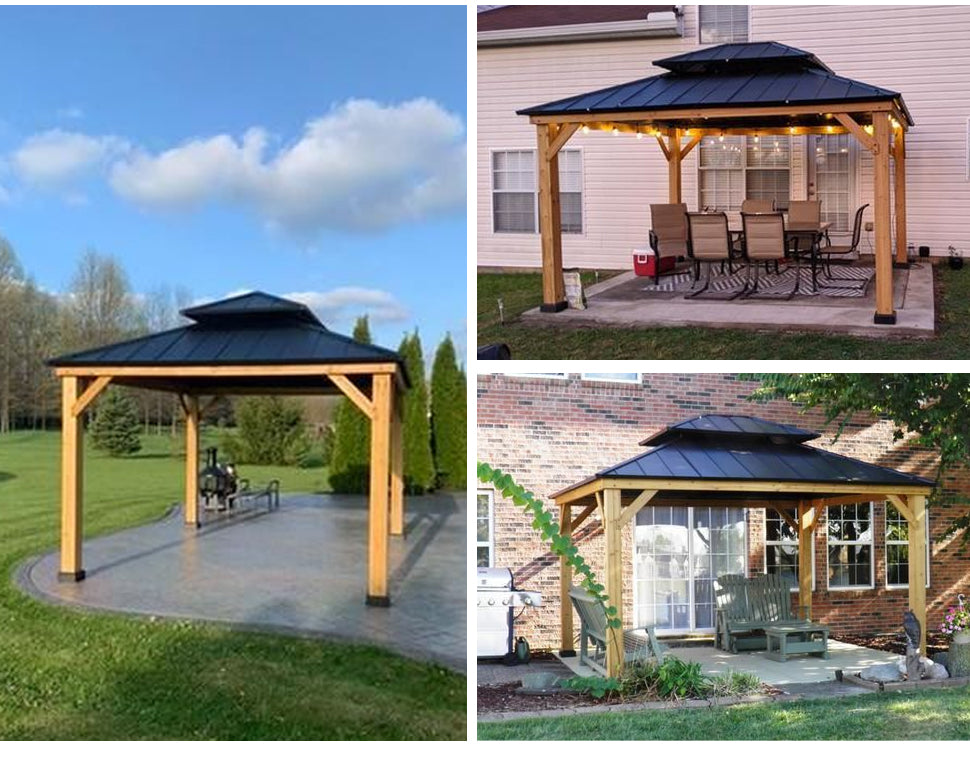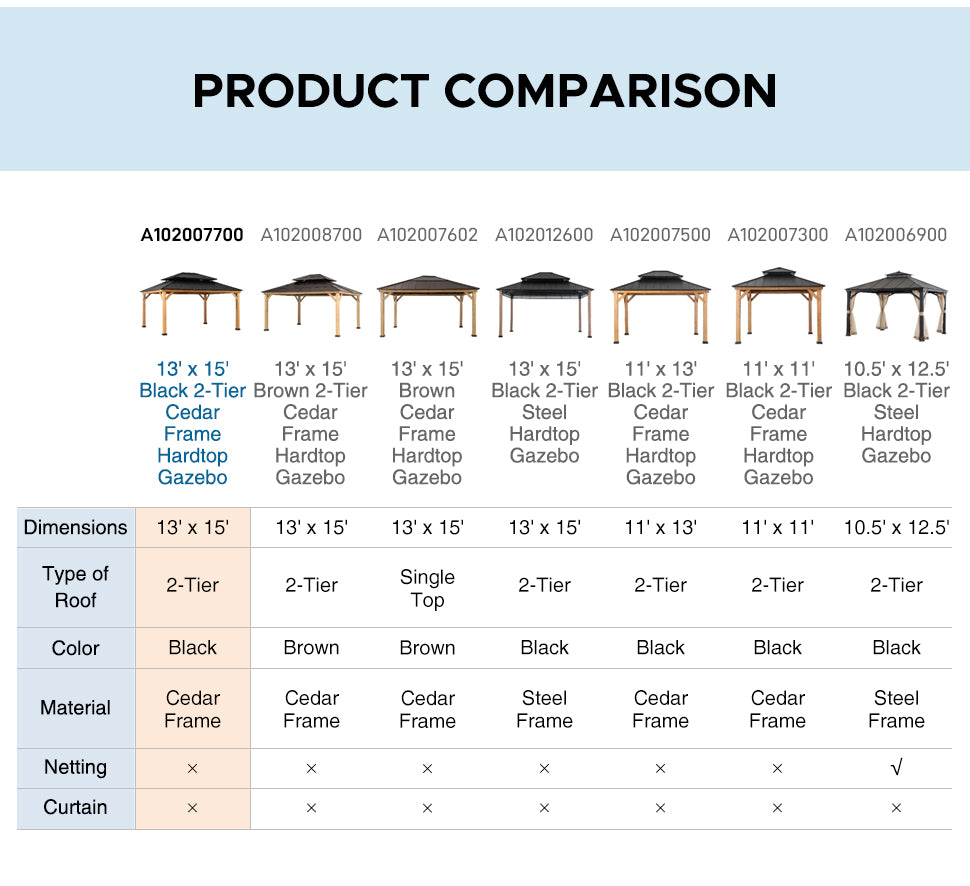 Payment & Security
Your payment information is processed securely. We do not store credit card details nor have access to your credit card information.
We are excited to install our new gazebo this weekend! For installation onto concrete, what size wedge anchors are recommended?

You can use 1/4'' expansion bolts that you can buy at local hardware store to secure the gazebo.

When this is shipped, how many boxes does it come in?

Dear Customer,it comes in two boxes.

Will the top hold a ceiling fan

Dear valued customer, we don't recommend hanging a fan on the gazebo for safety concerns.

How is the 13x15 gazebo mounted to concrete floor and or concrete footers?

Dear valued customer, The stakes are provided with each gazebo. If the gazebo is placed on soft, level ground, these stakes will be more than adequate to keep your gazebo in place. But when securing the gazebo on solid foundations, such as patio concrete or wood, Sunjoy recommends you secure it with the appropriate anchors like Tapcon screws, wood screws, or expansion bolts. While these types of anchors are not supplied with the product, they can be easily purchased at your local hardware or home store. If you have any other questions or concerns, please don't hesitate to contact us at shop@sunjoygroup.com. Thank you.

Do you offer the installation service?

Dear Customer, Sunjoy doesn't offer the installation service, you can find the installation service on houzz.com. You can contact our customer service mailbox at shop@sunjoygroup.com to get our assistance during your assembly. Thank you.

What curtains should I order with this.

Dear customer, please search A111305440 to get the curtains and search A111509440 to get the nettings.

Will this roof style hold up to a winters snow fall in Michigan

Dear Customer,this gazebo can survive a winter, but snow must be cleared off regularly during snowy days. In order to avoid damage, use a plastic snow rake to remove excessive snow and ice buildup from roof and keep away from falling debris. And if the gazebo will not be used for a long period of time (e.g. winter time), it should be disassembled and stored in a clean, dry environment.