Description
Product Images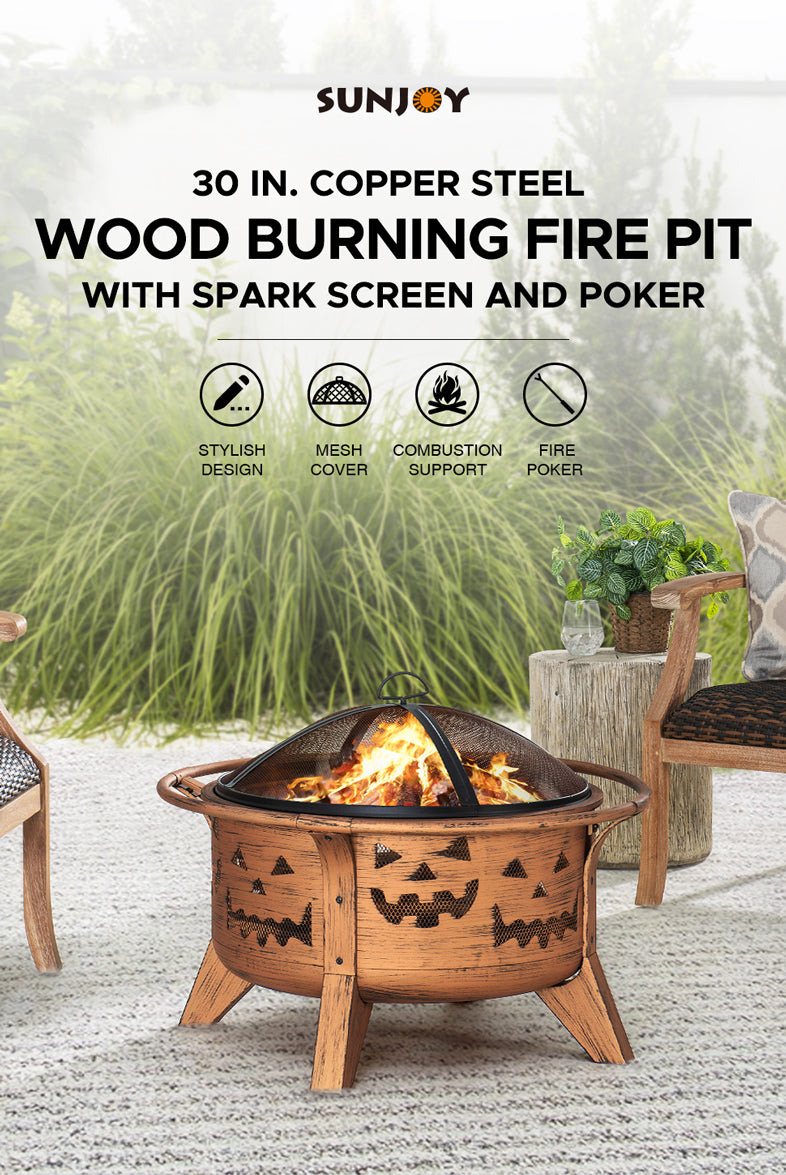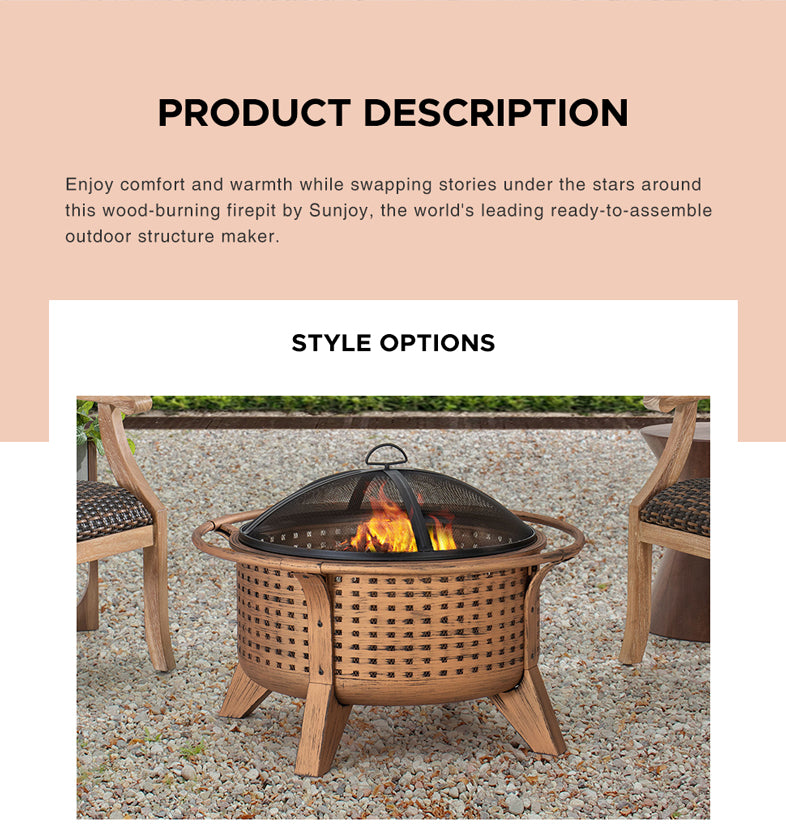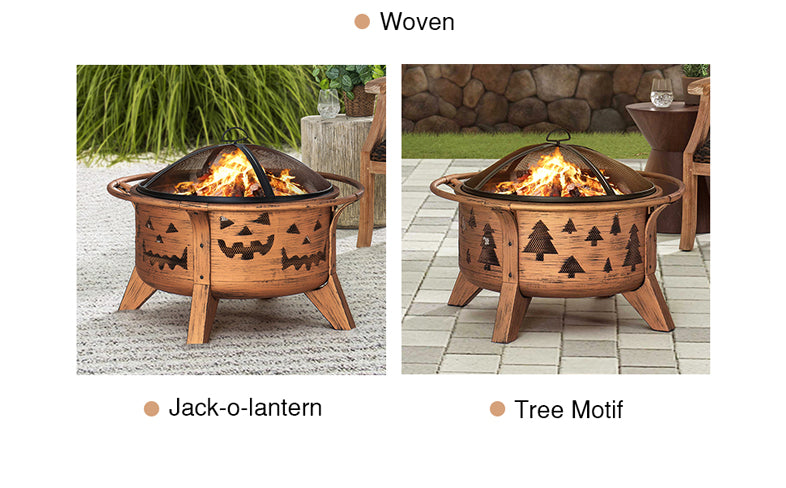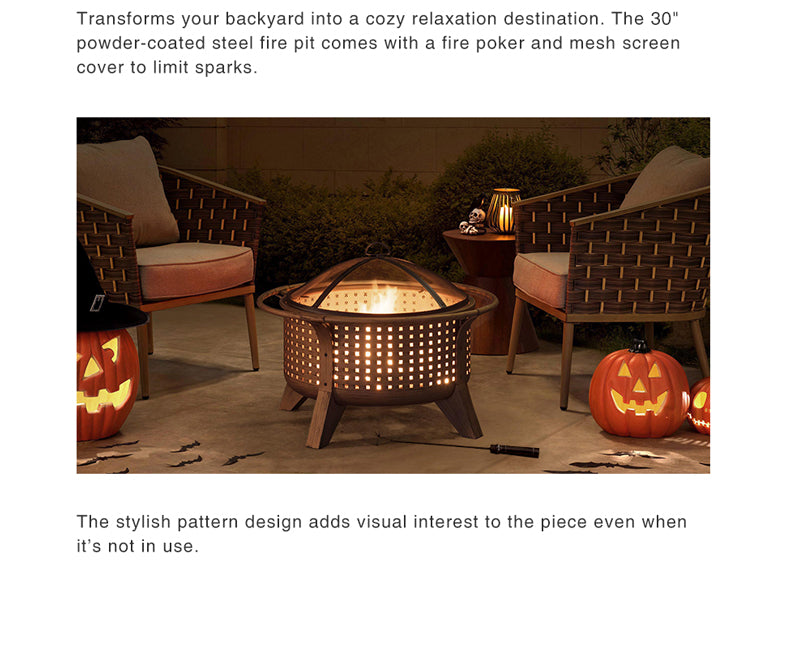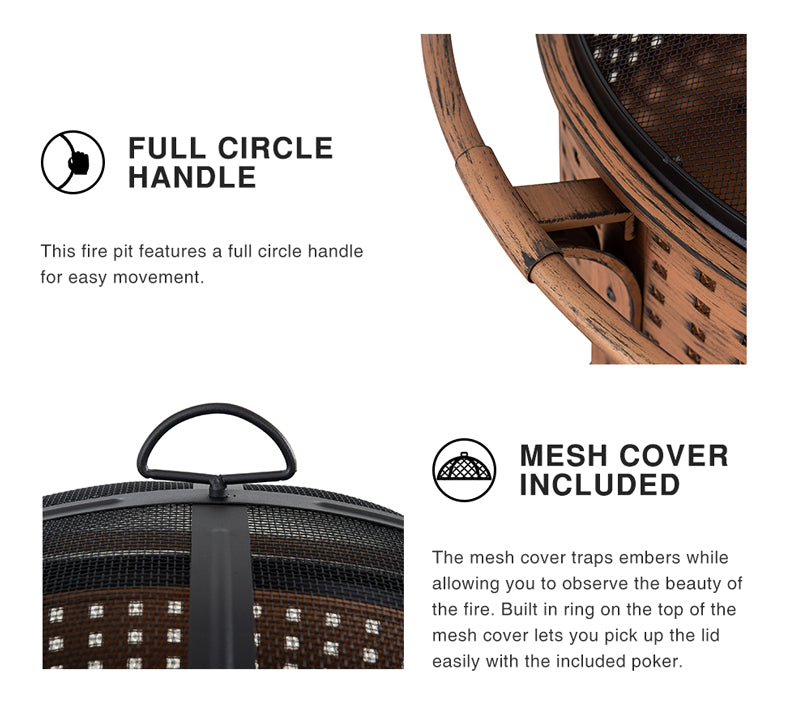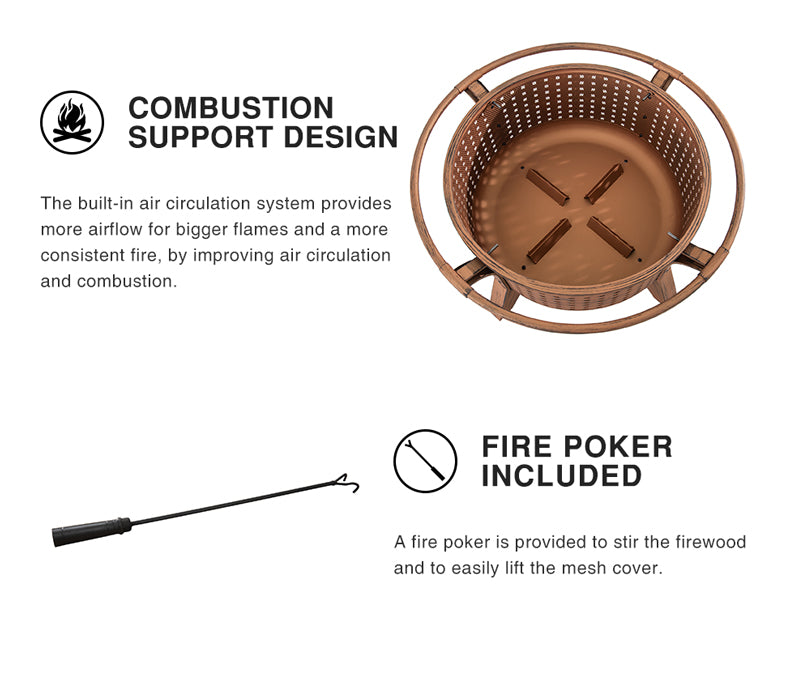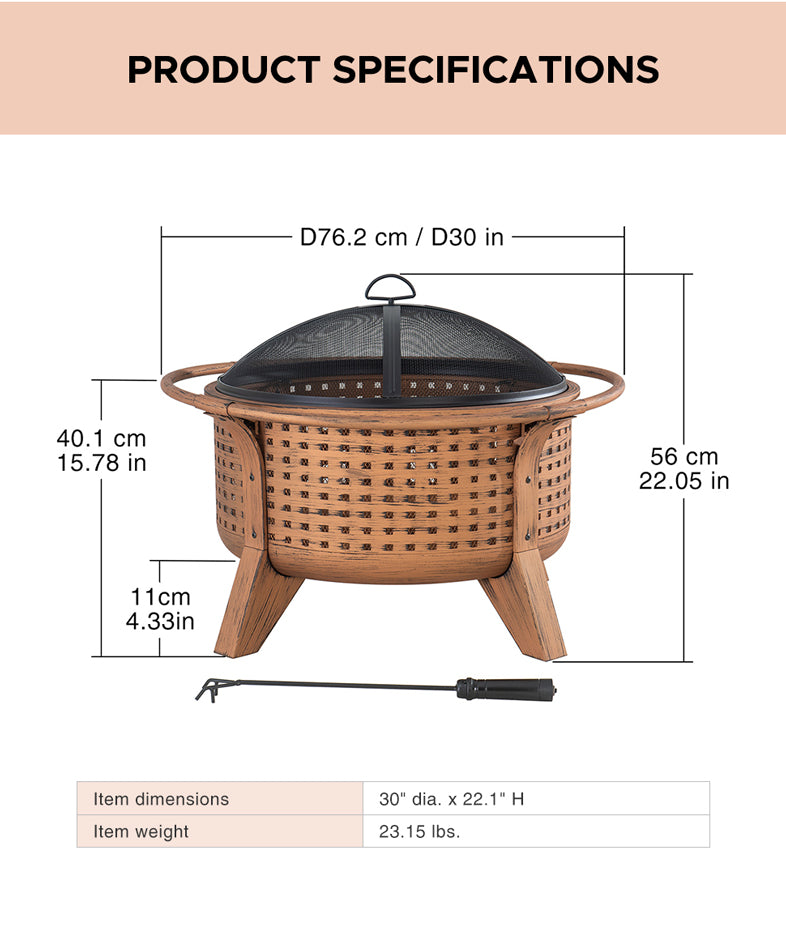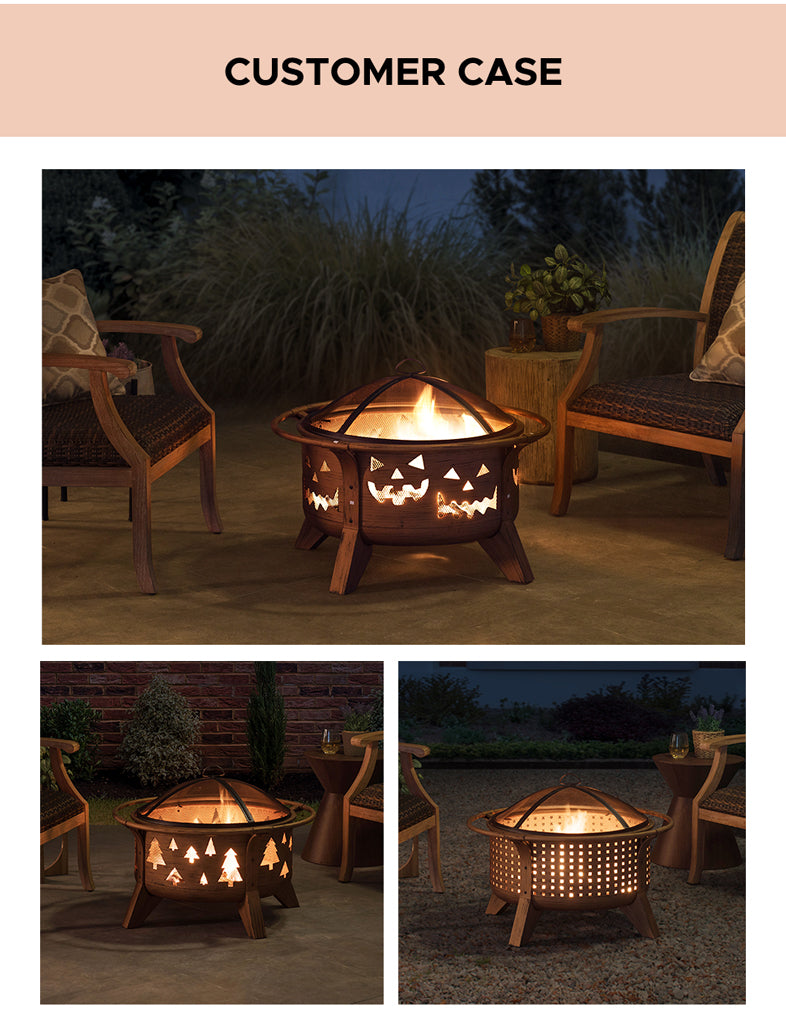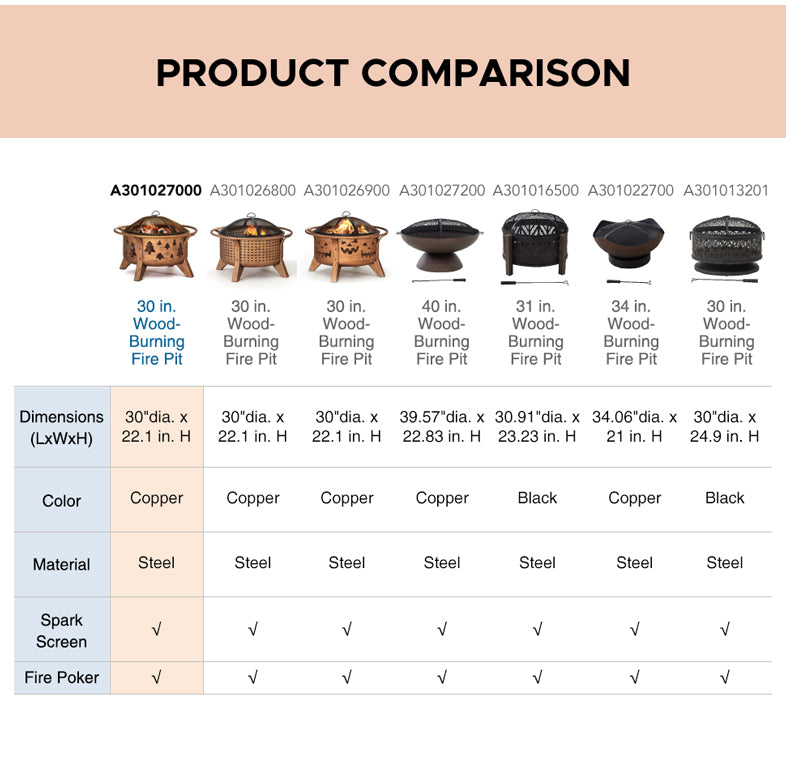 Details
Enjoy your favorite beverage while swapping stories under the stars around this wood-burning fire pit by Sunjoy, the world's leading ready-to-assemble outdoor structure maker. Transform your backyard into a relaxation destination. The 30" powder-coated steel fire pit comes with a fire poker and mesh screen cover to limit sparks. The woven design adds visual interest to the piece even when it's not in use.
Features
Deep Fire Bowl Design: The 11'' deep and spacious fire bowl features thick steel construction with a high-temperature resistant coating, which is durable and large enough to accommodate more logs and build larger campfires.

Combustion Support Design: The built-in air circulation system provides more airflow for bigger flames and a more consistent fire, by improving air circulation and combustion.

Safety Circle Handle Design: This fire pit features a safety outer circle handle for easy movement and protection from burns.

Stylish Woven Pattern Design: The stylish woven pattern design not only adds visual interest to the metal fire pit but also improves the ventilation for better burning. This round fire pit is sure to complement any outdoor space even when it's not in use.
Ventilated Mesh Spark Screen: Built-in steel mesh screen inside the body of this steel fire pit provides plenty of air to make wood burning stronger and heat spread sideways while preventing sparks and embers from flying out.

Mesh Cover Included: The mesh cover traps embers while allowing you to observe the beauty of the fire. The built-in ring on the top of the mesh cover lets you pick up the lid easily with the included poker.

Fire Poker Included: A fire poker is provided for this metal fire pit to stir the firewood and to easily lift the mesh cover.
Specification
Overall Size 30" dia. x 22.05" H
Fire Bowl Size: 21.65'' dia. x 11.02'' H
Item Weight: 23.15 lbs.
Assembly Information
📜Instruction Manual:  A301026800 Download PDF
📜Instruction Manual:  A301026900 Download PDF
📜Instruction Manual:  A301027000 Download PDF
🔧Check out the detailed assembly video here🔧: https://youtu.be/Bbx1o3itoyA
SAP No.: A301026800/A301026900/A301027000
Payment & Security
Your payment information is processed securely. We do not store credit card details nor have access to your credit card information.
will this fire pit be ok on a wood deck...will it cause a. fire or burn the wood

Dear customer, for safety considerations, please only place/use this fire bowl on stable and non-combustible surfaces.

Does it have a cover?

Dear customer, this fire pit doesn't come with a fabric cover, but you may can find an appropriate size cover for your fire pit on Amazon by searching "fire pit cover".

Can a fire pit be used inside the gazebo?

Dear customer, for safety considerations, we do not recommend to use of a wood burning fire pit under any wood or soft top gazebo.

Is this safe to use on a wooden deck?

Dear customer, we do not recommend to use on a wooden deck. Thank you!

Is there a vent under the grate to allow moisture to drain if it gets left uncovered in the rain?

Dear customer, there's no vent under the fire pit, but the bowl is easy to lift and tip to drain any water.