Description
Product Images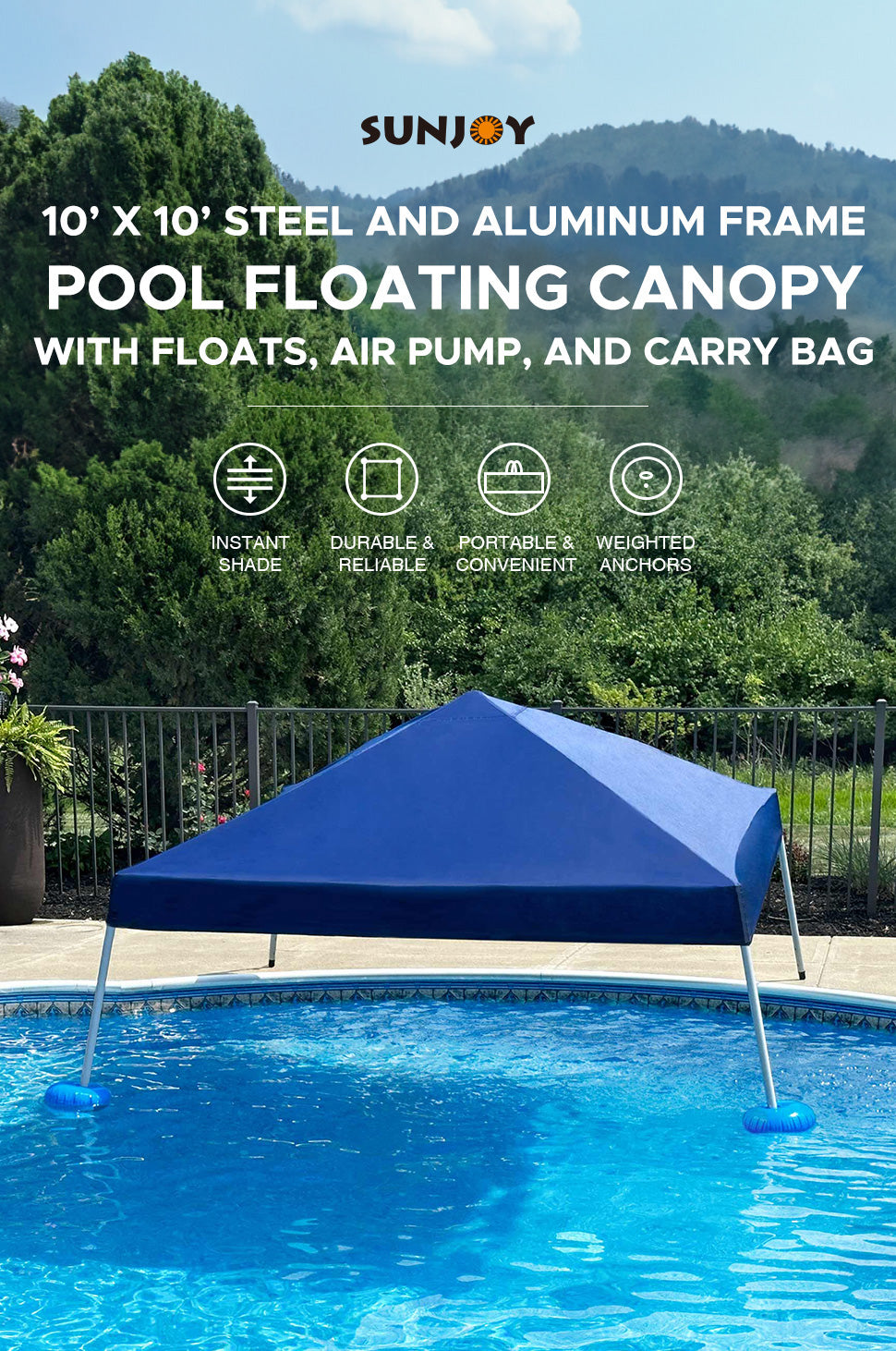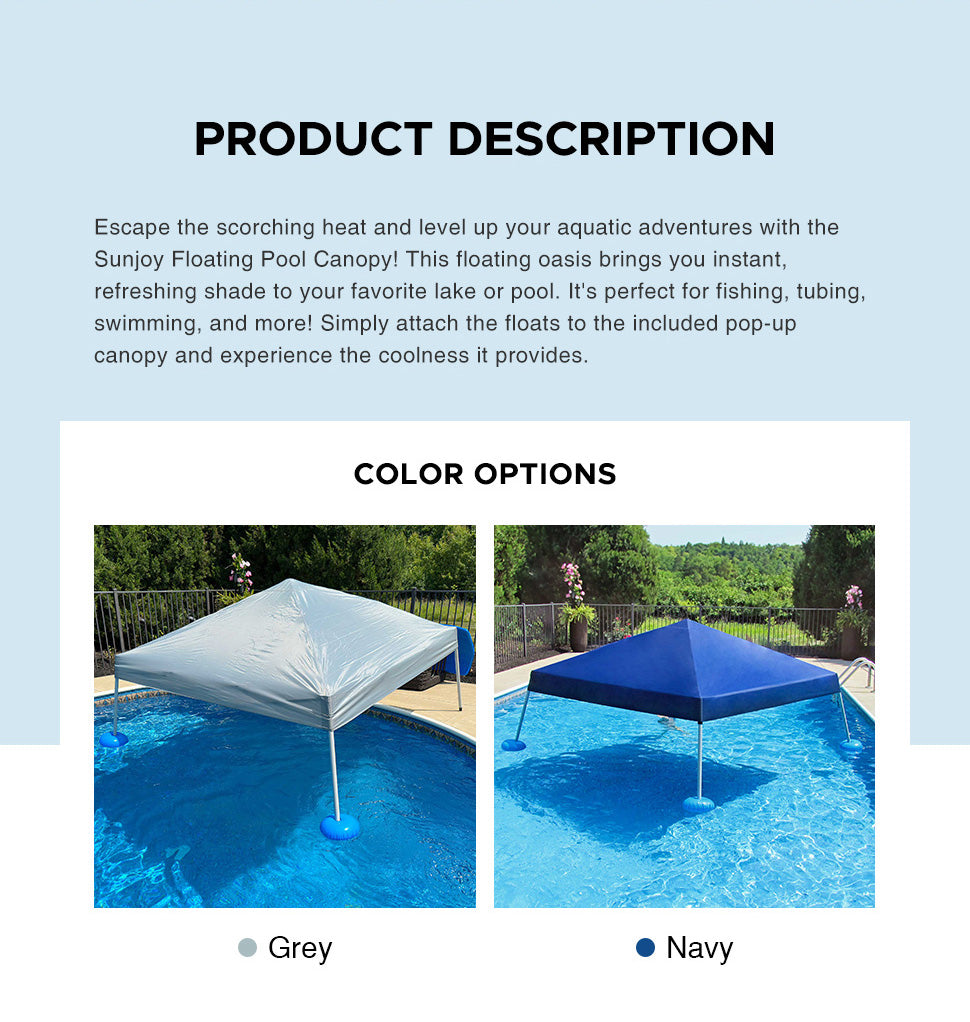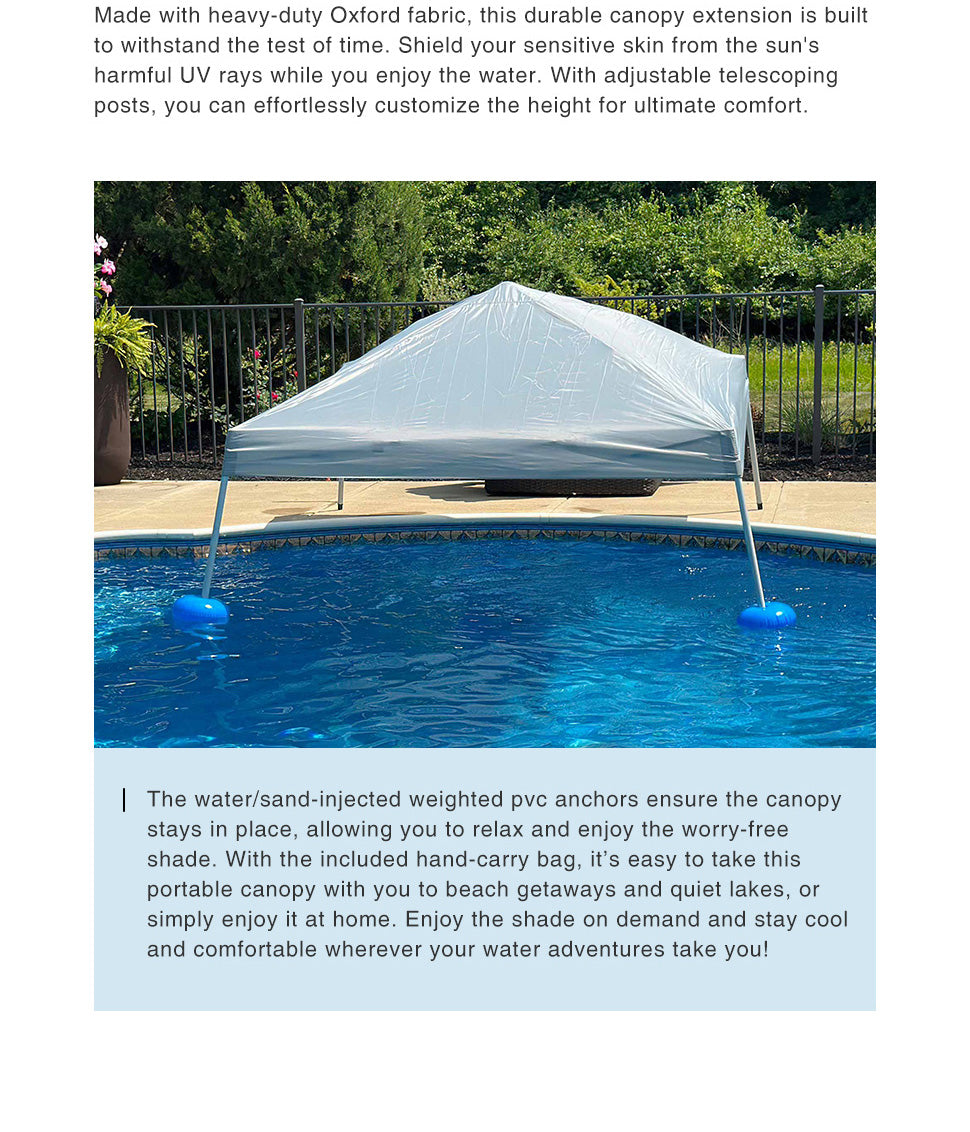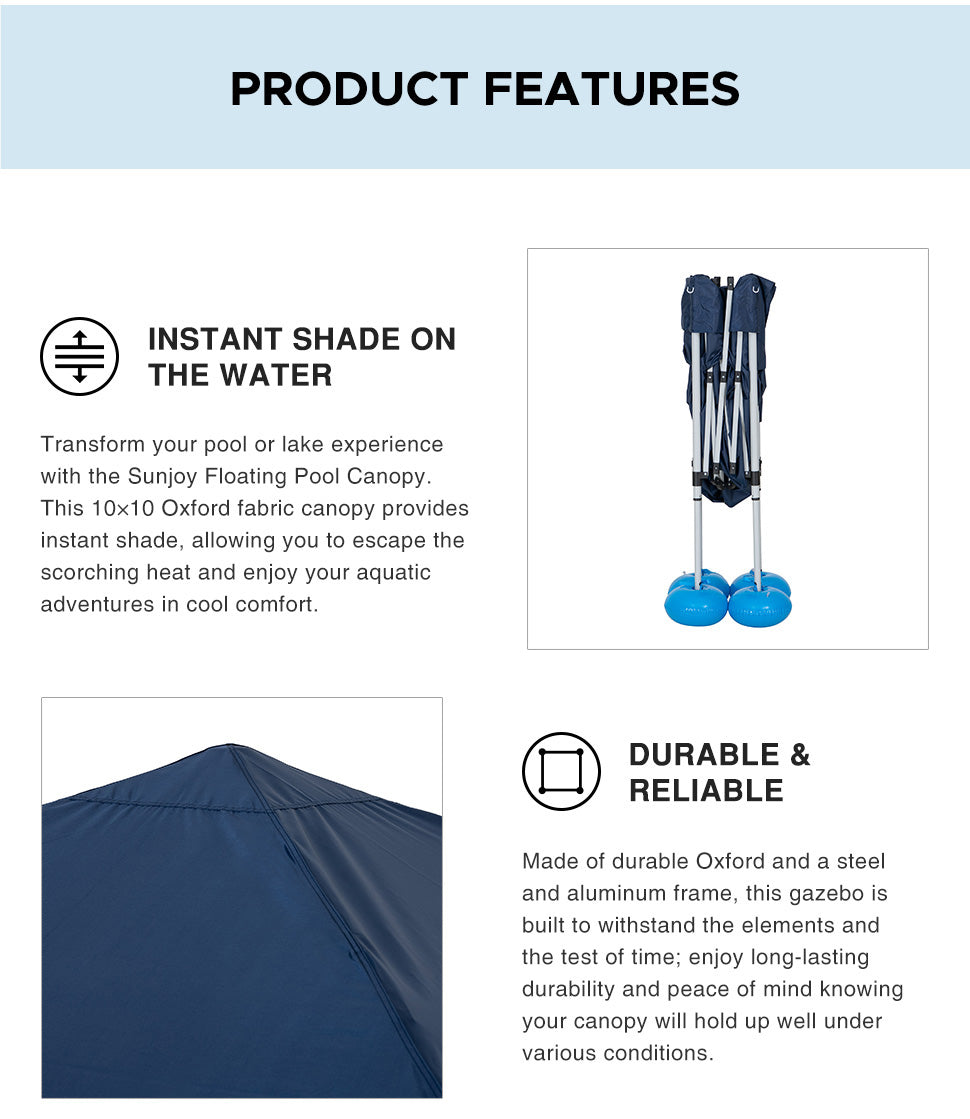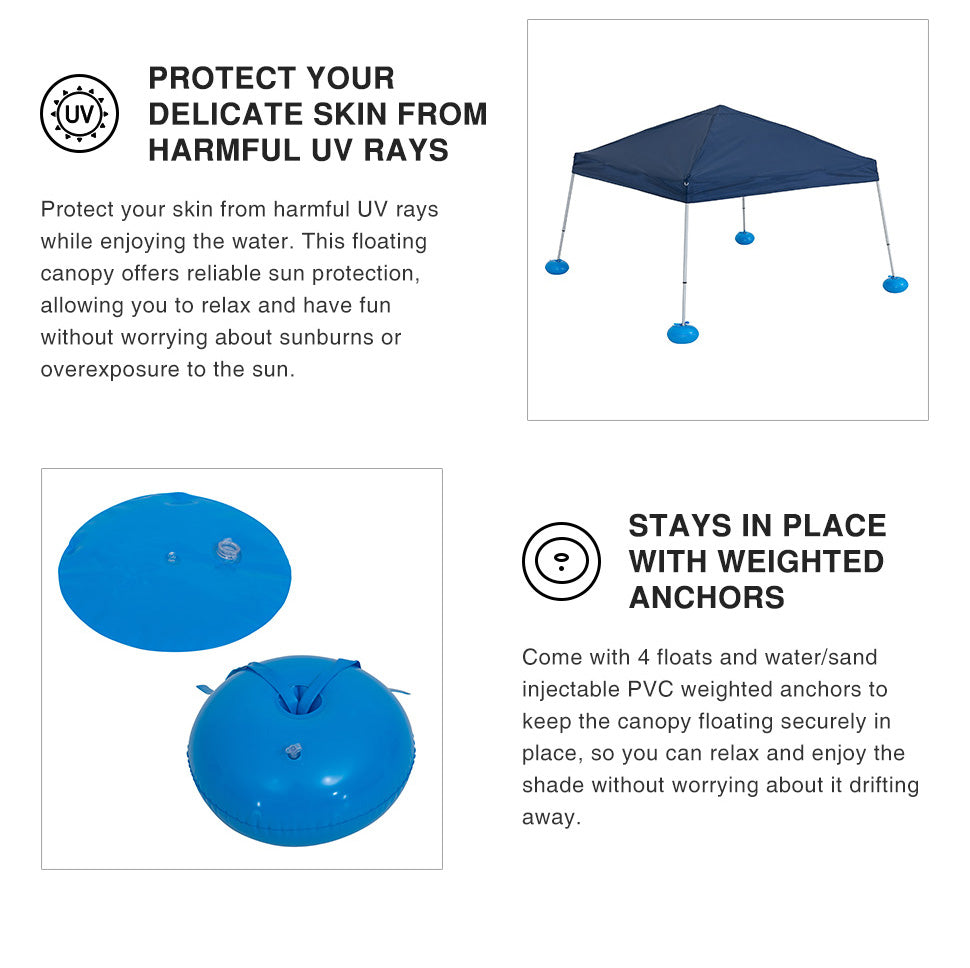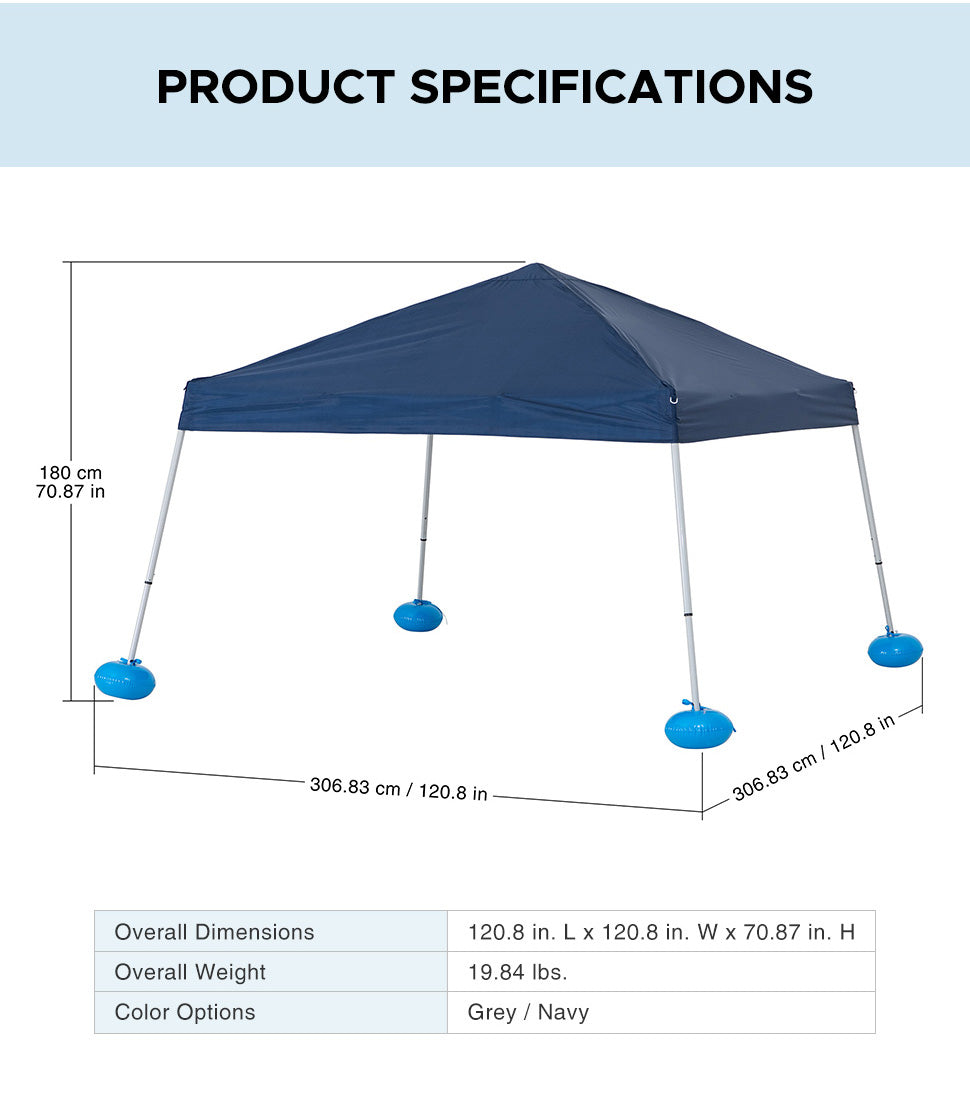 Details
Escape the scorching heat and level up your aquatic adventures with the Sunjoy Floating Pool Canopy! This floating oasis brings you instant, refreshing shade to your favorite lake or pool. It's perfect for fishing, tubing, swimming, and more! Simply attach the floats to the included pop-up canopy and experience the coolness it provides. Made with heavy-duty Oxford fabric, this durable canopy extension is built to withstand the test of time. Shield your sensitive skin from the sun's harmful UV rays while you enjoy the water. With adjustable telescoping posts, you can effortlessly customize the height for ultimate comfort. The water/sand-injected weighted pvc anchors ensure the canopy stays in place, allowing you to relax and enjoy the worry-free shade. With the included hand-carry bag, it's easy to take this portable canopy with you to beach getaways and quiet lakes, or simply enjoy it at home. Enjoy the shade on demand and stay cool and comfortable wherever your water adventures take you!
Features
Instant Shade on the Water: Transform your pool or lake experience with the Sunjoy Floating Pool Canopy. This 10×10 Oxford fabric canopy provides instant shade, allowing you to escape the scorching heat and enjoy your aquatic adventures in cool comfort.
Durable & Reliable: Made of durable Oxford and a steel and aluminum frame, this gazebo is built to withstand the elements and the test of time; enjoy long-lasting durability and peace of mind knowing your canopy will hold up well under various conditions.
Easily Adjust the Height with Telescoping Posts: Customize the height of the canopy with the adjustable telescoping aluminum posts; whether you prefer more headroom or a lower setup, you can easily achieve the desired level of comfort and shade to enhance your water activities.
Portable and Convenient: The included carry bag makes it easy to store and transport the canopy, ensuring hassle-free portability. Additionally, the provided hand air pump allows you to quickly inflate the PVC floats, making setup a breeze.
Protect Your Delicate Skin from Harmful UV Rays: Protect your skin from harmful UV rays while enjoying the water. This floating canopy offers reliable sun protection, allowing you to relax and have fun without worrying about sunburns or overexposure to the sun.
Stays in Place with Weighted Anchors: Come with 4 floats and water/sand injectable PVC weighted anchors to keep the canopy floating securely in place, so you can relax and enjoy the shade without worrying about it drifting away.
Versatile Use Options: Whether you're heading to the beach, or a quiet lake, or enjoying it at home, this portable canopy ensures you can effortlessly bring shade, comfort, and relaxation to any water adventure.
Specification
Overall Dimensions: 120.8 in. L x 120.8 in. W x 70.87 in. H
Overall Weight: 19.84 lbs.
Color Options: Grey / Navy
SAP NO.: A109004900 / A109004903
Payment & Security
Your payment information is processed securely. We do not store credit card details nor have access to your credit card information.
Questions & Answers
Have a Question?
Be the first to ask a question about this.
Ask a Question