Would you like to decorate your pergola or gazebo?
How you choose to decorate them should reflect your style and interests, and you can simultaneously optimize it as an entertainment space to enjoy alone or with family and friends.🌞
Maybe you just recently purchased a pergola or gazebo for your home, or maybe it's been a while since you first decorated it. In either case, whatever your current situation, here are our thoughts on ways to spice up a pergola or gazebo.
The right lights, plants, and seating can transform your pergola or gazebo into the crown jewel of your backyard.💕💕
Lighting:
Whether it's Chinese paper lanterns, fairy lights, or large hanging bulbs, lighting is a great way to enhance the overall aesthetic and nighttime ambiance of your pergola or gazebo.💕Sunjoy Outdoor Patio 12x14 Solar Powered Backyard Hardtop Wooden Gazebo with LED Light and Bluetooth Sound          💕Sunjoy Outdoor Patio 10x12 Modern Black Metal Frame Pergola Kit with Nature Wood Grain Finish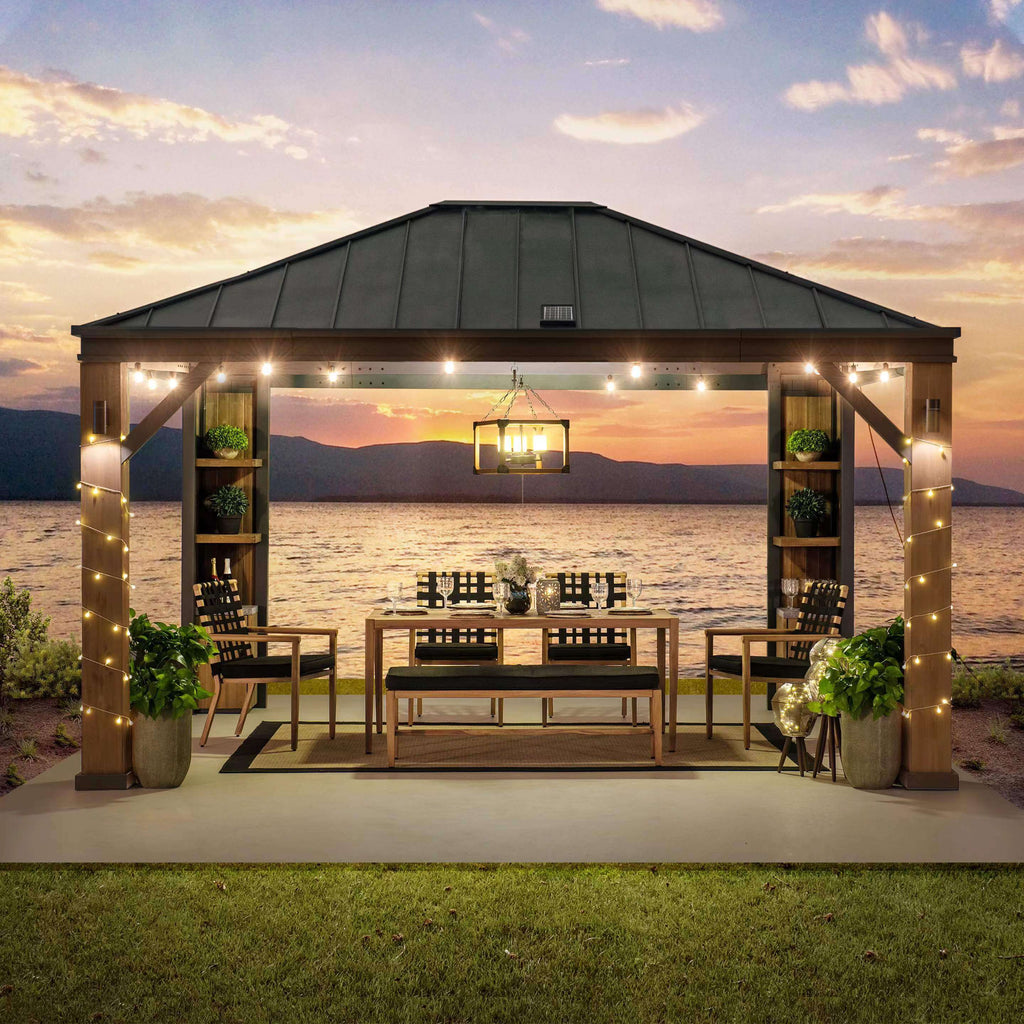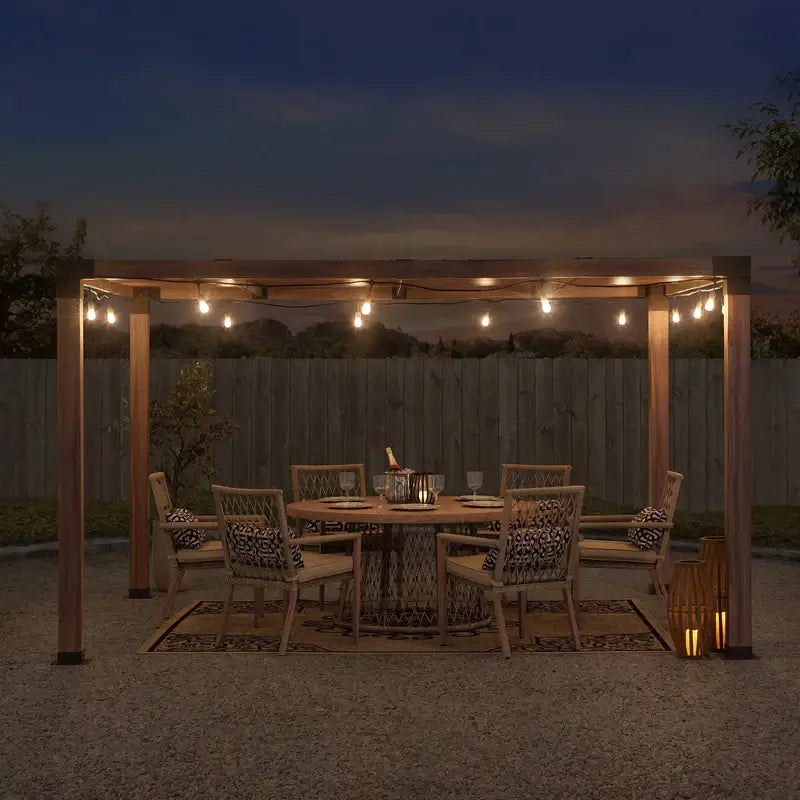 However, if the pergola or gazebo you've chosen isn't equipped with an outlet, or you don't have a convenient outlet nearby, solar lights may be the ideal solution.
Solar lights come in all different shapes, sizes and colors. Common bulb styles include globe, Edison, lantern, fairy, and rope. In addition, things like bulb size, brightness, and color temperature should all be considered based on your aesthetic and the ambiance you want to create. Solar bulbs also come with all sorts of interesting features, such as color changing bulbs, dimming options, and even remote/app control.🌻
1.How should I hang pergola and gazebo lights?
An important part of hanging outdoor lights on your pergola or gazebo is the pattern you decide to arrange them in. Here are three different modes that you can consider, which are most commonly used by most people.
1)Zig-zag:
Take your lights and make a left and right pattern when hanging them so you end up with a zigzag shape at the top of your gazebo or pergola.🥳
2)Straight columns:
This is the most straightforward method and can be assembled quickly and easily for outdoor parties. Simply hang the lights straight on the structure and spread the lights slightly apart to create a straight beam of light.
3)Perimeter:
If you want to frame your structure space, it's a great idea to hang your lights around the edge of the gazebo. You can hang them close to the structure or have them hanging between each hook to form a garland effect.
🥂
🥂
2.How to hang outdoor lights without nails? 
1)Use a glue gun:
Using a glue gun to hang your outdoor lights is a simple and effective method that works with most materials. You might even already have a glue gun lying around somewhere, which means you can get to work on hanging those lights right away. It's important to remember that this method is pretty permanent, so make sure you're happy with how the lights look there before you commit.
2)Adhesive-backed hooks:
Want to hang your lights with minimal evidence? These adhesive-backed hooks are a game changer. Easy to use and equally easy to remove, these hooks are perfect if you want to be able to remove your lighting at a later date, or have the freedom to move things around without causing damage. Just make sure that you choose the outdoor hooks that are suitable for your climate. 💗
3)Shingle tabs:
If only there was a product designed specifically to help you hang patio lights without those pesky nails. These clever shingle clips can be used on roofs and gutters without causing any damage or permanent holes. 
Plants:
With an outdoor structure, we can choose to display a variety of climbing plants or we can create a small nook surrounded by garden. Not only do plants bring the beauty of nature into your backyard, deck or patio area, but they can also provide you with extra shade on hot summer days.👍👍
Pergolas and gazebos are different in design and purpose, so how can we enhance their beauty with plants?
With a pergola, you can grow plants directly on the structure, increasing its potential for shade and architectural beauty. Honeysuckle, passionflower, potato vines, grape vines, clematis, climbing roses, wisteria, trumpet vine, and even strawberries are popular choices.Sunjoy Outdoor Patio 10x12 Modern Black Metal Frame Pergola Kit with Nature Wood Grain Finish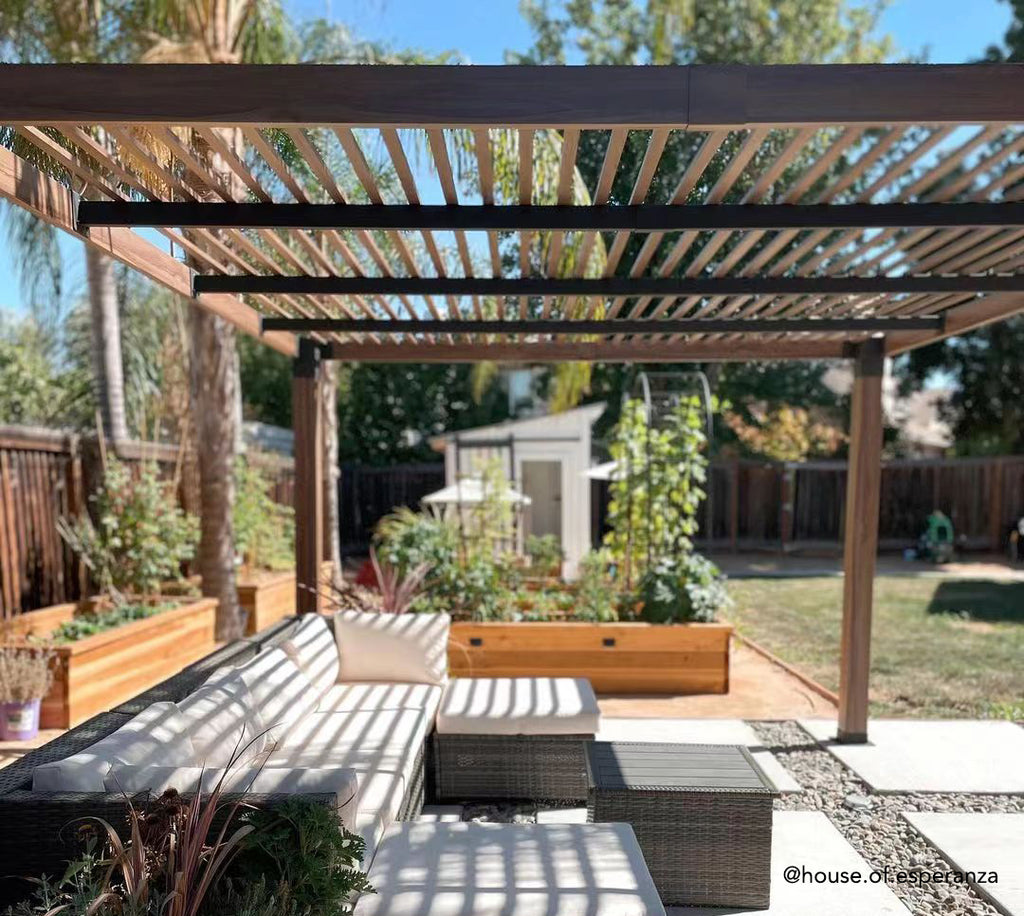 However, for gazebos, plants are usually placed around them. You can hang potted plants on the gazebo or place pots around the gazebo. The only limit is your imagination, and there are so many different ways you can create your own diverse garden.Sunjoy 13x15 Hardtop Gazebo Outdoor Black Steel Roof Gazebo Backyard Aluminum Framed Gazebo with Planters and Ceiling Hook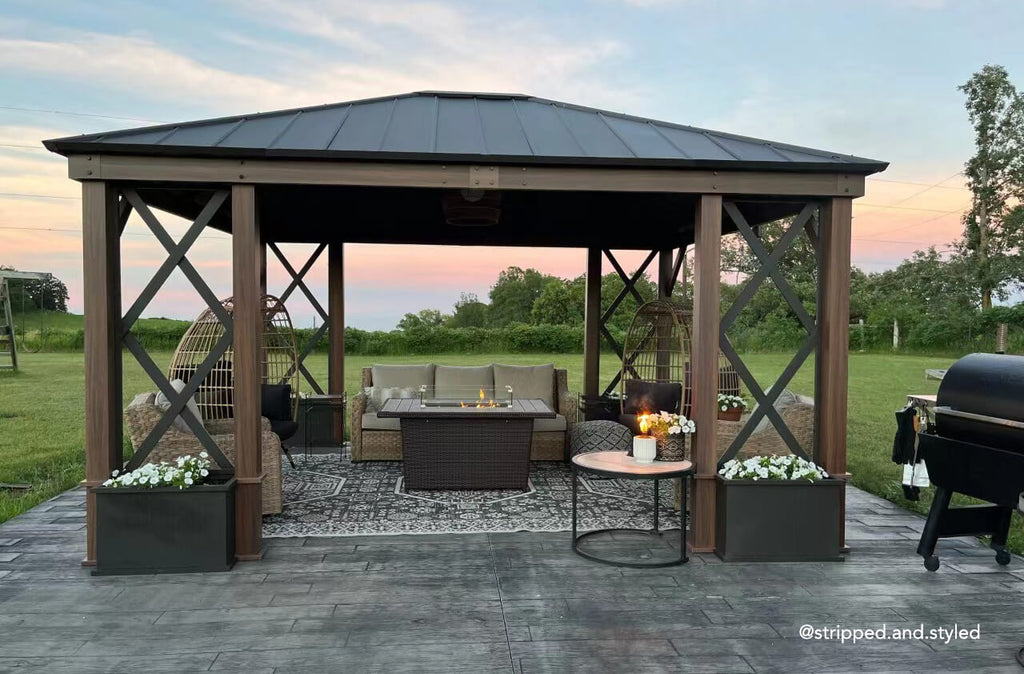 Seating:
One of the best ways to enjoy a pergola or gazebo is to sit under it and enjoy the fresh air and summer breeze.
When you are choosing seating for your pergola or gazebo, one of the things you have to consider is how you will use it most.Sunjoy Outdoor Patio 11x11 Wooden Frame Backyard Hardtop Gazebo with Ceiling Hook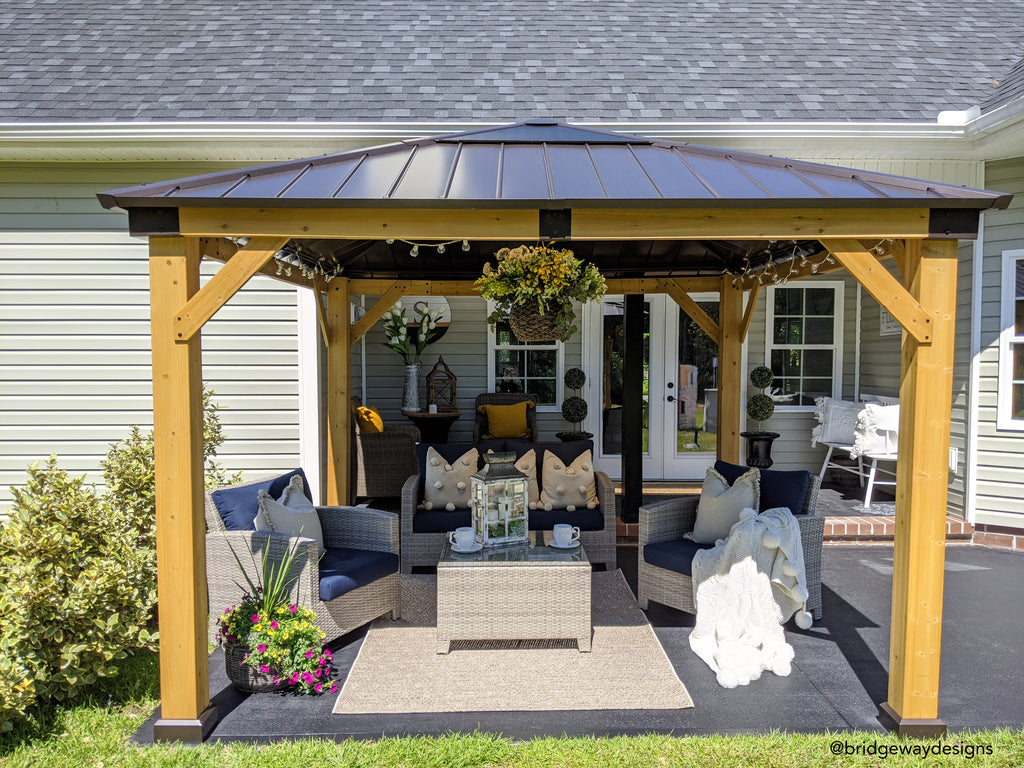 If you are looking to entertain friends and family under a pergola or gazebo:
Some outdoor furniture can help it feel like an extension of your home, like an outdoor dining room or kitchen. Patio furniture, dining tables and side tables can make your pergola or gazebo the perfect setting for al fresco dining.
In addition to the above, another good option:
Installing a fire pit or small outdoor grill can bring the joy of outdoor cooking to your own backyard.Sunjoy Outdoor Patio 5x8 Brown 2-Tier Steel Backyard Hardtop Grill Gazebo with Metal Ceiling Hook and Bar Shelves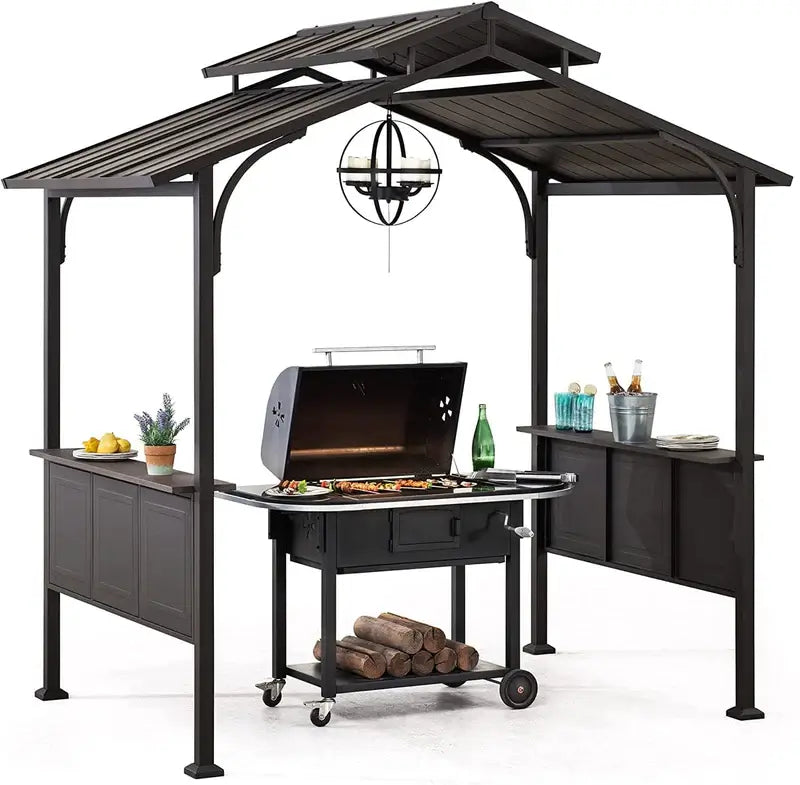 If you want more idea about pergola, 6 Cool Summer Patio Ideas: Sunjoy White Gazebo and Pergola and 4 Stylish Sunjoy Gazebo or Pergola Patio Ideas: Create Your Own Oasis will help you.👍👍
Do you have any ideas about how you would use a pergola ? Use the hashtag #Sunjoylife to share your idea or opinion with us on Facebook, Twitter, Instagram, Pinterest, and Tiktok.