A gazebo is a popular outdoor structure that has been around for centuries. It is a freestanding, open-sided, and roofed structure that is typically used for relaxation, entertainment, and even as a focal point in gardens and parks. Gazebos can be made from various materials, including metal, vinyl, and wood. However, in this article, we will focus on wooden gazebos and their unique features, benefits, and design options.🌼 
Wooden gazebos are an elegant and timeless addition to any outdoor space. They offer a natural and warm look that complements any garden or backyard. Wooden gazebos can be designed in various sizes and shapes to suit different outdoor spaces and styles. They can be small and cozy, perfect for intimate gatherings or large and spacious, ideal for big events.☀️🍃🍃
 Why add a wooden gazebo to an outdoor space?
 

Adds Value to Your Property
A wooden gazebo is an excellent investment that can add value to your property. It can create an additional living space that is perfect for relaxation, entertainment, and outdoor dining. A wooden gazebo can also enhance the overall aesthetic of your outdoor space, making it more attractive and appealing to potential buyers.👏🌺
 

Provides Shelter and Shade
A wooden gazebo provides shelter and shade from the sun, rain, and wind. It is an excellent option for outdoor events such as weddings, parties, and barbecues. A wooden gazebo can also provide a comfortable and relaxing outdoor space where you can read, relax, or spend time with family and friends.
 

Enhances the Aesthetic of Your Outdoor Space
A wooden gazebo is a beautiful and elegant addition to any outdoor space. It can enhance the aesthetic of your garden or backyard, making it more attractive and inviting. A wooden gazebo can also be designed to complement your home's architectural style, creating a cohesive and harmonious outdoor space.
Offers Versatility and Customization Options
A wooden gazebo offers versatility and customization options. It can be designed to suit different outdoor spaces, styles, and purposes. It can be small and cozy, perfect for intimate gatherings or large and spacious, ideal for big events.🎉
Let's image the happy scene. It's a warm spring evening, and a group of people has gathered in a wooden gazebo at the edge of a lush green lawn. The gazebo stands in the midst of a beautiful garden, surrounded by vibrant flowers and tall trees that sway gently in the light breeze. As the sun sets, the sky is painted with hues of orange, pink, and purple, creating a breathtaking backdrop for the scene.💙💜
The group of people consists of friends and family members of all ages, each one dressed in comfortable summer clothes. Some are seated on the benches that line the inside of the gazebo, while others are standing or leaning against the railing. The mood is relaxed and cheerful, with everyone enjoying each other's company.🎊
In the center of the gazebo, a small table is set up, adorned with a colorful tablecloth and an array of refreshments. There are bowls of fresh fruit, trays of bite-sized appetizers, and glasses filled with cool, refreshing drinks. The guests help themselves to the food and drink, chatting and laughing as they do so.
 If you are struggling with which gazebo to choose, this gazebo is a good all-around choice!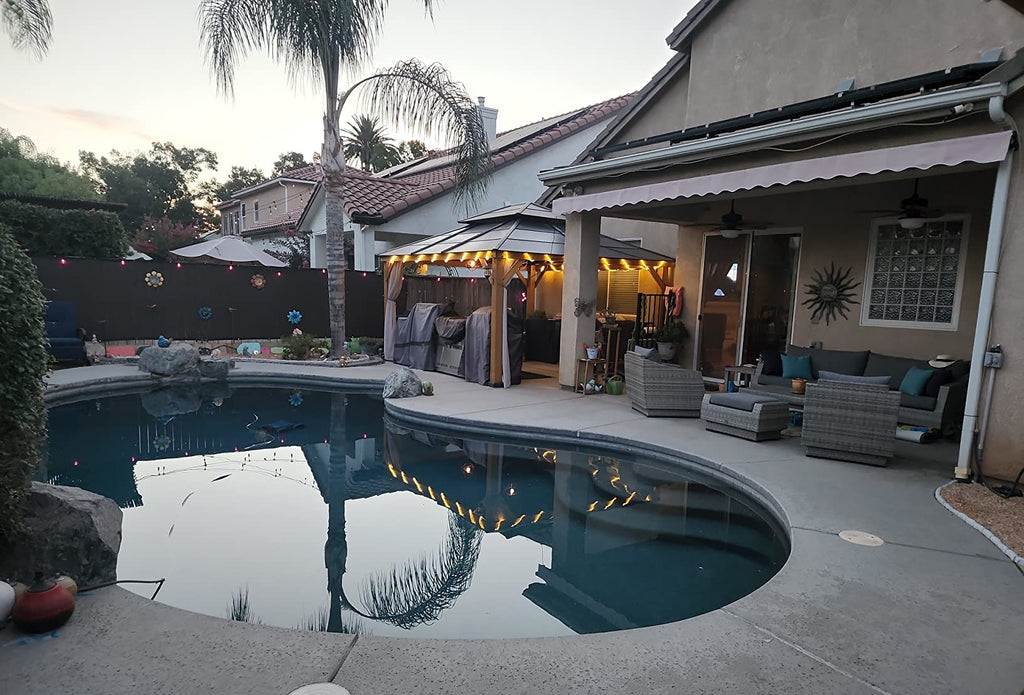 The13*15 Brown 2-Tier Wooden Frame Backyard Hardtop Gazebo with Ceiling Hook is a beautiful and functional addition to any outdoor space. This gazebo offers a luxurious way to enjoy your backyard or patio area, providing a perfect place to entertain guests, host a family gathering, or simply relax and enjoy the outdoors.
The gazebo's wooden frame is constructed from high-quality materials, including sturdy, pressure-treated pine wood. The wood is carefully selected for its durability and weather resistance, ensuring that your gazebo will stand the test of time. The frame is designed to provide a sturdy and reliable base for the hardtop roof, which is made from high-quality polycarbonate panels that can withstand even the harshest weather conditions.
One of the most notable features of this gazebo is its 2-tier design. The double-tiered roof provides an extra layer of elegance and sophistication to the gazebo's overall appearance, making it an attractive addition to any outdoor space. In addition to its visual appeal, the two-tiered design also provides added protection from the sun, wind, and rain, making it a comfortable place to relax regardless of the weather conditions.
Another unique feature of this gazebo is its ceiling hook, which is perfect for hanging lights, plants, or other decorative items. This hook provides an easy way to personalize your gazebo and create a unique and inviting space that reflects your personal style and taste.💐
Measuring 13 feet by 15 feet, the Outdoor Patio 13*15 Brown 2-Tier Wooden Frame Backyard Hardtop Gazebo is generously sized, providing ample space for entertaining guests, hosting family gatherings, or simply relaxing with friends and loved ones. The gazebo's spacious interior can easily accommodate outdoor furniture, making it a perfect place to dine, socialize, or just unwind and enjoy the outdoors.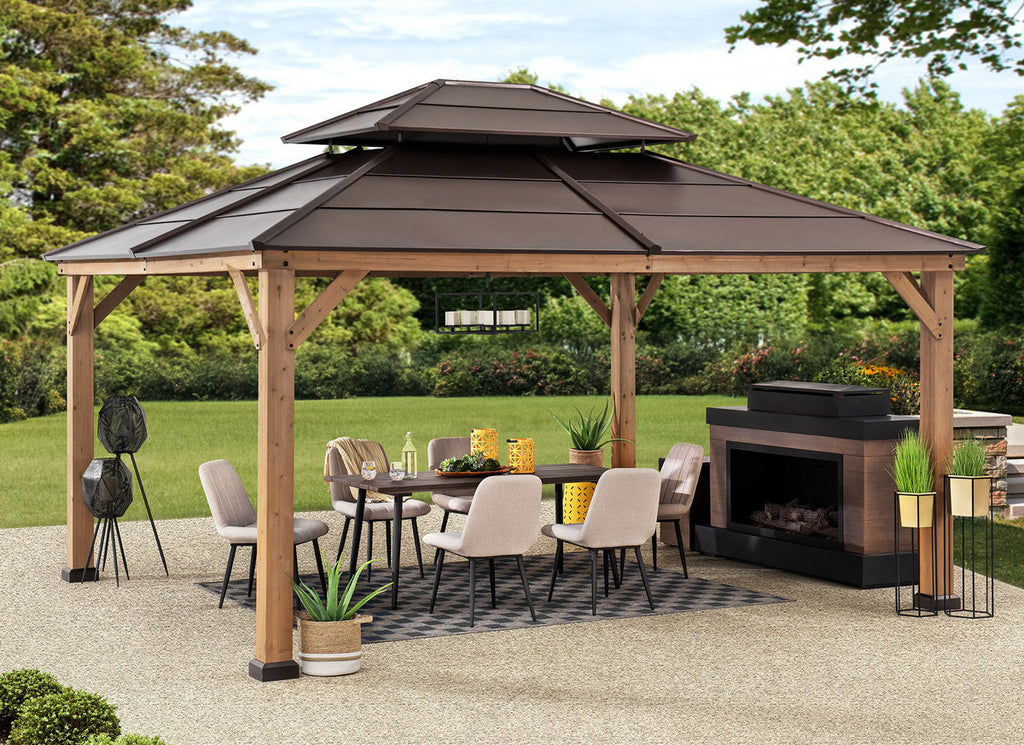 The gazebo's hardtop roof is designed to provide superior protection from the sun and other elements, ensuring that you can enjoy your outdoor space in comfort. The roof's polycarbonate panels are UV-resistant and will not fade or yellow over time, providing a long-lasting and durable solution for your outdoor living needs.
 Assembling the Outdoor Patio 13*15 Brown 2-Tier Wooden Frame Backyard Hardtop Gazebo is a simple and straightforward process. The gazebo comes with detailed instructions and all the necessary hardware, making it easy to put together in just a few hours. The gazebo's sturdy construction ensures that it will remain stable and secure, even during windy or stormy weather.
 In addition to its sturdy construction and attractive design, the Outdoor Patio 13*15 Brown 2-Tier Wooden Frame Backyard Hardtop Gazebo is also incredibly versatile. The gazebo can be used in a variety of different ways, from an outdoor dining area to a cozy seating area, and even as a shelter for outdoor events like weddings, parties, and other special occasions.☀️
 Overall, the Outdoor Patio 13*15 Brown 2-Tier Wooden Frame Backyard Hardtop Gazebo with Ceiling Hook is a fantastic investment for anyone looking to enhance their outdoor living space. With its sturdy construction, attractive design, and versatile functionality, this gazebo is sure to provide years of enjoyment and relaxation for you and your loved ones.
 Let's imagine another happy scene. As the evening progresses, the atmosphere becomes more festive. A few guests pull out guitars and begin to play, while others start to sing along or dance. The sound of music fills the air, blending with the chirping of crickets and the rustling of leaves.
 As the night deepens, the party shows no signs of slowing down. The guests continue to chat, laugh, and dance, their faces illuminated by the soft glow of fairy lights that have been strung up around the gazebo. It's clear that this is a special moment for everyone present, a time to connect with loved ones and enjoy the beauty of the natural world.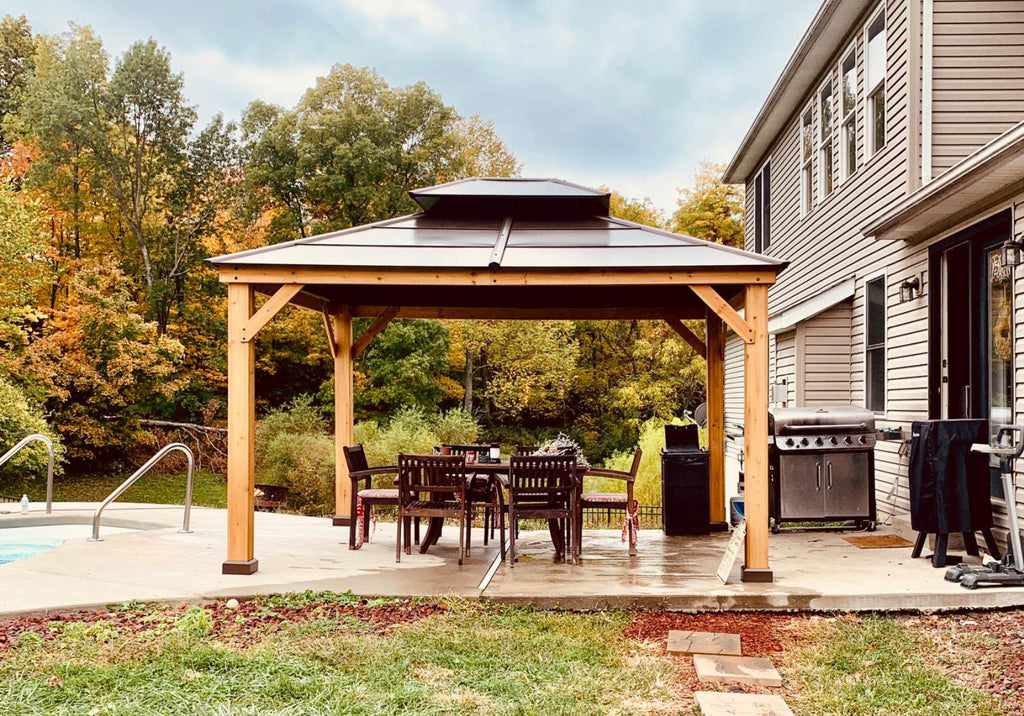 As the night wears on, the guests begin to trickle away, one by one. They say their goodbyes, promising to meet up again soon, and make their way out of the garden. The gazebo is left standing in the peaceful darkness, a silent witness to the joyful scene that has just taken place within its walls.❤️
As you reflect on the evening, you realize that this gazebo is more than just a wooden structure. It's a place where memories are made, where people come together to celebrate life and love. And as you make your own way out of the garden, you feel grateful for this beautiful moment, and for the people who made it possible.
 If you want more idea about gazebos , Sunjoy 11x13 Black 2-Tier  Hardtop Gazebo is also a famous choice.Styles We Love with Sunjoy Gazebos in Spring Afternoon and Sunjoy Wood Care Guidelines—Protect Your Outdoor Wooden Gazebo will help you. Sunjoy Wooden Frame Backyard Hardtop Gazebo and Sunjoy Wooden Frame Gable Roof Backyard Hardtop Gazebo ares also a good choice.💐
Do you have any ideas about how you would use a gazebo ? Use the hashtag 
#Sunjoylife
 to share your idea or opinion with us on 
Facebook
, 
Twitter
, 
Instagram
, 
Pinterest
, and 
Tiktok
.