Description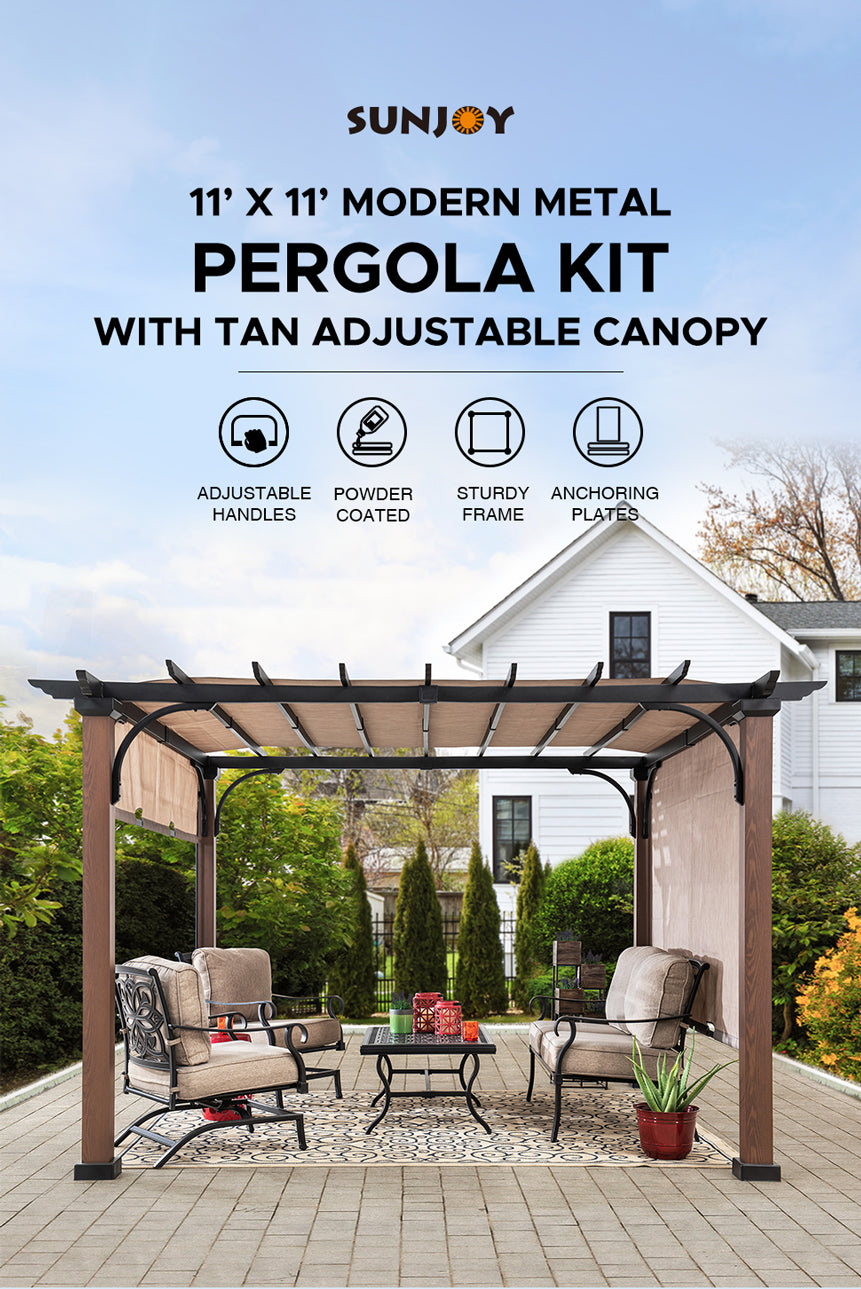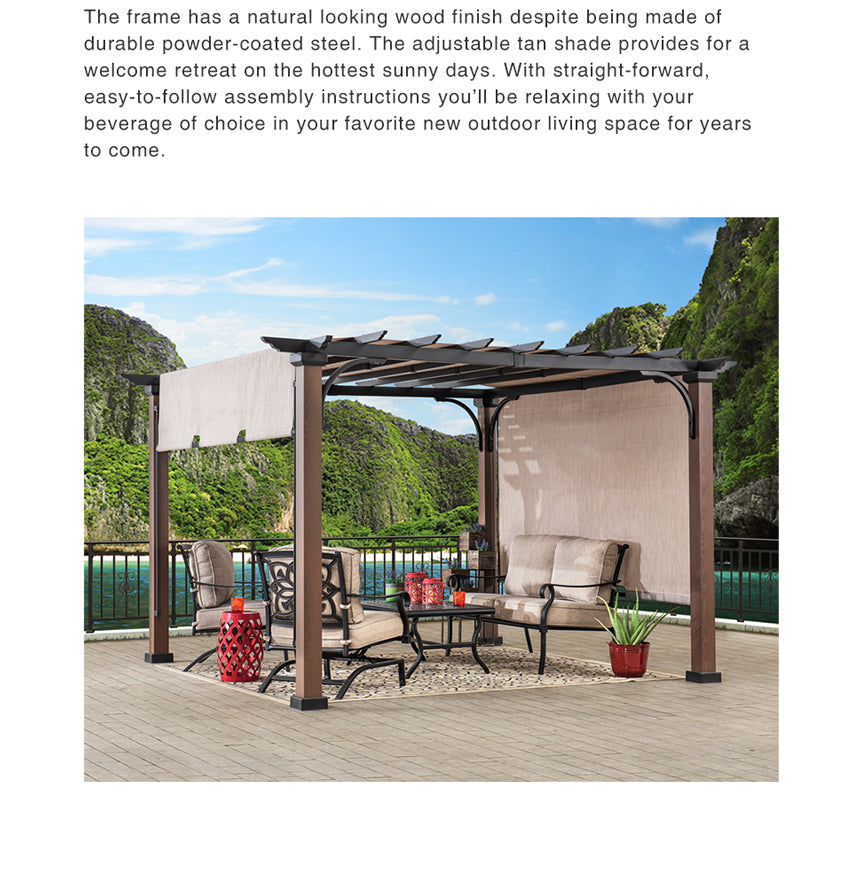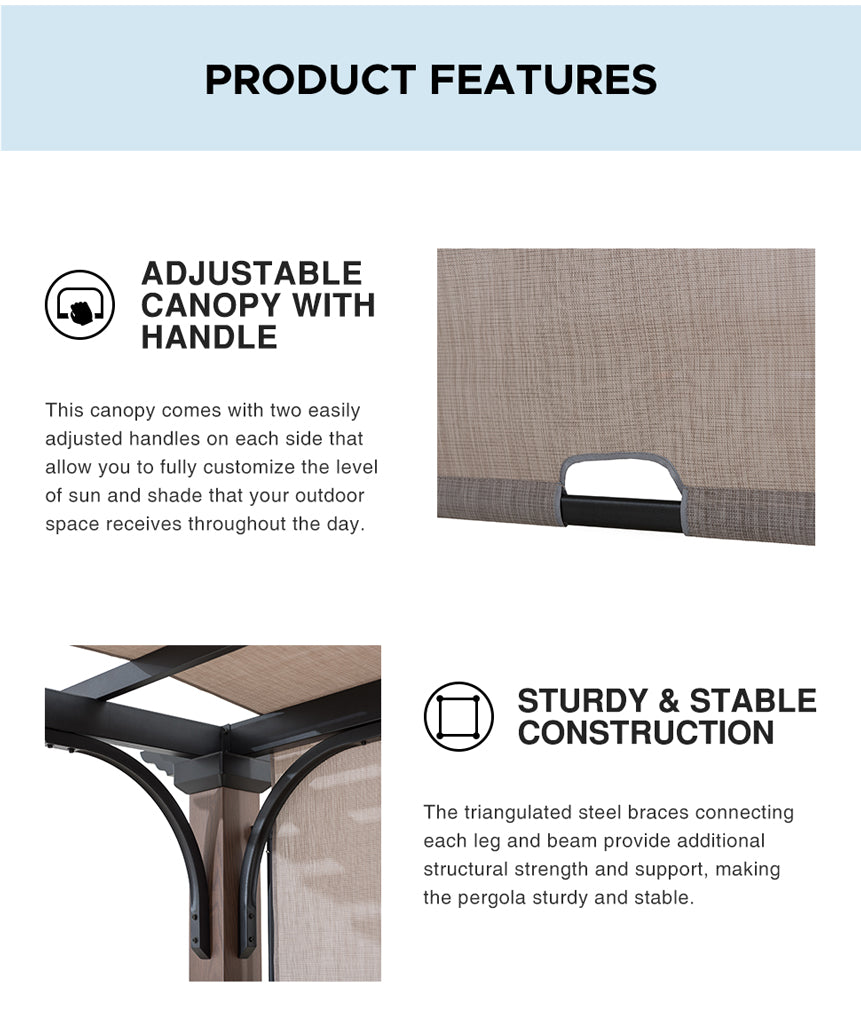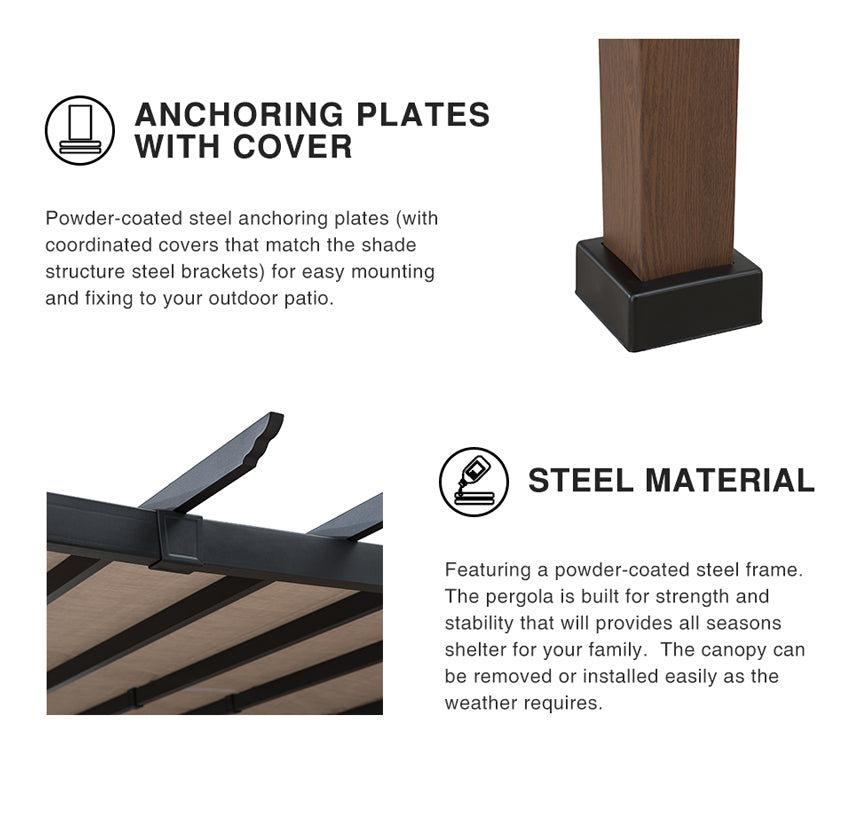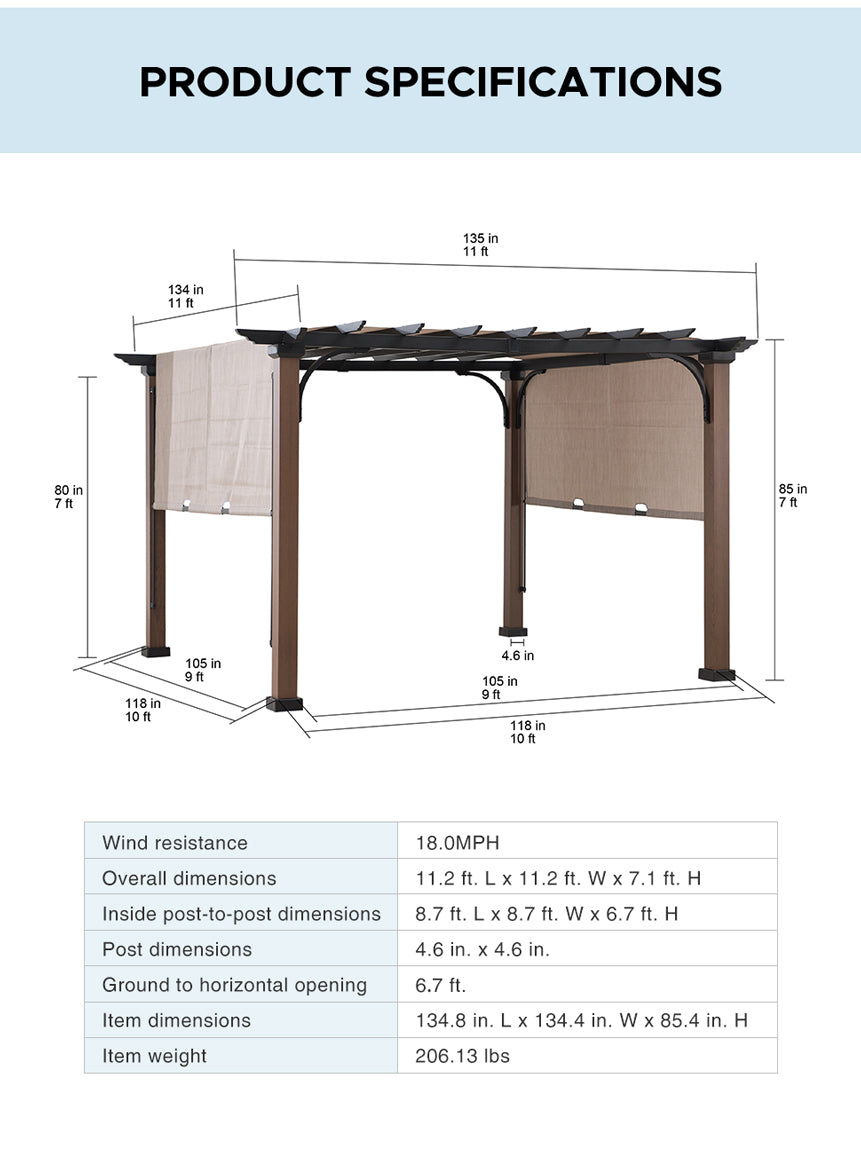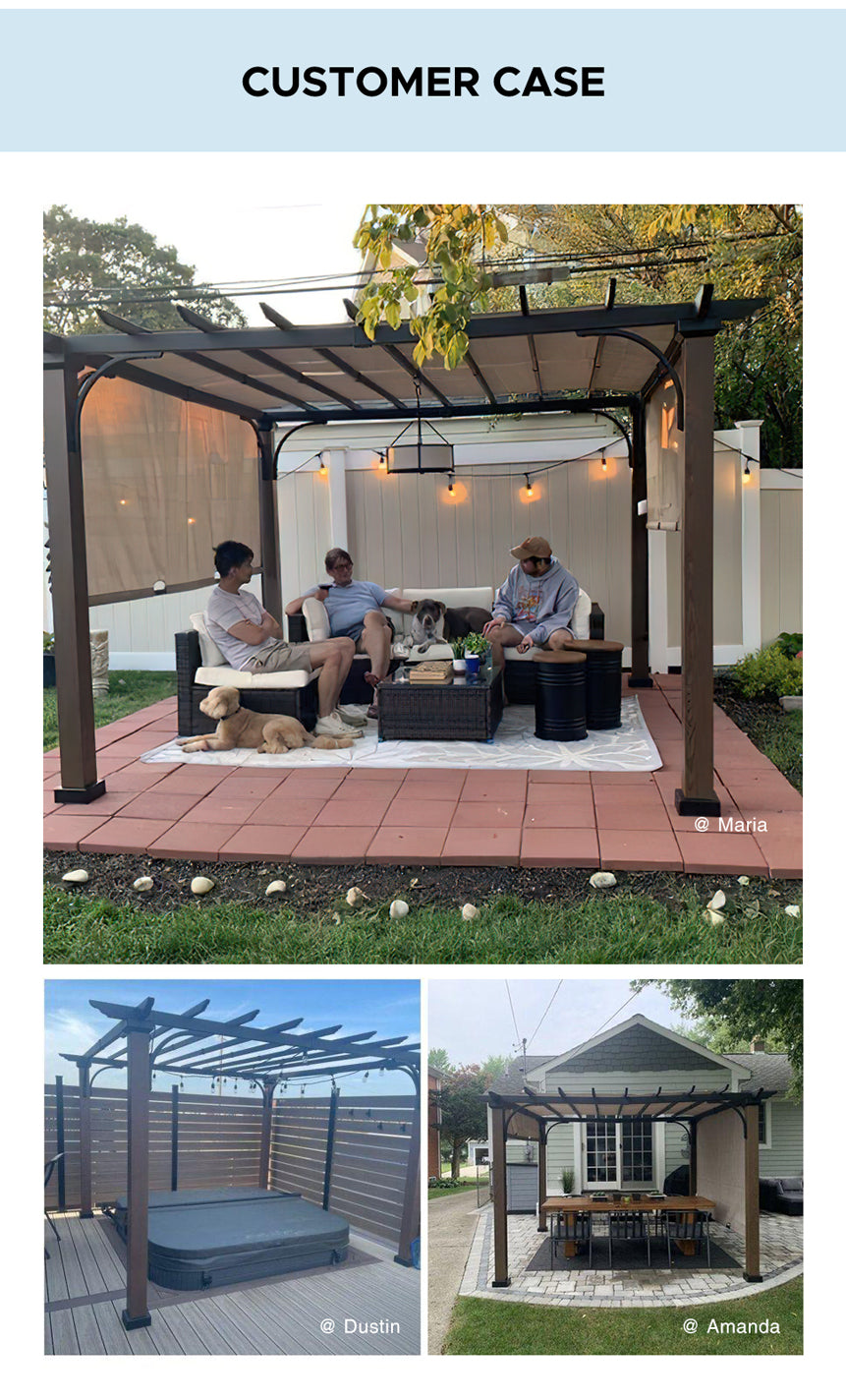 If need professional installation service please visit Assembly Service to get an instant price and schedule your date.
Do you wish you could entertain friends outdoors when they're at your house? If you'd love to move the party outside, but don't have a comfortable place to gather, this 11 x 11 ft. pergola kit by the world's leading ready-to-assemble outdoor structure maker, Sunjoy, is the perfect solution. The frame has a natural-looking wood finish despite being made of durable powder-coated steel. The adjustable tan shade provides a welcome retreat on the hottest sunny days. With an adjustable canopy, you can roll it up to enjoy a warm day or roll it down to protect yourself from the glaring sun. With straightforward, easy-to-follow assembly instructions you'll be relaxing with your beverage of choice in your favorite new outdoor living space for years to come.
Adjustable Canopy with Handle: This canopy comes with two easily adjusted handles on each side that allow you to fully customize the level of sun and shade that your outdoor space receives throughout the day.

Sturdy and Stable Construction: The triangulated steel braces connecting each leg and beam provide additional structural strength and support, making the pergola sturdy and stable.

Anchoring Plates with Cover: Powder-coated steel anchoring plates (with coordinated covers that match the shade structure steel brackets) for easy mounting and fixing to your outdoor patio.

Steel Material: Featuring a powder-coated steel frame. The pergola is built for strength and stability that will provide all seasons shelter for your family.  The canopy can be removed or installed easily as the weather requires.
Upgrade Your Outdoor Living Space:

 

This beautiful

 wood pergola

 is a perfect addition to various outdoor living spaces, such as patios, decks, backyards, gardens, swimming pools, lawns, etc.
Mountable Surface: Lawn surface (including accessories), wood surface (without accessories), and concrete surface (without accessories).
Powder-coated brown and black steel frame with natural-looking wood finish
Tan weather-resistant adjustable fabric shade

Easy illustrative assembly instructions with an experienced customer service team at the ready for any questions that may arise

Wind resistance: 18.0MPH

Overall dimensions 11.2 ft. L x 11.2 ft. W x 7.1 ft. H
This is made for our pergola

 

with a post-to-post size of

 10

x10

 

ft, and a maximum roof size of 11x11

 

ft.
Inside post-to-post dimensions 8.7 ft. L x 8.7 ft. W x 6.7 ft. H
Post dimensions 4.6 in. x 4.6 in.
Ground to horizontal opening 6.7 ft.
Item dimensions 134.8 in. L x 134.4 in. W x 85.4 in. H
Item weight 206.13 lbs
Free curbside delivery
📜Instruction Manual:  Download PDF
🔧Check out the detailed assembly video here🔧: https://youtu.be/6TS4IglhBN0

Need replacement canopy please click here.

🛍【 All Bundles get 10% off 】🛍
Bundle 1: Pair with any Firepit or Fireplace (non-sale items), click here.
Bundle 2: Pair with any Patio Furniture (non-sale items), click here.
SAP NO.: A106005900
Payment & Security
Your payment information is processed securely. We do not store credit card details nor have access to your credit card information.
Do you have a warranty for metal starts to rust?

Dear customer, the reason for the rusting will be due to the moisture that the gazebo will be consistently exposed, then the warranty will not be honored. But in the case where the rusting will start from within the frames without exposure to wet or humid. This means, the gazebo was taken care of properly, then the warranty will apply. Thank you!

How do you protect the canopy?

Dear customer, the main purpose is for sunshades, and this cannot protect from the heavy downpour. Please be reminded to remove it during inclement weather conditions to make it last longer. You can use a ray bloc or scotch guard to protect the canopy from the sun. Thank you!

How many boxes does it ship in?

Dear customer, this item ships in one box. Thank you!

Are the stakes provided with each pergola?

Dear customer, yes, the stakes are provided with each pergola. If the pergola is placed on soft, level ground, these stakes will be more than adequate to keep the pergola in place. For solid foundations, such as patio concrete or wood, Sunjoy recommends securing it with the appropriate anchors. While these types of anchors are not supplied with the product, they can be easily purchased at their local hardware or home store. You can also suggest using tapcon screws for concrete and wood screws or wood lag screws for wood surfaces. Thank you!

What are the dimensions of this shipping box?

Dear customer, the dimensions of this shipping box are 13.98" H x 85.04" W x 22.05" D. Thank you!

Is it truly freestanding in windy conditions? How is it secured in the ground? Do the bolts to secure come with or additional cost?

Hello customer, this product can resist rank 7(<33mph) wind. Stakes are provided to secure the gazebo in the grass ground. If you wish to secure the gazebo to a wood deck or concrete surface, you will need to purchase fasteners appropriate (such as expansion bolt) for these surfaces. Thank you!