Black Friday is just around the corner, and shoppers everywhere are eagerly awaiting the best deals of the year. But why wait until the day after Thanksgiving to start saving?
This year, take advantage of the early Black Friday deals and get a head start on your holiday shopping with Sunjoy. If you're looking to spruce up your outdoor living space, score some great deals on furniture, or upgrade your home office, you're in luck.
We've compiled a list of the 20 best early Black Friday deals, ranging from metal gazebos to accessories, to help you make the most of this shopping extravaganza.
Must-Have Metal Gazebos: Up to 55% Off
Transform your backyard into a cozy outdoor retreat with a sunjoy gazebo. Enjoy the fresh air while staying protected from the elements. With discounts of up to 55%, now is the perfect time to invest in a metal gazebo.
1. 11x13 ft. Steel Frame Metal Gazebo with Skylight- 35% off
Transform your backyard with this spacious and stylish metal gazebo, now available at a 35% discount.
2. Brown 10x12 Hardtop Gazebo with Netting- 30% off
Enjoy the great outdoors without worrying about the elements. This hardtop gazebo comes with netting and is currently 30% off.
3. 10x10 Sunjoy Gazebo with Netting and Curtain- 15% off
Create a cozy and insect-free outdoor retreat with this 10x10 gazebo, currently on sale at 15% off.
Best-Selling Hard Top Gazebos
Looking for the perfect spot to relax and unwind in your backyard? Check out these top-rated hardtop gazebos that are sure to take your outdoor experience to the next level!
4. 11x13 Wooden Frame Hardtop Gazebo- 20% off
Enhance your outdoor space with this elegant wooden frame hardtop gazebo, now available with a 20% discount.
5. 12' x 20' Gazebo with 2-tier Metal Roof bundle with 58 in. Steel Wood Burning Fireplace- 10% off
Enjoy savings on this fantastic bundle that includes a spacious gazebo and a steel wood-burning fireplace.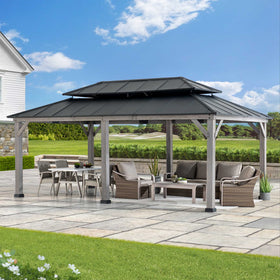 6. Sunjoy Octagon Gazebo with 13x13 ft. Hardtop- 20% off
Upgrade your backyard with this top-rated octagon gazebo, currently offered at a 20% discount.
Top Rated Backyard Pavilions
Choose from a variety of styles and sizes to fit your unique needs and preferences. With our top-rated backyard pavilions, you can enjoy the outdoors in style and comfort, whether you're hosting a party, relaxing with family and friends, or simply enjoying a peaceful moment in nature.
7. 6x9 ft. Cedar Frame Grill Gazebo with Bar Shelves- 60% off
Elevate your grilling experience with this cedar frame grill gazebo, available at a whopping 60% discount.
8. 12x14 Brown Gable Roof Pavilion- 50% off
Make a statement with this gable roof pavilion, perfect for outdoor gatherings, now at a 50% discount.
9. 11x13 Wooden Frame Gable Roof Pavilion- 45% off
Save big on this wooden frame gable roof pavilion, ideal for creating a welcoming outdoor space.
A Free Standing Carport: A Safe Haven for Your Vehicle
Our expertly crafted carports not only provide practical shelter for your vehicle but also add a touch of elegance to your property. Don't settle for an eyesore of a carport - upgrade to a Classical Wood Carport today!
10. 11x20 Wood Carport with 2 Ceiling Hooks- 10% off
Looking for a stylish way to protect your car from the elements? Check out our Classical Wood Carports! Protect your vehicles and enjoy a 10% discount on this spacious wood carport with ceiling hooks.
Outdoor Heating Solutions - Stay Warm Outside
Don't let the cold weather keep you from enjoying the great outdoors. With our top-of-the-line outdoor heating solutions, you can stay warm and comfortable while you spend time outside. Whether you're relaxing on your patio or hosting a party in your backyard, our products will ensure that you and your guests stay cozy and warm.
11. 45,000 BTU Portable Offset Propane Patio Heater- 55% off
Stay warm and cozy outdoors with this high-output propane patio heater, now available at a 55% discount.
12. 30 in. Black Steel Wood Burning Fire Pit- 50% off
Create a captivating ambiance with this steel wood-burning fire pit, currently on sale at 50% off.
13. 48 in. Wood Burning Stone Fireplace- 15% off
Bring the charm of a rustic fireplace to your backyard, now at a 15% discount.
Patio Furniture: Upgrade Your Life
Create the perfect outdoor oasis with stylish and comfortable outdoor patio furniture. With discounts of up to 40%, you can transform your patio or deck into a relaxing retreat.
14. 7-pc. Round Dining Set with Lazy Susan- 55% off
Host unforgettable outdoor dinners with this elegant dining set, featuring a 55% discount.
15. Metal Frame Swivel Egg Cuddle Chair with Cushions- 45% off
Add a touch of luxury to your outdoor space with this swivel egg cuddle chair, now at a 45% discount.
16. 5-Piece Patio Furniture Set with Cushions- 30% off
Get this versatile 5-piece patio furniture set at a 30% discount and elevate your outdoor comfort.
Indoor Furniture: Price Like a Mistake
17. 39" Farmhouse Design Computer Desk- now only $34.75
Revamp your home office with this budget-friendly farmhouse design computer desk.
18. 27" Adjustable Office Mobile Desk Cart- under $90
Stay organized and mobile with this adjustable office desk cart priced under $90.
Accessories
19. 226W Folding Portable Solar Panel- 15% off
Harness the power of the sun with this portable solar panel, now available at a 15% discount.
20. Collapsible Folding Wagon Cart- only $57.85, with 255L Oversized Capacity and Big Wheels
Make your outdoor adventures more convenient with this versatile wagon cart, priced at just $57.85.
Don't wait until Black Friday to start saving. Take advantage of these early Black Friday deals and get a head start on your holiday shopping. Don't miss out on these incredible deals to enhance your living spaces, both indoors and outdoors. Black Friday is the perfect opportunity to upgrade your home at prices that won't break the bank. Act fast, as these deals won't last forever. Happy shopping!
To explore the latest Sunjoy styles, we invite you to visit our New Arrivals collection, where you can discover the best prices on sale for these stunning wood gazebos, hardtop gazebos, carports, pergola kits, and more.
For more inspirits about backyard gazebo ideas and covered patio ideas, please check the Backyard Ideas collection. Visit the Sale collection to check more gazebos for sale. 💡💡💡
If you have any ideas about how you would use a gazebo, use the hashtag #Sunjoylife to share your idea or opinion with us on Facebook, Twitter, Instagram, YouTube, Pinterest, and TikTok.