Description
Product Images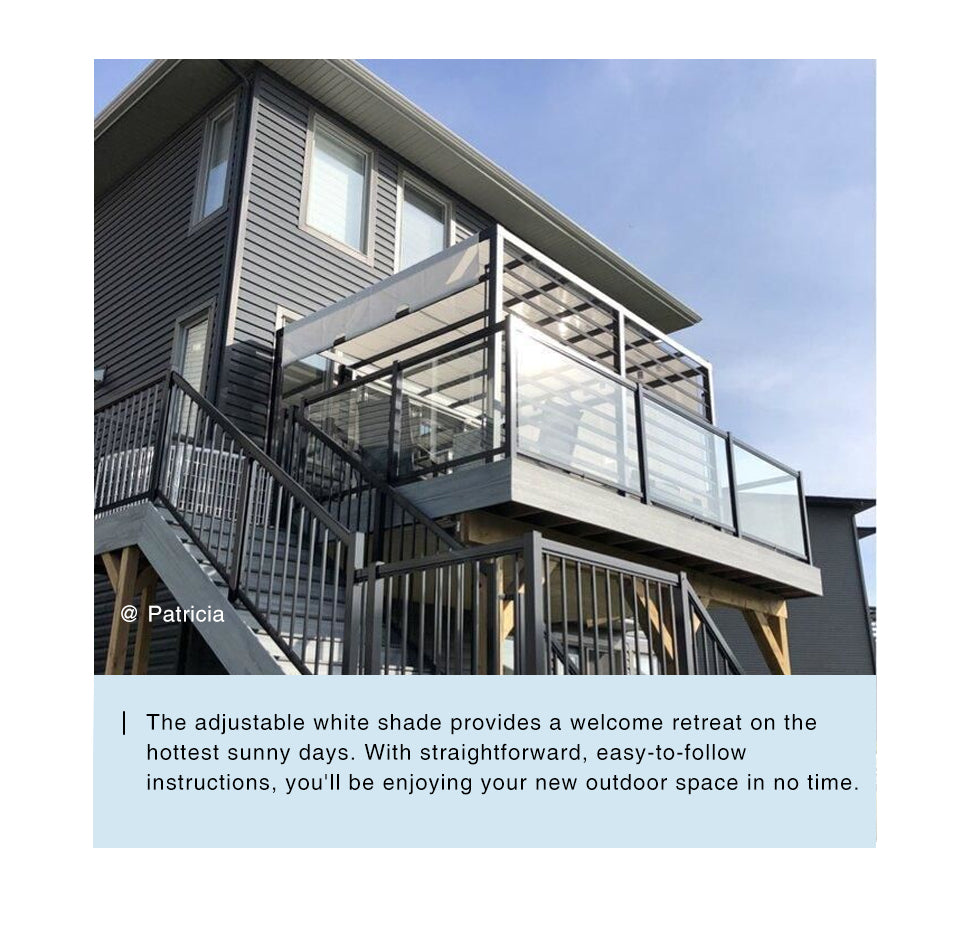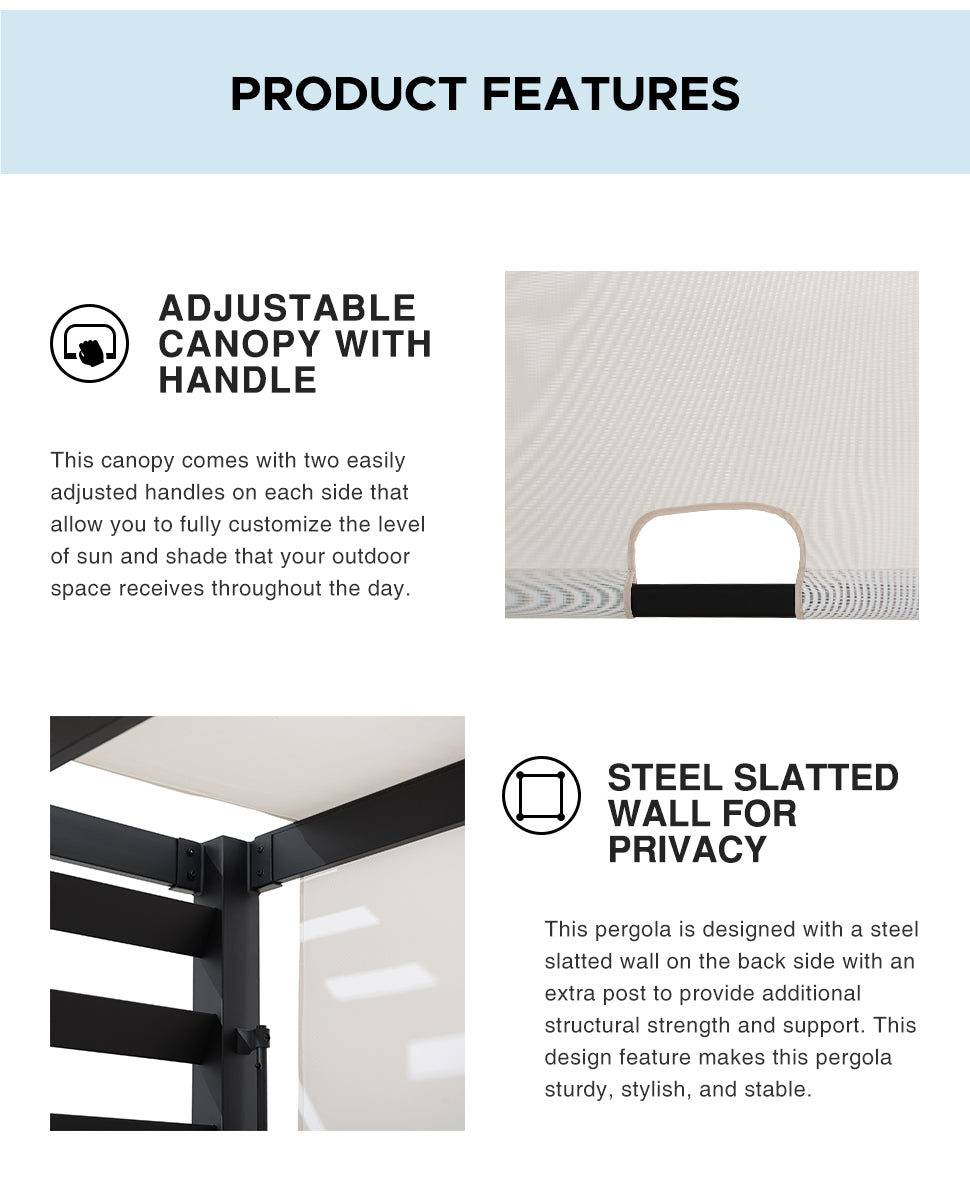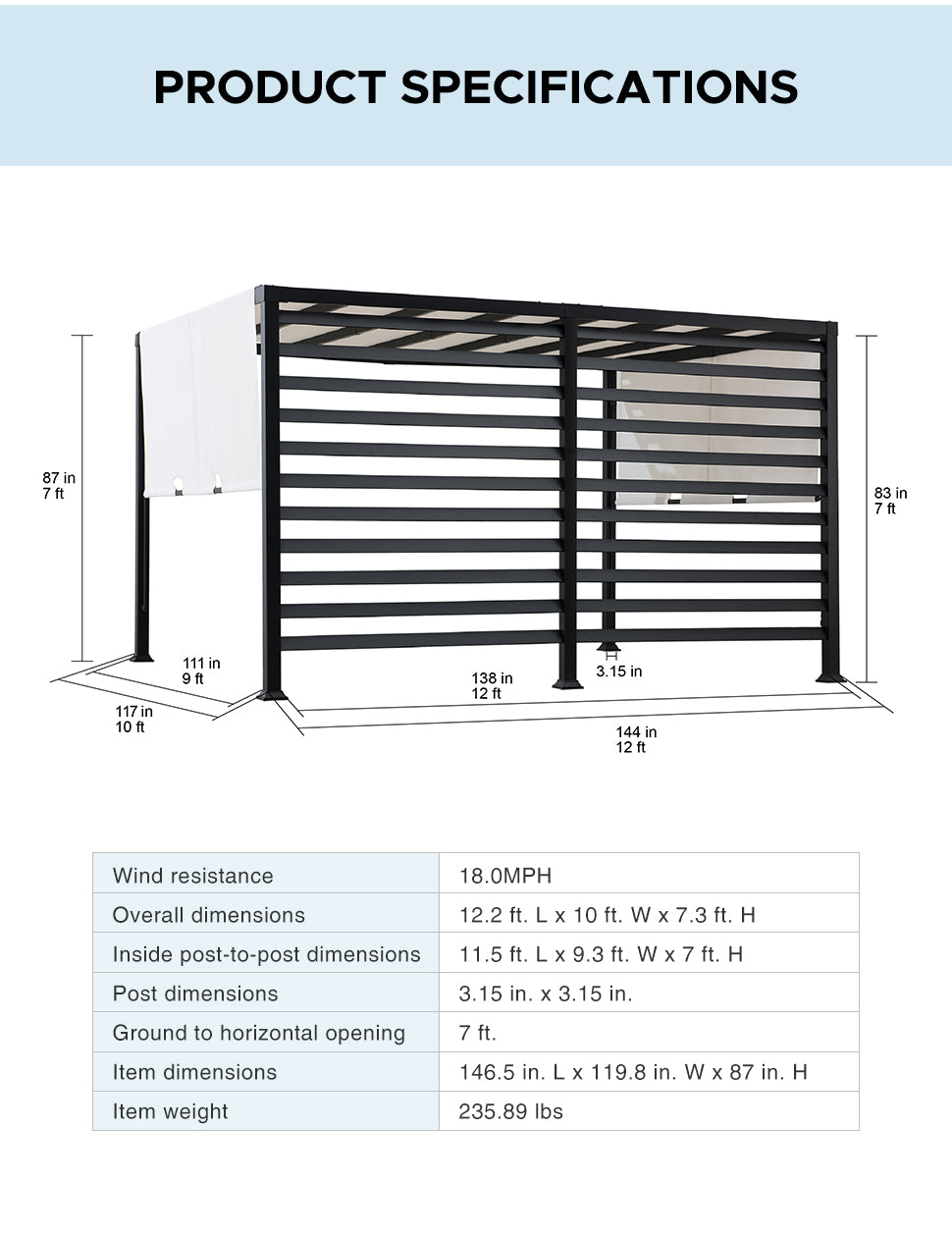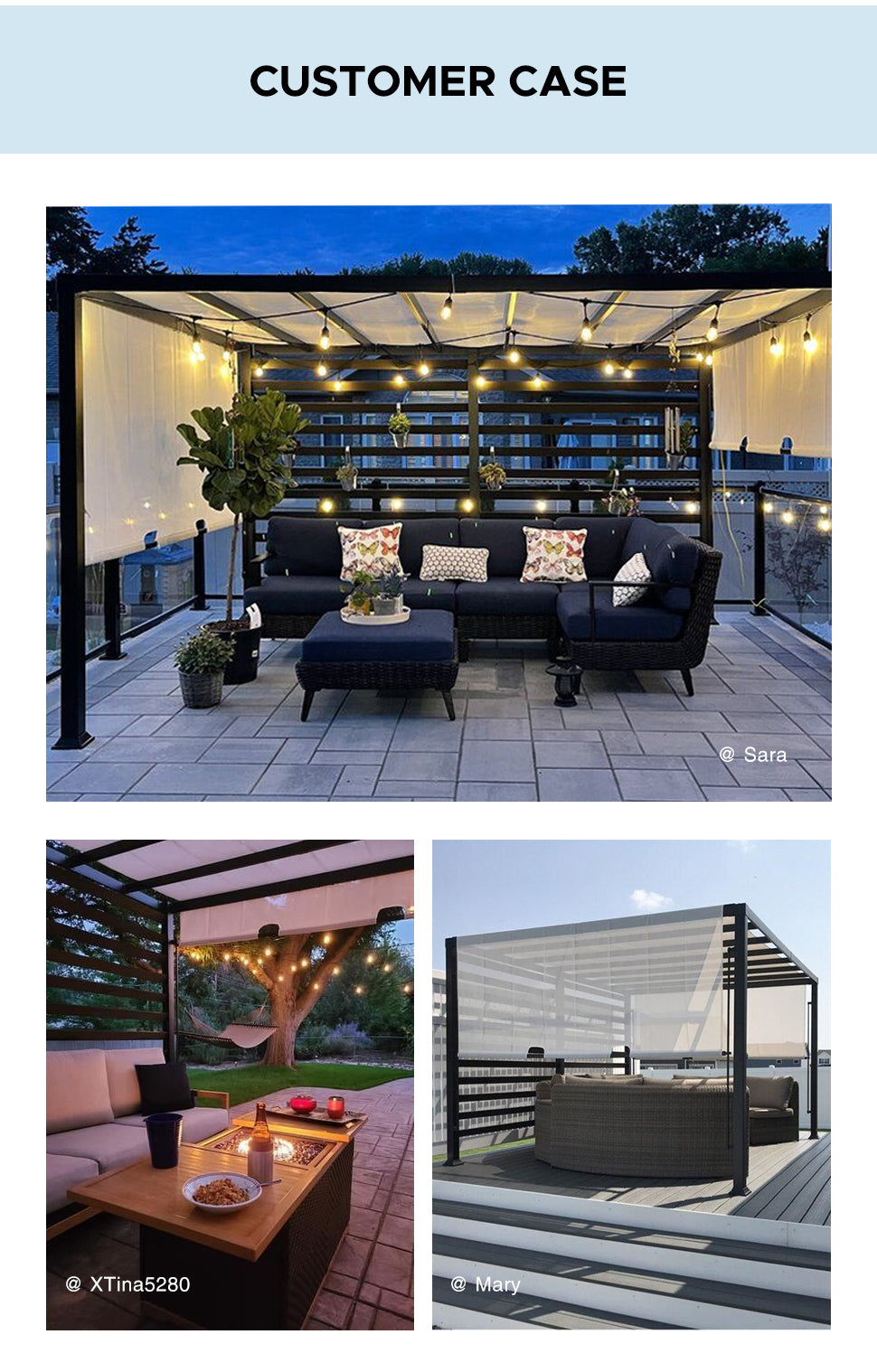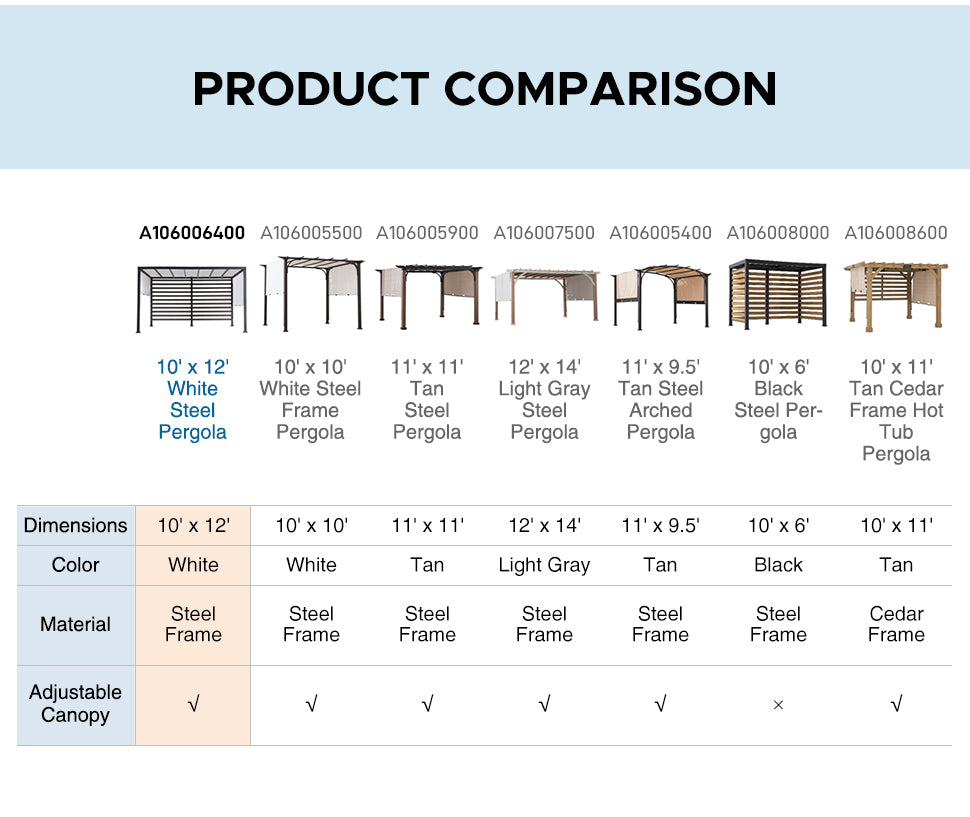 Details
Do you wish you could entertain friends outdoors when they're over at your house? If you'd love to move the party outside but don't have a comfortable place to gather, this 10x12 ft pergola kit by the world's leading ready-to-assemble outdoor structure maker, Sunjoy is the perfect solution. Made of steel frame this pergola has one slated wall for privacy providing a modern and minimalist appearance. The adjustable white shade provides a welcome retreat on the hottest sunny days. With an adjustable canopy, you can roll it up to enjoy a warm day or roll it down to protect yourself from the glaring sun. With straightforward, easy-to-follow instructions, you'll be enjoying your new outdoor space in no time.
Features
Adjustable Canopy with Handle: This canopy comes with two easily adjusted handles on each side that allow you to fully customize the level of sun and shade that your outdoor space receives throughout the day.

Steel slatted wall for privacy: This pergola is designed with a steel slatted wall on the back side with an extra post to provide additional structural strength and support. This design feature makes this pergola sturdy, stylish, and stable.

Anchoring Plates with Cover: Powder-coated steel anchoring plates (with coordinated covers that match the shade structure steel brackets) for easy mounting and fixing to your outdoor patio.

Steel Material: Features a powder-coated black steel frame. The pergola is built for strength and stability that will provide an all seasons shelter for your family.  The canopy can be removed or installed easily as the weather requires.
Upgrade Your Outdoor Living Space:

 

This beautiful

 pergola

 is a perfect addition to various outdoor living spaces, such as patios, decks, backyards, gardens, swimming pools, lawns, etc.
Mountable Surface: Lawn surface (including accessories), wood surface (without accessories), and concrete surface (without accessories).
Specification
Overall dimensions: 12.2 ft. L x 10 ft. W x 7.3 ft. H
Inside post-to-post dimensions: 11.5 ft. L x 9.3 ft. W x 7 ft. H
Post dimensions: 3.15 in. x 3.15 in.
Ground to horizontal opening: 7 ft.
Item dimensions: 146.5 in. L x 119.8 in. W x 87 in. H
Item weight: 235.89 lbs
Free curbside delivery
Assembly Information
📜Instruction Manual:  Download PDF
If need professional installation service please visit Assembly Service to get an instant price and schedule your date.
🔧Check out the detailed assembly video here🔧: https://youtu.be/1ZmuMcPg6XE
Need replacement canopy please click here.

SAP NO.: A106006400
Payment & Security
Your payment information is processed securely. We do not store credit card details nor have access to your credit card information.
How can the canopy be cleaned when it gets discolored or dirty?

Dear customer, the canopy is recommended to be wiped regularly with a dry microfiber cloth to get rid of any dust; alternatively, vacuum every now and then with the soft brush attachment, blot spills immediately with a clean dry cloth, and if staining occurs, use a soft damp cloth to clean away the stains. Thank you!

Is it sturdy enough to hang a swing?

Dear customer, we suggest not to hang a chair/hammock/swing. The main purpose is for shade only. Thank you!

Are the screws included, or do I need to buy them?

Dear customer, you need to buy expansion bolts or anchors if you need to fix them on the concrete floor. Thank you!

How long is the warranty?

Dear customer, the warranty is one year. Thank you!

How do you take care of the canopy?

Dear customer, wipe regularly with a dry microfiber cloth to get rid of any dust. Alternatively, vacuum every now and then with the soft brush attachment. Blot spills immediately with a clean dry cloth, if staining occurs, use a soft damp cloth to clean away the stains. Thank you!

Where should the assembled gazebo be placed?

Dear customer, the assembled gazebo should be located at least 6 feet from any obstruction such as a fence, garage, house, overhanging branches, laundry lines, or electrical wires. This unit is heavy. For safety, do not assemble this item alone. Three to four people are recommended for safe assembly. Also, while this gazebo is manufactured to withstand winds through only the supplied ground stakes, in areas subject to frequent severe weather, securing the gazebo to a deck, concrete patio, or footings should be considered. Thank you!

How do you anchor the pergola to pavers?

Dear customer, the stakes are provided with each pergola. If the pergola is placed on soft, level ground, these stakes will be more than adequate to keep your pergola in place. For solid foundations, such as patio concrete or wood, Sunjoy recommends you secure it with the appropriate anchors. While these types of anchors are not supplied with the product, they can be easily purchased at your local hardware or home store. Thank you!

What is recommended for mounting the pergola to an existing deck. Can it be screwed to the top boards or should I reinforce with additional blocking below.

You can use 1/4'' concrete wedge anchors that you can buy at local hardware store to secure the pergola.

How much weight can it hold? I would like to hang a ceiling fan that is 15lbs however the fan box says the panels should be able to hold up to 65lbs.

Dear Customer,we don't recommend to hang a fan for safety.

Do you need to install it with the privacy wall? I just need 10x12 without that wall. Can I leave it off

Hi David,

It only can be purchased together.

You can leave it while using.


If you have further questions, pls feel free to contact us at: customer.care@sunjoygroup.com

Would I need to remove the white canopy in the winter? How does it do under snow?

Dear Customer,it is not recommended to bear snow on the canopy in winter. It is recommended to remove the canopy when you do not use it. Please refer to the installation manual (reverse removal of the canopy) and keep the canopy in a clean and dry environment.